15th December 2018 | Alps Tour Golf
Angel Hidalgo wins Q School's final stage
Spain's Angel Hidalgo won today the final stage of the Alps Tour's Q School with a total score of -14 at La Cala Resort , Spain. 
Hidalgo and Andorra's Kevin Esteve turned in the best cards of the day (-7). 
Maximiliano Godoy (ARG) came in 2nd place (-9 total) while Enrico Di Nitto completed the podium (-8 total).  
« I'm very happy with this win. I played very well all week » Hidalgo said. 
20-year-old Angel Hidalgo made good use of his knowledge of the beautiful and hilly La Cala courses: he is from Marbella, just a few kilometers from the Q School venue, and turned pro just one month ago. 
The young Spaniard started to play golf at the age of 2. At the age of 5, he started group lessons for kids in Guadalmina located half-hour by from La Cala. Hidalgo represented Spain in the Spanish Amateur team at the European and World Championships in 2018, won two Spanish Men's Championships both Match play and Stroke play.
«  In 5 days, I will be traveling to Asia to play the Asian Tour final » Hidalgo continued. « Depending on the outcome, I will play both in Asia and on the Alps Tour next season » he concluded. 
Following today's final qualifying stage, 38 players have obtained a category 6 on the Alps Tour which means they are guaranteed a spot in all the tournaments of the Alps Tour next season.  32 players are eligible for membership in category 8 of the Alps Tour and 75 others for category 9. 
The 2019 season of the Alps Tour is scheduled to start in February with a series of tournaments in Egypt. The full 2019 tournament schedule is due to be released at the beginning of the year.  
14th December 2018 | Alps Tour Golf
Familiar face Enrico Di Nitto sole leader of Q School
Enrico Di Nitto (ITA) is the sole leader of the Q School's Final Stage with a total of -9 after round 2 at La Cala Resort, Spain. 
Di Nitto made an eagle, 6 birdies and 2 bogeys on Asia course to finish the day at -6, two strokes clear of Spaniard Angel Hidalgo – who shot a 67 (-5) on the same course today – and Argentinian Maxi Godoy, who posted a 66 (-5) on America course with 6 birdies and one single bogey. 
Mathias Eggenberger (SUI) turned in the best card of the day, a 65 (-7) on Asia course, after making an eagle, 7 birdies and a bogey.  
Enrico Di Nitto is a familiar face on the Alps Tour as he played on the circuit during the 2016 season. At the end of that season, the 25-year-old Italian finished in 2nd place on the Order of Merit, the Alps Tour official season ranking. He played two seasons on the Challenge Tour with some mixed results. Having obtained a category 17 for next season on the Challenge Tour, Di Nitto will play on both Tours, to try to give a new boost to his career. 
70 players made the cut today set at +6 and will progress to the third and final round which will be played tomorrow on Asia course. Today's weather conditions were good.
After tomorrow's final round set to tee off at 09h15 local time, 35 players will obtain a category 6 which means for them a guaranteed spot in all the tournaments of the Alps Tour during the 2019 season.
13th December 2018 | Alps Tour Golf
Hauchard leads Q School Final Stage after round 1
With 5 birdies and a bogey on America course, Frenchman Clément Hauchard turned in the best card of the day (67, -4) today to take the lead of the Final Stage of the Alps Tour Q School at La Cala Resort, Spain.  Juan Carlos Osorio (ESP), Enrico Di Nitto (ITA) and Jack Clarkson (ENG), all on America course, are one stroke behind Hauchard. 
On Asia course, where the other half of the field has played the first round, three players are sharing the top spot at 70 (-2): Javier Ballesteros, 28, son of legendary Severiano; Argentinian Maxi Godoy, 30, who plans to try his career in Europe after some good experience in the PGA Tour LatinoAmerica, where he has collected 10 top ten places in 2018; and Canadian Callum Davison, who has recently decided to turn pro after a good amateur career.
At the end of the Q School's final stage, 35 players will obtain a category 6 which means for them a guaranteed spot in all the tournaments of the Alps Tour during the 2019 season.
Weather conditions deteriorated today compared to the last few days. Rain, gusty winds and clouds prevailed in the morning before the sun came out in the afternoon with some wind still present. Temperatures reached about 15 degrees. 
Round 2 will tee off tomorrow at 09h30 local time, with players swapping courses: those who played America today will play Asia tomorrow. At the end of the day, the cut will have the best 65 players and ties finish the tournament on Saturday, on Asia course, trying to get a "category 6" or "8", while all the others will have a "category 9" for 2019.
12th December 2018 | Alps Tour Golf
10th December 2018 | Alps Tour Golf
75 players progress to Final Stage
Another gorgeous sunny day was the perfect set for a thrilling final round of the Alps Tour Qualifying School First Stage, played over the three courses of La Cala Resort in the South of Spain.
On the America course, French amateur Pierre Pineau (pictured) with a total of -12 (130) could sit on top of the leaderboard with a 5 stroke advantage over his nearest competitor, thanks to a wonderful 63 today, comprising nine birdies and one bogey. 33 players gained access to the Final Stage and the last two spots were decided by a playoff amongst 5 players who were sitting on +4.
On the Asia course, the best score was posted by Italian Luca Cianchetti, with a total of 133 (-11) which included a great second round in 64, with 1 eagle, 7 birdies and a single bogey; also on Asia, a playoff was needed with 9 players at +3 (147) fighting for 7 spots, and 33 players were promoted to the Final Stage.
On Europa course, Frenchman Timothée Guin was the best scorer with 140 (-2), and 8 more players were admitted to the Final Stage that will take place from Thursday 13th to Saturday 15th December on America and Asia courses.
9th December 2018 | Alps Tour Golf
First Stage is underway
The sun was shining today on beautiful La Cala Resort, in the South of Spain, where the First Stage of the 2019 Alps Tour Qualifying School is underway. 175 players teed off this morning on three courses – Asia, America and Europa – and it was announced how many players will qualify from each course: 33 players from Asia course (out of a total of 78), 32 from America course (out of 76) and 9 from Europa (out of 21) will be admitted to the Final Stage, which will take place from December 13th to 15th; they will join the 70 players already exempt who entered in order to compete for gaining one of the 35 spots available for category 6 next year.
The lowest score was posted by Austrian Clemens Prader (pictured), who carded a flawless round on Asia course with 7 birdies and no bogeys for a total of 65 strokes (-7). On America course, the best players are Englishman Jack Clarkson and John Hickey from Ireland, both at 66 (-5), while on Europa course, Frenchmen Timothee Guin and Florent Ales are co-leaders with a 69 (-2).
Tomorrow, December 10th, the second round will decide who can proceed to the Final Stage, which will be played by a total of 144 players on Asia and America courses.
7th December 2018 | Alps Tour Golf
La Cala ready to welcome the golf rising stars
For the seventh year in a row, magnificent La Cala Resort, in the South of Spain, will be the stage for the 2019 Alps Tour Qualifying School. Not less than a total of 250 players representing 27 countries will compete aiming to gain one of the 35 places available for the best category at stake – Category 6 – for next year and, in other words, for having a spot guaranteed in all the tournaments of the 2019 season.
The First Stage takes place on December 9th and 10th on all three courses of the beautiful Costa del Sol venue – America, Asia and Europa – with about 180 players trying to get their place in the Final Stage after 36 holes. The best among them – the exact number will be announced only after all participants have teed off in the first round – will join those players who have already gained an exemption in the Final Stage due to a number of circumstances – like their results in the past season, or the participation in the European Amateur Team Championship, for example.
On December 13th and 14th, Asia and America courses will then welcome a total of 144 players who will play two rounds of 18 holes; after that, the field will be cut to the leading 65 players and ties, and they will have to give their best on the last day of the tournament, December 15th, on Asia course.
Alps Tour is a third level organisation for both professional and amateur players, a fantastic field of training for those aiming to the highest levels of tournament golf – Challenge Tour, European Tour and beyond.
Some really talented players have sharpened their skills on the Alps Tour, like Englishman Matt Wallace, 28, who only two seasons ago won six tournaments and the Order of Merit of the Alps Tour, gained access to the Challenge Tour the following year and soon progressed to the European Tour, where he won 3 tournaments in 2018 and ended the season on 10th position on the Race to Dubai, with nearly 2,9 millions euros of prize money.
In 2018, notwithstanding an uncertain economic environment, Alps Tour organized 16 tournaments encompassing six nations, for a total prize money of over 665,000 €; and, like every year, the final ranking rewarded its best players: five of them were promoted to the Challenge Tour – Spaniard Santiago Tarrio, Frenchmen Alex Daydou and Louis Cohen-Boyer, Marcus Mohr from England and Andrea Saracino from Italy, while David Borda (Spain), winner of the Alps Tour Grand Final, was admitted straight to the Second Stage of European Tour Qualifying School thanks to his position in the ranking and went on conquering one of the coveted spots on the main Tour.
La Cala Golf, Hotel & Spa (www.lacala.com), with its breathtaking views of the stunning Andalusian countryside, offers an idyllic rural retreat, worlds away from the hustle and bustle of the coast, yet just 20 minutes from Marbella and only 30 minutes from Malaga airport. Three superb championship courses, each presenting its own unique challenges, slot seamlessly into a natural undulating backdrop of trees and flowers, rich with birds and wildlife. Designed by the renowned Cabell Robinson, each 18-hole course has been created to ensure a testing, yet truly exhilarating experience. Nestled between the arresting beauty of the Sierra de Mijas Natural Park and the shimmering Mediterranean Sea, La Cala is a genuine haven of tranquility. It's the perfect base for exploring Andalusia and Spain's fascinating cultural cities like Granada, and the breathtaking surroundings create the perfect backdrop for holidays, weddings and corporate events.
16th November 2018 | Alps Tour Golf
In their own words: Adria Arnaus and Victor Perez
Adria Arnaus (ESP) and Victor Perez (FRA) both had a tremendous season ending on the Challenge Tour. The Alps Tour alumni will play on the European Tour next season. They took a few minutes to talk to us about their season and more.
You both had a great season on the Challenge Tour! Tell us about it.  
Adria Arnaus: "It's been an amazing season, I'm really happy with what we've been able to achieve. At the beginning of the season, my main goal was to get my European Tour card and as the season went on, I realized we could aim a little bit higher. My plan was to try to be as high as I could in the rankings. My win last week (Ras Al Khaimah Challenge Tour Grand Final) was amazing, to be able to finish the year like that is unbelievable. I'm really happy I could move in 2nd place overall in the Challenge Tour in the rankings, that was so cool".  
Victor Perez: "My season ended very well with a victory in China (Foshan Open) and a second place in the Challenge Tour Grand Final to finish 3rd overall in the season ranking. It's great after a first season that had already gone well. Last year, I missed the European Tour category by not much finishing in 18th position overall. I'm happy to confirm this season and move up to the ET. I'm just very happy at what is happening to me". 
How do you apprehend next season on the European Tour?
AA: " I'm just going to try to do the same things I've been doing, focusing on things I can control as best as I can. My goal is to aim high again in the rankings and have my chances to win. This is all I can say at this point, I still need to seat down with my team to determine what my objectives will be next year. But I'm definitely aiming high."
VP: " I have to be really focused on my game. I proved with my results that my game was good, I must not try to change anything or think too much, I think that the recipe I have today works pretty well, I must try to keep the momentum going and continue on the same path."
What can you tell us about your year on the Alps Tour ? 
AA: "The Alps Tour was really a good learning experience for me. It's on the Alps Tour I started getting into the mix with professional golfers and it was great to see I was able to compete with them even as an amateur. At the end, being able to win the Order of Merit as an amateur was so special. To play very good and to finish that way was something I could not even imagine at the beginning of the year. It was a great stepping stone for this year and being able to do what I've done on the Challenge Tour. It gave me a lot of confidence. At the end, for me, it's really important to stay on the process, to stay focused on working well and giving myself time for things to come and they will come! It's just been a process of going through Alps Tour, through the Challenge Tour and hopefully, next year, things will be very good and we will be talking about bigger things then."
VP: "Upon my return from the US, I played the PQ1 but did not make it and therefore, I had to start at the lowest level with the first stage of the Alps Tour's Qualifying School in Spain. I got to play on the Alps Tour and after quite a few tournaments, I had the chance to win a tournament (Alps de Las Castillas 2016) which allowed me to finish in the top 5 of the Order of Merit. It's true that it was somehow a pivotal year for me. The Alps Tour is challenging because at the end of the season, there are only 5 players who move up and every year, there are more than 5 players who have the level to move up so you have to play your cards right. You need  to have a little bit of success and, as I often say, it is important to stay focused on your game level and to try to improve your game without too much watching the scores and the results even if we're interested in knowing what position we are in, if we are performing well, if we will move up, etc, etc … Beyond that, we must be able to focus on what we can do, on what we control, on our game level, and from there, to see where it takes us. My season of Alps Tour ended well but if I had finished one spot behind, I do not know exactly where I would be. I may had done a second year on the Alps Tour with possibly some doubts settling in."
Do you have any advice for players who will compete on the Alps Tour next season? 
AA: "I want to encourage everyone to play on the Alps Tour. It's really great because I think if you're able to compete on the Alps Tour, at the highest level, then you're ready to do more. There is a good level on the Alps Tour and definitely, being able to finish consistently in the top 5 on the Alps Tour tells you that you're ready for more. People coming into this year's Alps Tour should see it this way. They should try to compete their best and be able to give them chances to improve and to learn because it's a great tour. Also, you learn the basics on travelling, on sharing stuff with other people, and also, you're supported by a great group of people in the organization. You definitely make really good memories. I do have many of them. Alps Tour is definitely something I will always remember."
VP: "If I have any advice for a newcomer on the Alps Tour, it would be to really focus on his own game level, to really look at what he needs to perform well during the week, to work the shots that he will need during that week. It is really important to stay focused on his own performance rather than looking at last year's score even though it may give an indication. The Alps Tour rookie must be aware of this but not be obsessed by the scores, by the results, by looking at what others are doing. The player must really focus on him, on what he knows to do and how he can improve his game because in the end, in golfing, we control really just that."
Thank you Adria and Victor and good luck on the European Tour next season! 
25th October 2018 | Alps Tour Golf
Qualifying School-La Cala: Join Us in 2019
The Alps Tour is pleased to announce that La Cala Resort will be, for the 7th time, the host of the Qualifying School scheduled from December 9 to 15, 2018.
It is with great pleasure that Alps Tour will organize its Qualifying School First Stage and Final once again in this great resort, only 39 km from Malaga airport, in the South of Spain. La Cala Resort offers wonderful facilities, hotel on site, great practice range and 3 championship golf courses.
The First Stage is scheduled on December 9 and 10 over 36 holes, and the Finale is to be played on the 13th, 14th and 15th of December over 54 holes. This year, the Final Stage will be played on Asia & America courses.
The Top 35 will obtain a full category to play the 2019 Alps Tour events.
The entry deadline for the First Stage is November 9 (November 20 for the Final Stage).
For all info and entry forms  – go to this link on our website to download terms & conditions, entry form and hotel – transfers – trolley booking forms.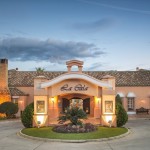 Accomodation: La Cala Resort is glad to welcome all participants in the La Cala Hotel on site with special offers, including a shuttle service between Malaga airport and La Cala Resort. All details and booking forms included in the tournament entry form.
21st October 2018 | Alps Tour Golf
Spain's Borda wins Grand Final; Tarrio ends 2018 season in first place overall
David Borda (ESP) won today the Alps Tour Grand Final with a total score of -19. It is Borda's second victory on the Alps Tour this season. 
Hugues Jr Joannes (BEL) finished in 2nd place (-17 total) while Ivan Cantero Gutierrez (ESP) and Leo Lespinasse (FRA) tied for 3rd place with a total score of -13. Lespinasse turned in the best card of the day (64, -7) making an eagle, 6 birdies and a bogey.  
«  I'm feeling really really good, I could not be happier, I think it was my best week ever. I'm so happy » Borda said. «  For sure, I felt the pressure, everybody was feeling the pressure this week, but I managed it and I played very very good during the last 4 days. I'm looking forward to next year on the Challenge Tour ». Last year, David Borda failed obtaining a Challenge Tour card by a few points. 
Santiago Tarrio (ESP), who played this week at the European Tour's Valderamma Masters in Spain and thus did not take part in the Grand Final, finishes the 2018 season first in the Order of Merit, the Alps Tour official season ranking, with 26,702.45 points. With today's win, David Borda moves up to second place in the Oom. Alexandre Daydou (FRA), Louis Cohen Boyer (FRA) and Marcus Mohr (ENG) complete the top 5 of the Oom and will all be playing on the Challenge Tour next season. Marcus Mohr, who had a very disappointing Grand Final finishing tied for 33rd place (+3 total), makes the top 5 by less than 700 points. « I feel very lucky to finish 5th in the Order of Merit. I did not play very well at all this week » Mohr said. 
«  First, I would like to congratulate my friend David Borda for his second victory of the season » Tarrio said. «  I was disappointed not to be able to play the Final because it is a course that I love and I feel welcome at the Golf Des Iles Borromées » he continued. «  Finishing first in the Order of Merit is very important for me because there were many very good players this year on the Alps Tour and to beat them means that I can reach the European Tour as I think they will also do » he added. «  Finally, it's great to follow the footsteps of Adriá Arnaus who won last year's Alps Tour season ranking. This shows that I am on the right track » Tarrio said. 
As an amateur, Adria Arnaus won the 2017 Grand Final and finished first in the Order of Merit. Arnaus is currently ranked 9th on the Challenge Tour and will play on the European Tour next season. 
«  I would like to dedicate this season to my whole team. Without them, I would not be at the top. I'd like to thank my friends and my sponsors, my whole family, Joaquín Dosil for making me improve and for supporting me from the first day in many aspects and of course, my caddie and girlfriend, Noelia Garcia. Much of the successes are because of her » Tarrio concluded.  
The Alps Tour would like to thank the Golf Club Des Iles Borromées for their wonderful hospitality and all the sponsors of the tournament for their strong support.
The next Alps Tour event will be the Qualifying School at La Cala Resort  in Malaga, Spain, December 9th through December 15th, 2018. 
Latest Alps Tour Golf News