30th April 2021 | Alps Tour Golf
Stefano Mazzoli Wins in Playoff
April 30th, 2021 – Perugia, Italy. What an incredible final round that saw a play-off with five players at -9 (204). Stefano Mazzoli sealed victory on the first hole of the play-off with a birdie on the 18th whilst his competitors carded pars.
The Italian, started far from being in contention this morning as he teed off from the 10th at +1 putting him 9 strokes behind the leader. But golf being golf, anything can happen over 18 holes and Mazzoli proved just that. He entered the clubhouse with a 61 (-10) for the day, the record round for the inaugural Antognolla Alps Open:
"It's something unbelievable to finish this strong after making the cut by one. I feel really happy after a period where things were not really going as I expected. The first lockdown was a really tough period for me to keep my mind going. I did pretty good in Cervino where I finished second but after that I struggled a little bit. I had a wrist problem, so I had to take three months off during the winter and I started the season really badly this year. Over the past few weeks, I've been concentrating on my shots off the tee, my range and putting strokes on the green. Today was a good test for me, playing under pressure so I'm really pleased to walk away with a trophy after winning the play-off".
Mazzoli played a solid outward nine starting from the 10th with 4 birdies and pars to turn for home at -3. He then started as he meant to go on with 2 more birdies and a third one on the 5th. He added an eagle on the 6th uphill par 5 and the cherry on the cake, a birdie on the par 5 17th.
The other four players in the play-off were two of Mazzoli's compatriots, Stefano Pitoni and Filippo Bergamaschi, the Irish player, Paul McBride and Alex Esmatges from Spain who provided some heart-stopping moments during their rounds.
Yesterday's leader, Pitoni, held onto the lead on the front nine with 3 birdies but two bogeys on the back nine and a dearth of birdies put him in the play-off.
Bergamaschi also had a strong start with 5 birdies going out to put him at -10 on the 10th tee. A bogey there dropped him back a shot which he recovered on the 16th with a birdie but a final bogey on the 18th saw victory slip through his fingers.
McBride, off the 1st at -3 this morning had an impeccable round up to the 12th with 7 birdies in the bag. Despite a closing birdie on the 18th, the 2 bogeys on the 13th and 14th cost him dearly.
Esmatges, starting on -4, had a majestic round with 8 birdies leaving the 16th green. A sole bogey on the 17th would not have been fatal but the double bogey on the 18th proved his undoing.
Mazzoli's win catapults him up the Order Merit from 68th to 5th position but the leader remains Jacopo Vecchi Fossa who finished joint 6th today.
The Alps Tour players now have a four-week break before heading to Egypt and the Sokhna Golf Club where they will play two tournaments. First off is the Ein Bay Open, 19th-21st May and then the Red Sea Little Venice Open 23rd-25th May which Stefano Mazzoli won in 2020 and where we are sure he would like nothing better than a repeat success this year.
Many thanks to the Antognolla Golf for their warm welcome and superb course as well as the presenting sponsor +Energia, main sponsors DS Automobiles and Fideuram, the promotor Infront Sports & Media, FIG Official Advisor, official suppliers, Kappa and Eureco, media partners Corriere dello Sport, Il Giornale, Tuttosport and the Italian Golf Federation.
Final Results: click here
Stay tuned! www.wp-alpstour.ocs-sport.com and the app « Alps Tour Golf » (on App Store for iOS devices and Play Store for Android) will keep you updated on every news about Alps Tour.
Instagram @alpstourgolf
Facebook @Alpstourgolf Satellite
Twitter @AlpsTourGolf
29th April 2021 | Alps Tour Golf
Stefano Pitoni Pulls Ahead Round 2
April 29th, 2021 – Perugia, Italy. The Italian player, Stefano Pitoni managed to pull ahead to take sole lead today at the Antognolla Alps Open on -8 (134). He had a flawless round with ne'er a bogey in sight but a little short on birdies to give him a more comfortable margin, three on the front nine:
"I was very good from tee to green and hit 18 greens in regulation. I had many putts for birdie, but I was not as good as yesterday on the greens. I tend to play defensively to try to hit the fairways because I'm not very long. On this course it helps to be strong because many bunkers have been put around 250 metres and to fly them you need to go long, and as I cannot do it, I need to hit straight! Tomorrow I will think shot by shot, not looking at the leader board and try to stay as calm as possible".
Yesterday's joint leader, Spanish amateur Joel Moscatel, battled all the way to keep in contention. Off from the 1st he carded a birdie followed by a bogey, got back in the swing with another birdie, turning for home at -6 after one more birdie and a bogey. Two opening birdies on the back nine put him even with the leader but a bogey on the 13th with its tricky two-level green set him back a shot. His next six holes were error-free, but he did not manage to pull another birdie out of the bag to level and finished on -7 (135).
In third place on -6 (136), Jacopo Vecchi Fossa continued his recent form. The Italian was in the same flight as Moscatel and had an inauspicious start with a bogey on the 1st. He quickly demonstrated his focus by a birdie immediately afterwards, then two more to turn for home at -4. His game kept flowing with 3 more birdies until he ran into trouble on the 14th and 15th where he bogeyed both but scraped a point back with a birdie on the 17th.
Filippo Bergamaschi from Italy lies in fourth on -5 (137) and had a front nine with all the colours of the scoring rainbow; 1 eagle, 3 birdies, 3 bogeys, 2 pars. He headed for home on -4, sank a birdie on the 14th, lost the advantage with a bogey on the 16th but finished the round with a birdie on the 18th.
At -4 (138) are David Ravetto from France and Alex Esmatges from Spain. The Spaniard was one of only two today to card a 65 (-6), the lowest daily round score for the tournament so far, Pierre Pineau from France on -3 (139) being the other player.
Similar statistics to yesterday with 29 players breaking par, 10 coming in at par and 6 eagles on the Antognolla Golf course. The cut came at 143 (+1) with 45 pros and 6 amateurs making it through to tomorrow's final.
The weather forecast for the final day looks promising with no rain, mild conditions if a little overcast. It just remains to see if Stefano Pitoni can keep his head and stay ahead to claim his first victory on the Alps Tour since 2016.
Results Round 2: click here
Stay tuned! www.wp-alpstour.ocs-sport.com and the app « Alps Tour Golf » (on App Store for iOS devices and Play Store for Android) will keep you updated on every news about Alps Tour.
Instagram @alpstourgolf
Facebook @Alpstourgolf Satellite
Twitter @AlpsTourGolf
28th April 2021 | Alps Tour Golf
Moscatel & Pitoni Joint Leaders Round 1
April 28th, 2021 – Perugia, Italy. After battling the climatic odds and a challenging course, a Spanish-Italian duo, Joel Moscatel and Stefano Pitoni head the leader board on -5 (66) after the first round of the Antognolla Alps Open.
Leader after the morning rounds was Joel Moscatel from Spain with a three-stroke lead at this point:
"I played great today. It was tough at the beginning because of the weather with the rain plus it's a tricky course. The greens are really difficult. You need to put the ball in the right spot every time. On the front nine I made the first bogey then I started making putts. My wedges were really good today, so I started making birdies. Then on the second nine I didn't make that many birdies, but I can't complain because I played them super well so I'm happy".
Starting from the 10th, the Spanish amateur's only bogey came on the uphill par 4 14th quickly followed by 4 birdies in a row then 2 more birdies on the back nine.
Stefano Pitoni, an experienced Alps Tour player having won three tournaments in 2016, headed out in the afternoon also from the 10th. He said that the key to his game today was his excellent short game, especially his putting as he sank some long ones. The 7 birdies on his card bear witness, but 2 bogeys on the home nine held him back from the overall lead. He too confirmed that the Antognolla Golf course is very physically demanding and that the rain made the fairway shots particularly difficult.
In third place is Jack Floyd on -3 (68). The Englishman teed off from the 1st in the afternoon and had an unfortunate double bogey on the par 3 3rd caught by the large greenside bunker. However, he got back into gear immediately with a birdie, par and 4 birdies to finish the front nine on 33 (-3). He continued with 2 more birdies coming home but he too saw 2 bogeys snatch a joint lead away.
We then have quite a traffic jam at -2 (69) with a group of 14 players including Jacopo Vecchi Fossa, winner of last week's Abruzzo Alps Open and Ryan Lumsden, winner of the MIRA Golf Experience Acaya Open last month. Alps Tour tournament winners and former European Tour players, Matteo Manassero and Edouard Espana are there aswell. Two more former champs from Italy, Luca Cianchetti and Andrea Saracino are sitting pretty too. Tom Vaillant the French amateur who had an excellent fourth place finish at the weekend continues to hold his own against the pros.
The difficult playing conditions are supported by the statistics with only 28 players coming in under par, 8 players on par and just 5 eagles out there today. Things do not look set to improve drastically with more rain forecast overnight and tomorrow. The players are going to need resilience and focus to make their mark when they tee off at 7:30am.
Results Round 1: click here
Stay tuned! www.wp-alpstour.ocs-sport.com and the app « Alps Tour Golf » (on App Store for iOS devices and Play Store for Android) will keep you updated on every news about Alps Tour.
Instagram @alpstourgolf
Facebook @Alpstourgolf Satellite
Twitter @AlpsTourGolf
25th April 2021 | Alps Tour Golf
Antognolla Alps Open Inaugural Tournament
April 25th, 2021 – Perugia, Italy. The fourth tournament of the 2021 Alps Tour season will take place here at the stunning Antognolla Golf. This is the first time that the Umbrian course has hosted the Alps Tour and the unique setting, nestled in a valley with cliff-lined fairways, overlooked by the Antognolla castle dominating the first and last greens, the eighteen-holes promises some memorable shots for the players.
The Robert Trent Jones Jr designed course originally opened in 1998. In 2018 he oversaw a multi-million remodelling that remains true to his philosophy of building courses that commune with their environment. A modern, computer-controlled irrigation system was introduced; a new network of drainage pipes whose water is recycled was installed; all the bunkers were completely redesigned and rebuilt.
For the players, they now face a par 71 championship course whose 6884 yds/6112 m will relentlessly challenge all aspects of their game. Whilst water only comes into play on three holes, the fairways are long, banked and sloping with hidden hazards from the tee box. The greens are undulating, often on two or even three levels, sometimes elevated but always heavily guarded by bunkers. The key to managing the course is distance control.
All three of our previous 2021 tournament winners report present; Abruzzo Alps Open champ, Jacopo Vecchi Fossa who will be hoping to continue his April run of victories in his native Italy; Paul Margolis, the French amateur, who would love to continue his run of firsts after his first pro tournament win at the MIRA Live the Soul Open and his first hole-in-one last week; the Scottish player, Ryan Lumsden who with his MIRA Golf Experience Acaya Open victory would not mind getting another title under his belt.
But as we have seen, the competition is tough this season. Jacopo Vecchi Fossa's win last week by 3 strokes was the highest difference so far. The previous two tournaments were won by just one stroke with the top five players jostling for position down to the line each time.
Alongside the pros, the amateurs hope to continue to hone their skills, among them Tom Vaillant from France, Joel Moscatel Nachshon from Spain, joint fourth last week and the Italian, Gregorio De Leo. It is also good to see Zeke Martinez back with us. The American member on the European Senior Tour may even have some home knowledge advantage as an Umbrian resident of ten years.
One thing that could make a difference is the weather. Light rain and showers are forecast each morning with possible thunderstorms in the afternoon and slight but variable winds. Just another element to factor into an already imposing test of golf.
Entries: click here
Stay tuned! www.wp-alpstour.ocs-sport.com and the app « Alps Tour Golf » (on App Store for iOS devices and Play Store for Android) will keep you updated on every news about Alps Tour.
Instagram @alpstourgolf
Facebook @Alpstourgolf Satellite
Twitter @AlpsTourGolf
24th April 2021 | Alps Tour Golf
23rd April 2021 | Alps Tour Golf
Giletta & Vecchi Fossa Joint Leaders Round 2
April 23rd, 2021 – Pescara, Italy. It is green, white, and red at the top of the leader board with two Italian players tied at -12 (130), Edoardo Giletta and Jacopo Vecchi Fossa, after 36 holes of the Abruzzo Alps Open. Overnight rain, stronger winds and tougher pin positions were additional factors to be taken into account today on the Miglianico Golf & Country Club course.
Yesterday's leader Edoardo Giletta was first into the clubhouse after a solid round including six birdies and just one bogey on his card. Starting this morning from the 10th, his sole bogey came on the 12th par 3 which he handled better today after putting a ball in the water yesterday. But as the day before, he immediately riposted with a birdie and then stayed focussed throughout the round for a 66 (-5) for the day:
"My goal was to go for -1 on the front nine and then attack more on the back nine. It was windy but the greens were softer. Although some of the pins were tricky, others could be attacked, and my putting has really helped me these past two days. I tried not to think about leading yesterday evening and thought about playing one shot at a time. the strategy for tomorrow will be the same, and we will see! I dedicate these nice rounds to my family, my grandfather and my coach Alain Vergari who is with me here and always believes in me!".
Teeing off in the afternoon, Jacopo Vecchi Fossa's rise up the leader board was as steady as his game today. Also starting at the 10th, he masterfully scored par on the four most difficult holes and sank two birdies for good measure on the outward nine. Coming home he started with four birdies in a row, added another one on the 6th par 4 to card 64 (-7) for the round.
"After three rounds at the National Championship here in Miglianico two weeks ago I won with -8, now -12 after two, I've ignited the turbo engine! I started from hole 10, I was careful and didn't make any errors, then the wind disappeared which meant I could score low on the front nine which are easier. Tomorrow I will play my own game and try not to look at the others' scores".
Just one stroke behind them in third place at -11 (131) is the French amateur, Tom Vaillant, who after his second-place finish yesterday, kept a level head and a steady hand to sign a 66 (-5) today with six birdies and one bogey:
"It was a bit complicated at the beginning starting from the 10th and the four hardest holes, but I came through them at +1 so that was okay and after that the putts went in on 16 and 17 for birdie. I had a lot of close approach shots so I'm really happy with how I played and especially my mental approach. I want my game to progress, and I feel that my place now is with the professionals. It's really good to be able to play here, a real chance so I'm trying to make the most of it".
Another amateur, Riccardo Bregoli from Italy, sits in fourth place on -9 (133). Five birdies and one bogey gave him a 67 (-4) for the round. A member of the Italian National Amateur Team, he is currently contemplating turning pro:
"It could be the right year.  It is very important to play the Alps Tour because it's a great trampoline with lots of good players … and many of the good ones started from here so I think it is really the best place to begin".
With forty-two players having played -1 or more today the cut came at Par (142) which sees a total of 55 players going through to tomorrow's final, 44 pros and 11 amateurs. Play starts at 8:00am from the 1st and 10th tees.
Results Round 2: click here
Stay tuned! www.wp-alpstour.ocs-sport.com and the app « Alps Tour Golf » (on App Store for iOS devices and Play Store for Android) will keep you updated on every news about Alps Tour.
Instagram @alpstourgolf
Facebook @Alpstourgolf Satellite
Twitter @AlpsTourGolf
22nd April 2021 | Alps Tour Golf
Edoardo Giletta 1 Up after Round 1
April 22nd, 2021 – Pescara, Italy. The Italian player, Edoardo Giletta heads the leader board after carding a –7 (64) after Round 1 here at the Abruzzo Alps Open.
Teeing off from the 1st, Giletta, who turned pro last year, opened in style with an eagle on the first hole par 5, followed by two birdies. Straight pars, another birdie and not a bogey in sight saw him turn for home at -4 (31). The back nine saw four more birdies, a slight wobble on the par 3 12th with a double bogey but a -2 (33) saw him grab the lead.
"I had a strong start with an eagle on hole number 1, a nice drive, a good second shot and I holed a great putt, it was unexpected! On 12 I hit a bad shot, went into the water, and took a drop but I reacted promptly with a birdie the following hole and another birdie before the end. I was very concentrated today and tonight I will speak with my coach about the strategy for tomorrow".
Hot on his heels at -6 (65) are four players. First into the clubhouse and leader after the morning rounds was the Italian amateur Alessandro Nardini. The 17-year-old started from the 10th and fired six birdies, three each nine, on his bogey-free card.
"The back nine are more difficult but I started strong with -3 so a good game and especially the putting. On the front nine I kept playing well, so I'm very happy about it. I'm a very positive kind of player on the course, I don't lose confidence if a hole goes wrong, on the contrary, I try to do better on the next and recover, that's my attitude. I'm super happy to be up there on the leader board in a pro tournament, but this doesn't mean I am as good as the pros yet! I'm happy to be here and play with them and will try to learn from them".
Alongside Nardini are Jonathan Yates from Ireland and Uli Weinhandl from Austria. Playing in the same flight off the 10th Yates shot one eagle on the par 5 1st, six birdies, and two bogeys whilst Weinhandl had one eagle on the par 5 9th, five birdies and one bogey. The French amateur, Tom Vaillant completes the quartet. He played a flawless outward nine with five birdies for a -5 (31). A single bogey coming in but a final flourish with two birdies pushed him into joint second.
Rounding out the top ten at -5 (66) are three Italian players, Jacopo Vecchi Fossa, Carlo Casalegno, the amateur Ricardo Bregoli and the English player, Thomas Thurloway.
The French amateur Paul Margolis is having a series of firsts on the Alps Tour this season. He had his first victory in a pro tournament when he won the previous tournament, the MIRA Live the Soul Open and today, on the 186 metre, par 3 second hole, he had his first ever hole-in-one after a majestic 6 iron shot. He finished at -2 (69) for the day.
With a total of 67 players at par or under, the tournament is still wide open. The Miglianico Golf & Country Club course is in pristine condition, both fairways and greens, plus the weather promises to continue to be clement which are all favourable signs for some great golf in Round 2 heading for the cut at the end of the day. Tee off starts at 7:30 am from holes 1 and 10.
Results Round 1: click here
Stay tuned! www.wp-alpstour.ocs-sport.com and the app « Alps Tour Golf » (on App Store for iOS devices and Play Store for Android) will keep you updated on every news about Alps Tour.
Instagram @alpstourgolf
Facebook @Alpstourgolf Satellite
Twitter @AlpsTourGolf
19th April 2021 | Alps Tour Golf
Alps Tour Continues in Italy for the Abruzzo Open
April 19th, 2021 – Pescara, Italy. After playing two tournaments in Puglia, the Alps Tour players change region and move further north for the Abruzzo Alps Open. Since its inaugural year of 2014, the tournament has been hosted by the Miglianico Golf & Country Club apart from 2020 when, exceptionally, the tournament did not take place.
And as for the opening tournaments of the 2021 season, players are eager to get out there and play some competitive, professional golf. A full field of 132 players has been confirmed and there is, again, a lengthy reserve and waiting list. Among the 15 nationalities represented there is a total of 109 pros and 23 amateurs.
The previous winner in 2019, Sebastian Garcia Rodriguez from Spain, is now playing on the European Tour and will not be defending his title. There are, however, lots of contenders who will be more than happy to succeed him. Among them, the two victors of the 2021 season-opening tournaments, Ryan Lumsden from Scotland at the MIRA Golf Experience Acaya Open and the French amateur, Paul Margolis, who celebrated his first professional win at the MIRA Live the Soul Open.
Jacopo Vecchi Fossa from Italy is still savouring his win on this very course just over a week ago at the National Open Golf Championship on the Italian Pro Tour. He was also an Alps Tour champion at the 2020 Italy Open and is joined by his compatriot, Stefano Mazzoli, 2020 Red Sea Little Venice Open winner. Jacobo Pastor from Spain is the third 2020 title holder in the field with his home win at Alps de Las Castillas.
Another recent victor is the experienced Alps Tour member, Xavier Poncelet. He took advantage of the lull between Alps Tour tournaments in Italy to pocket a home turf victory at the Open Ffgolf des Aisses just three days ago in France under difficult weather conditions.
The course here was designed by Ronald Kirby, the renowned American architect whose career spans more than 60 years, and whose name is on over 70 courses around the world including the famous Old Head Links on the coast of Ireland. At the Miglianico Golf & Country Club he created a technically challenging but enjoyable course that winds through natural olive groves with strategically placed bunkers and water hazards. The greenside sand traps on the par 4 11th are one such example as is the small lake right in front of the green on the par 3 12th. A forward pin position can make for a tricky approach shot.
The forecast for the Abruzzo Alps Open promises to be within the seasonal norms but rain is a strong possibility on the first two days. The wind is also something that needs to be factored into the game. Given the location of the course, nestled in a valley between the Apennine peaks and the Adriatic coast, wind gusts can come from either direction.
Entries: click here
Stay tuned! www.wp-alpstour.ocs-sport.com and the app « Alps Tour Golf » (on App Store for iOS devices and Play Store for Android) will keep you updated on every news about Alps Tour.
Instagram @alpstourgolf
Facebook @Alpstourgolf Satellite
Twitter @AlpsTourGolf
8th April 2021 | Alps Tour Golf
Wallace & Friends: Those Ranking Winners Still On The Rise
Nino Bertasio, Darius Van Driel and of course Matt Wallace, the most successful former member of the Alps Tour (with over €6 millions career money won on the European Tour) are among the past winners of the Order of Merit, as well as Jason Palmer who progressed all the way to the bigger tour before a wrist injury ended his playing career, and has now been caddying on the European Tour for another former Alps Tour player, Chris Paisley.
Here they share their memories and wishes for the Tour where their careers started. Enjoy!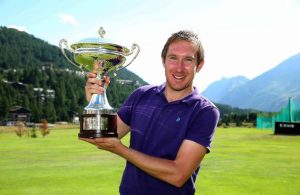 Class of 2013
"Playing on the Alps Tour was undoubtedly the most fun I ever had in my golfing career. What I enjoyed the most was the camaraderie between the players. I made more friends playing on the Alps Tour than at any other level of golf, and I think if you play in a friendly environment then that can only help to bring the best out of you, both as a person and as a player.
Being from England it was a big decision to try to establish myself on the Alps Tour instead of the Europro Tour. I believed that the travelling involved on the Alps Tour was more similar to life as a touring professional, where you need to fly to different places each week and are subjected to different types of courses and different grasses. It was one of the best decisions I ever made and my game progressed further as a result.
I will forever be grateful to the Alps Tour for giving me the platform to grow as a player. I was fortunate to gain some success and the confidence that brings is enormous. I would lean on those successes in future years and ultimately I progressed all the way to the European Tour before a wrist injury ended my playing career. The venues are superb and the strength of competition continues to improve year after year. You only need to look at the European Tour and it is littered with former Alps Tour players, which tells you all you need to know.
So thank you Alps Tour for some of the best and happiest memories of my life! May you continue to provide opportunities for some of the most talented players on the continent for years to come".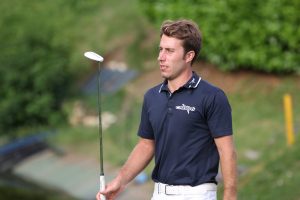 Class of 2014
Nino BERTASIO (Italy)
"The Alps Tour – and more precisely the season of 2014 – represented for me my golfing comeback after a couple of difficult and complicated years on the courses.
I remember that the first four results I had at the start of the season guaranteed my goal of the season, that is the top 5 in the Order of Merit. If I don't go wrong, I started in Europe with a 5th place in Austria, a 2nd at Colli Berici in Italy and two wins in a row, in Guadeloupe and Asiago in Italy.
Winning the Order of Merit was a bonus which gave me the confidence needed to face the Challenge tour the following year, and then the European Tour in 2016.
I remember we had a lot of fun during the whole season. We were a nice group of Italian players and we always tried to spend some time together, sharing apartments where we used to cook, grill and bbq, we played cards or any kind of sports during the free time. These are things that we don't do on the bigger tours anymore".
Darius VAN DRIEL (The Netherlands)
"The Alps Tour has a special meaning to me. This is where I started my pro career and it's where you need to fight for every euros: you're not going to get rich but in order to progress to the next level you really need to play well.
I've learned a lot on the Alps Tour and it provided the base to where I stand today.
In that year, 2015, after a shaky start of the season with two missed cuts and three results with an average ranking, I had four top-10s and finished 2nd five times – in May, the Gosser Open in Austria and the Colli Berici in Italy, in September the Citadelle Trophy and the Haut-Poitou in France, the Alps de Extremadura in Spain and then, finally, I won the Open International de Marcilly: that was a big load off my shoulders! To finally win after so many second places".
Since then, Darius has been a regular on the Challenge Tour and European Tour: he secured his first Challenge Tour title at the inaugural Euram Bank Open in Austria in 2018 and added to his trophy tally 13 months later at the Rolex Trophy in Switzerland, where he charged up the leaderboard with a final round of 64. He finished the 2019 season as 13th in the OoM and has gained the European Tour card.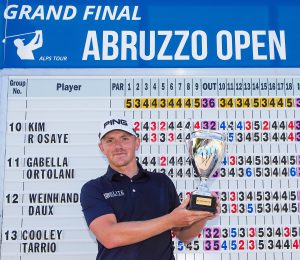 Class of 2016
Matt WALLACE (England)
"I want to wish everybody the best of luck on the Alps Tour starting up again and celebrating its 20th anniversary in 2021. The Mini Tour is such an important part for professional golf – it certainly was for me!", says Wallace in a video message he sent to the Alps Tour just before the start of the Spring Series in Acaya (Italy) last March.
Wallace, now 31, is undoubtedly the most successful "product" of the Alps Tour. He joined in 2013, when he was 22, having gained his playing category through the Qualifying School the previous year, and went on with two average years – ranked 41st in 2013 and 27th in 2014.
In 2015 he started improving (7th), before really exploding in 2016 with a record 6 wins: Dreamland Pyramids Open in Egypt, Tunisian Golf Open in Tunisia, Gosser Open in Austria, and Vigevano Open, Open Frassanelle and Grand Final by AXA in Italy.
"Congratulations to the Alps Tour for getting up and running in Europe. I know you're starting in Italy so good luck to everyone playing. Matteo Manassero will be there, as well as Enrico Di Nitto, another good friend of mine. I wish everyone the best of luck and have a great season!"
The stories of the last four winners will follow in the next few weeks, stay tuned!
The Alps Tour in numbers since 2001:
€ 15.240.000 prize money distributed;
365 tournaments;
14 countries visited;
152 different venues;
217 different tournament winners
Please click:
here for the full list of Schedules and Winners 2001-2020
here for the alpha list of winners 2001-2020
here for the Top 5 OoM 2001-2020
Latest Alps Tour Golf News