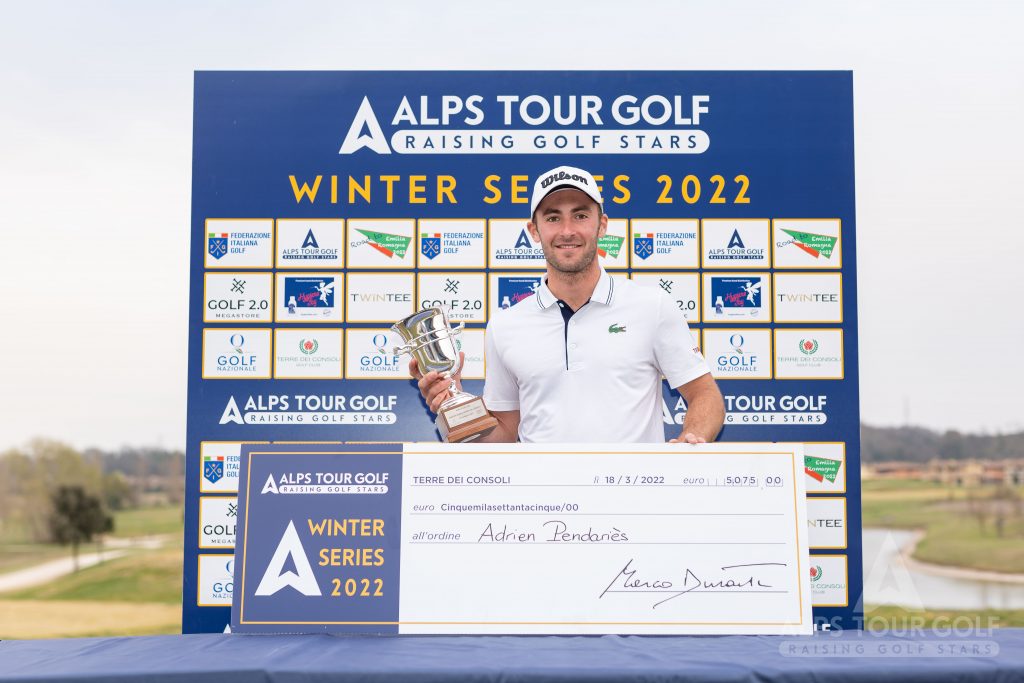 Adrien Pendaries, son of European Tour player Marc, wins the Winter Series Terre dei Consoli with 200 strokes. Credit: Federico Capretti
18th March 2022 | Alps Tour Golf
A birthday present for rookie Adrien Pendaries, first-time winner at Terre dei Consoli
Italy, March 18, 2022 – Frenchman Adrien Pendaries, son of European Tour player Marc , made himself a really nice birthday present by winning with a 4-strokes margin the Winter Series Terre dei Consoli, with a total score of -16 (200 strokes, 67-69-64) and an impressive final round on 8 under par.
Pendaries, 23 today, representing St. Nom La Breteche Golf Club, is a first time-winner and entered the tournament thanks to an invitation by the Alps Tour, as he had no playing category. With this win, though, he earns an exemption for 12 months for all the tournaments hosted by the Alps Tour until March 2023.
Adrien had a consistent game during the week and he has been hitting the ball in the right spots. After the first round he was T3 with other 5 players at -5 and after R2 he was T4 at -8.
The third round was completely game-changing for the young pro. Pendaries started with 2 birdies in a row on 1st and 2nd and ended the front nine holes with an eagle on 8th. Then, he completed the round with a birdie on 12th ,  another eagle on 15th and a final birdie on 18th for a total of 64 strokes, the lowest score of the whole tournament.
"I've been chipping and putting very well. During the week I've been also able to manage my game and optimize it to the course which was very firm. The only thing I would change of this tournament is my drive off the tee but, anyway, I'm very happy. This victory means a lot to me and it is a good stepping stone for me. Now I just need to get back to work and keep progressing".
His compatriot Julien Sale, 24, from St. Cloud, confirmed he is in great shape and carded a daily -5 which took him to T2, four strokes back of the winner and with a total of -12. The young amateur finished in the same position just two weeks ago at 2022 New Giza Open and here in Italy he proved once again to be one of the most promising player of the field. "It was really nice being on the hunt for first place during the back nines. I was just one shot behind and I could take the lead on each hole. I'm just a little disappointed I didn't manage to catch the title but anyway I'm playing better and better every week so I'm very happy".
Tied on 2nd place Pierre Pineau, 22, with 67-69-68 (-12). This is his second top-3 for this year. In fact, during the first tournament of the Alps Tour schedule, the Ein Bay Open, he carded an impressive -11 which took him to the third place.
Portuguese Tomas Guimaraes Bessa, representing Cigala and winner of the last tournament held in Egypt, finished T6. However, the young golfer will leave with an awesome memory of this course. In fact, he nailed an incredible 8 iron from the tee box on hole n. 3 for a brilliant hole in one.
Six different nationalities are represented among the top 10. In addition to those already mentioned, Spaniard Jorge Maicas finished T4 with Dutchman Lars Keunen at -11; tied on 6th position at -9, as well as Guimaraes Bessa, are Italian amateur Gianmarco Manfredi and his compatriots Stefano Mazzoli and Giacomo Fortini, who was co-leading after R1, and French amateur Tom Vaillant; while Irishman Conor Purcell finished T11 with Vince Van Veen (Ned), and Martin Couvra (Fra) at -8.
Stefano Mazzoli keeps the lead of the Order of Merit after four tournaments with 10,591.50 points.
Now the Alps Tour Season will move to Golf Nazionale, Rome, which will host the Winter Series Golf Nazionale from March 21st to 23rd.
All the previous winners will be attending this tournament except for French amateur Oihan Guillamoundeguy.
 Final results: click here or check on the Alps Tour Golf app.
Stay tuned! www.alpstourgolf.com and the app « Alps Tour Golf » (on App Store for iOS devices and Play Store for Android) will keep you updated on every news about Alps Tour.
#risinggolfstars
#raisinggolfstars
Latest Alps Tour Golf News