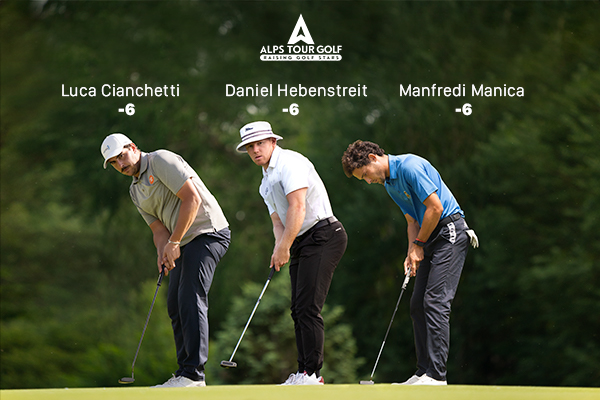 Round 1 Leaders: Luca Cianchetti, Daniel Hebenstreit and Manfredi Manica. Photo Credit: Federico Capretti/ Alps Tour
10th June 2022 | Alps Tour Golf
A three-way tied for the lead after Round 1 at the 2022 Open de la Mirabelle D'Or.
Metz, June 10th 2022– A beautiful morning with clear skies and a pleasant temperature with a highs around 25* welcomed the 142 players in Metz, France for the 1st round of the 2022 Open International de la Mirabelle D'Or. The event is being played at Golf Domaine de la Grange Aux Ormes and play began at 7:30 am from both the 1st and 10th hole.
At the conclusion of the first round, we have a full leaderboard. Italy's Luca Cianchetti, Manfredi Manica and Austria's Daniel Hebenstreit are in a three-way tied for the lead with a 6 under-par round 64. There are 9 players who are in a tied for 4th place just 1 stroke back at 5 under-par that include Spain's Manuel Morugan (winner of the 2022 Abruzzo Alps Open) and French amateur Tom Vaillant who is currently 8th in the Alps Tour Order of Merit.
Round 1 Player Quotes-
Italy's Manfredi Manica shot a 6 under-par 64 round today and is one of the players tied for the lead entering round 2.  He was born on January 29th 1996 and turned professional on January 24th 2022 representing GC Castelconturbia, Italy. In the past, he has competed in various Alps Tour events as an amateur however this is his first full season as a professional. After his round, Manfredi was very pleased especially after holing out his shot from 97 meters on the 15thhole for an eagle. He commented: "Today I played very well, I'm very happy. My second shots helped me a lot today for the good round." Manfredi was also happy with the course, "the greens were in very good conditions and the course gave a lot of birdie opportunities." 
Luca Cianchetti, a multiple winner of the Alps Tour also tied for the lead at 6 under-par 64. His round included 5 birdies, 1 bogey and 1 eagle.  Cianchetti's last win was at the 2021 Red Sea Little Venice Open and is looking to add another title.  After his round, he was very happy about today and commented on how: "all areas of my game worked well today, especially my putting."
Austria's Daniel Hebenstreit representing Golf & Country Club Brunn is the third player in the three-way tied for the lead at 6 under-par. He turned professional in January 2020 and has played on the Alps Tour since. After today's first round, his goal is to bring home a victory here at the 2022 Open de la Mirabelle d'Or. Daniel commented: "The course is very enjoyable and in great conditions. I had an up and down round today, some very good shots as well as some very bad ones but I managed to keep it together and bring home a good score so I'm very pleased with myself."
Amateur Tom Vaillant from France currently 8th in the Order of Merit, shot a 5 under-par 65 round which included 6 birdies and a single bogey on the 18th hole is 1 shot back from the lead. After his round, Tom commented: "the course is in great shape, greens are great, rough too so it's cool to play here."
The 142 players in the field are competing for €40,000 and 45,000 points in the order of merit. The winner of the 2022 Open International de la Mirabelle D'Or will gain € 5,800 and 6,525 Order of Merit points.
Round 2-
Round 2 of the 2022 Open de la Mirabelle D'Or will begin again at 7:30 am from hole 1 and 10.  After the second round, a cut will be made to the top 40 players.
For the complete Round 1 Leaderboard click here otherwise go check it on the official Alps Tour app.
Tournament Promoter-
This event is organized and promoted directly by the golf club, Golf Domaine de la Grange Aux Ormes. The Institutional Sponsors that support this tournament are: Région Grand Est, Département de la Moselle, Ville de Marly, Inspire Metz and Fédération Française de Golf. The Private Partners at this event are: Crédit Agricole, Quadral, Mercedes Kroely, Demathieu & Bard, JC Decaux, Opéra Théâtre, Mayer and Banque Populaire. The Official Suppliers of the tournament are: Eurogolf Luxembourg, Lemoy, Heineken, Château Sainte- Marguerite, Cristian Senez, Agence Grand Angle and Café Richard. In addition, their media partners are the following two media outlets: La semaine and Républicain Lorrain.
Follow along on www.alpstourgolf.com or the official "Alps Tour Golf" app to keep up on all the latest news (available on App Store for iOS devices and Play Store for Android)
#risinggolfstars
#raisinggolfstars
Instagram- @alpstourgolf
Facebook- Alpstourgolf
Twitter- @alpstourgolf
Latest Alps Tour Golf News