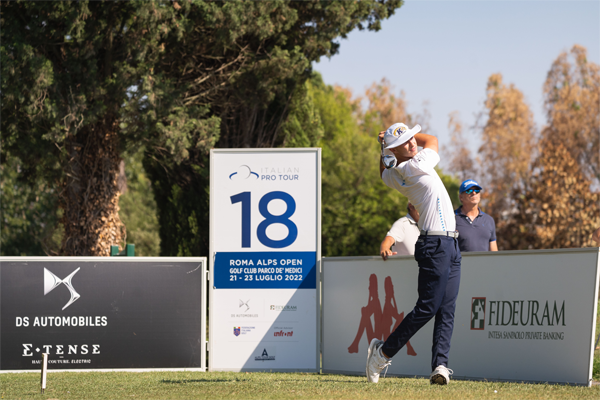 Round 2 Leader at the 2022 Roma Alps Open, Julien Paltrinieri. Photo Credit: Federazione Italiana Golf/ Federico Capretti
22nd July 2022 | Alps Tour Golf
Amateur Julien Paltrinieri takes the 36-holes lead at the 2022 Roma Alps Open.
Leaderboard-
| | | |
| --- | --- | --- |
| Pos. | Name | Score |
| 1 | Julien Paltrinieri-am (Italy) | 64-66 (-14) |
| 2 | Alex Esmatges (Spain) | 63-68 (-13) |
| 3 | Gregorio De Leo (Italy) | 64-68 (-12) |
| 4 | Gary Hurley (Ireland) | 70-63 (-11) |
| 5 | Jorge Maicas (Spain) | 70-64 (-10) |
Quick Links-
Rome, July 22nd 2022- Italian amateur Julien Paltrinieri has a one stroke lead entering the final round. Just one stroke back of the lead with a two-day total of 13 under-par and in 2nd place, Spain's Alex Esmatges. In third place at 12 under-par, current Order of Merit Leader and a two-time winner this season, Italy's Gregorio De Leo. Ireland's Gary Hurley, with an amazing bogey-free 9-under par round today is in 4th place, with a two-day total of 11 under-par.
It was another hot day with scorching summer temperatures at Golf Club Parco de' Medici in Rome, Italy host of this week's 2022 Roma Alps Open. During today's round, temperatures reached over 40° celsius which made it physically difficult for the players. Luckily during the afternoon some wind picked up which helped handle the unusually high temperatures and humidity. Play began at 7:30 this morning from both the 1st and 10th hole.
Round 2 Player Quotes-
Julien Paltrinieri, Italian amateur who was in a two-way tie for 2nd place yesterday, holds a one stroke lead after 36 holes. He followed his opening-round of 8 under-par, with a 6 under-par in the second round for a two-day total of 14 under-par. He made 7 birdies today and a single bogey during his round. After his round, Julien was very pleased with his result and commented: "I teed off at 7:30 this morning and the course was a bit wet early on making it slightly longer. However, there was less wind compared to yesterday afternoon which made it easier to hit shots into the green. Today was also very humid which made it feel just as hot as my round yesterday afternoon. I'm very happy, I struggled slightly on the front nine but my short game kept me together and I putted well on the back. I was hoping for another bogey-free round, but the only bogey I made was due to a 3putt." He went on to explain that once he graduates from his master program, he will then consider turning pro. For tomorrow, he wants to "stick to my routine and focus on each shot."
Round 1 leader, 28 years old, Spain's Alex Esmatges followed with a 4 under-par in round 2 and sits just one stroke off the lead at 13 under-par entering tomorrow's final round. He is playing in his 5th Alps Tour event of the season. In today's round, Alex made four birdies on the front nine holes to go out in 33 and then a steady 1 bogey, 1 birdie on the back nine to sign for a 68. He is looking forward to tomorrow's final round being patient and playing with a "similar strategy, hit fairways and greens to leave myself the best putts possible for birdie and see what will happen at the end of the round."
Italy's Gregorio De Leo, 22 years old, is the current Order of Merit Leader as well as a two-time winner thus far this season. He followed his opening round of 8 under-par 64 with a 4 under-par 68 for a two-day total of 12 under-par, which allowed him to be in contention with only 2 strokes from the lead. In 3rd place, Gregorio made 5 birdies and 1 single bogey during the round today and explained, "my game tee to green both yesterday and today has been extremely solid. Today I didn't putt bad, but I didn't make as many putts as I wanted to which is why yesterday I was able to make more birdies and therefore a lower score." He also commented that he found, "the course was playing slightly easier today compared to my round yesterday. The toughest part but I think for every player this week, due to the extreme heat and humidity we have to face. That was the toughest part of today's round, well actually the entire week." Gregorio's plans to"play shot by shot tomorrow and stay patient especially in this heat, however its obviously in my mind that the goal is to win a 3rd tournament to guarantee at 110% my Challenge Tour card for next year."
Final Round-
The final round of the 2022 Roma Alps Open, will begin at 7:30 am from the 1st and 10th hole.
A total of 55 players made the cut which was set 3 under-par (141). The leaders will tee off at 9:09 am from the 1st hole. The winner of the 2022 Roma Alps Open, will earn the winner's check of €5,800 and 6,525 very important Order of Merit points.
Tournament Promoter-
Like the majority of the Alps Tour events played in Italy, this event is organized by the Italian Pro Tour, which is a branch of the Italian Golf Federation. They promote the majority of the professional golf events that are played in Italy. The main sponsors that support the Italian Pro Tour include DS Automobiles, Fideuram, Kappa, Rinascente, Eureco and Poste Assicura. In addition, their media partners are the following three Italian newspapers: Corriere dello Sport,Tuttosport and Il Giornale. The Italian Pro Tour featured social partner is Sport Senza Frontiere Onlus and with an official advisor, Infront.
Follow along on www.alpstourgolf.com or the official "Alps Tour Golf" app to keep up on all the latest news (available on App Store for iOS devices and Play Store for Android)
#risinggolfstars
#raisinggolfstars
Instagram- @alpstourgolf
Facebook- Alpstourgolf
Twitter- @alpstourgolf
Latest Alps Tour Golf News