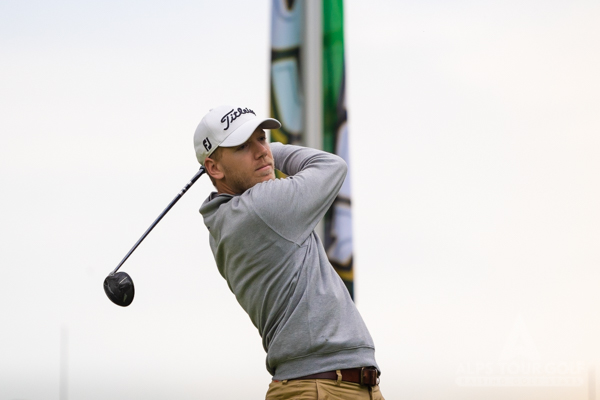 Round 2 Leader Lukas Lipold at the 30th Gösser Open. Photo Credit: Federico Capretti / Alps Tour
13th May 2022 | Alps Tour Golf
Austria's Lukas Lipold leads entering the Final Round at the 30th Gösser Open.
Graz, May 13th 2022- An overcast day with a comfortable temperature allowed the players in the morning wave of Round 2 at the 30th Gösser Open to have perfect scoring conditions. The afternoon wave had a mix of rain, overcast and some sunshine for their round. The event is being played in the Western part of the state of Styria at Golf Club Erzherzog Johann in Maria Lankowitz, its host since 2000.
At the conclusion of the second round, Austria's Lukas Lipold leads the field with a two-day total of 14 under-par and a stellar 9 under-par in today's round. Tied for second place, 3 shots back of the lead, there are two Legends Tour player's: American Clark Dennis and Austrian Markus Brier. At 10 under-par, 4 shots from the lead, there are two compatriots, Stefano Mazzoli and Andrea Saracino.
Round 2 Leader Quotes-
Austria's Lukas Lipold who turned professional at the end of 2019 had the lowest round of the day and is leading by 4 shots entering the final round of the 30th Gösser Open.  His round today, included 6 birdies, 2 eagles and a single bogey for a 9 under-par round, 63. Lipold was very pleased after the round and did not expect to play as well due to an ongoing injury. After his round, he happily commented: "This round comes at a pretty unexpected time as I had to take a break before this tournament due to an injury which is still ongoing. Today things just worked out for me. I 3-putted on 17 and then was able to bounce back immediately which got the momentum going." Lipold's 2 eagles today included a hole out on the 4th hole: "I eagled Hole 1 which was a kickstarted for me. Then the eagle on the 4th was the icing on the cake when I holed out my pitching wedge from 135m." He feels very blessed to be in contention entering the final round and is focused on having a good finish at this tournament to see what happens next.
American Legends Tour player, Clark Dennis had a bogey-free 6 under-par round today for an overall 11 under-par and 3 shots back of the lead. Dennis turned professional in 1986 and has played on the Nationwide Tour, on the PGA Tour, and currently plays on the Legends Tour as well as the Champions Tour. Dennis commented "I played very solid so far this week. This is a very fun event being able to play with the younger generation and would love to see more events like this." He also mentioned, "On courses like this week, that are shorter and tighter having the experience us Legends Tour players definitely helps. I was able to use my experience and place my shots to put together a good round." Dennis is satisfied with the week so far, especially being able to get some good competitive reps in as he is preparing to play in the Senior PGA Championship in a few weeks.
Markus Brier, from Austria, one of the five Legends Tour players competing this week shot a 6 under-par, bogey-free round for an overall 11 under-par and 3 shots back of his compatriot's lead. Brier, turned professional in 1995 and is a multiple winner on the Challenge Tour and on the European Tour. Brier has some previous experience on this golf course, "I've played this event many times and know this course well, that is one of the reasons why I'm playing this week." He is grateful to his short game for his good scoring so far, "My putter and short game have been amazing, I haven't missed any short putts and made good recovery when I was in trouble. I don't hit it very long but thanks to my short game I'm able to be competitive with the younger guys."
Andrea Saracino of Italy, had a wonderful bogey-free 6 under-par round 66 for an overall 10 under-par for the tournament and 4 shots back of Lukas Lipold's lead.  When Saracino completed his round, he was happy especially with the weather in his draw, "My long game was very solid which allowed me to hit a lot of shots close and have birdie chances. I was very lucky with the draw and happy to have taken advantage. Saracino hopes to earn his Challenge Tour card back by finishing in the Top 5 Alps Tour Order of Merit at the end of the season, therefore his goal is to have a good finish this week.
Italy's Stefano Mazzoli, had 6 birdies and 1 bogey in his round and is also 4 shots back of the lead. Mazzoli's last win comes at the 2022 Ein Bay Open and is currently second in the Alps Tour Order of Merit. He has been playing consitent this entire tournament and was happy with his round today to get back in contention. "I was mentally at ease today compared to yesterday and that helped me shot a lower score. I've been playing well all week but struggling with my green reading." Mazzoli is looking "forward to another positive round tomorrow and hope it won't rain a lot. I will focus on my strategy of placing my tee shots to have a lot of birdie opportunities."
Tournament Promoter-
This week's event is promoted by the Murhof Gruppe. They own various golf courses throughout Austria including this week's venue. The sponsors and partners of Murhof Gruppe are Gösser Beer, Region Graz, Lipizzaner Heimat- Steiermark, Austrian Golf Federation, the city of Maria Lankowitz Wallfahrtsort Freizeitparadies and Steiermärkische Sparkasse. Their media partners are: Gepa Pictures, Antenne Steiermark, Kleine Zeitung.
The Final Round-
The Final Round of the 30th Gösser Open, will begin tomorrow morning at 8:30 from hole 1 and 10. The final group will tee off at 9:47 from hole 1. The winner of the 30th Gösser Open will earn 6,525 Order of Merit points.
A total of 48 professional players made the cut which was set at -4.
For the complete Round 2 leaderboard click here or go on the official Alps Tour Golf app.
Follow along on www.alpstourgolf.com or the official "Alps Tour Golf" app to keep up on all the latest news (available on App Store for iOS devices and Play Store for Android)
#risinggolfstars
#raisinggolfstars
Instagram- @alpstourgolf
Facebook- Alpstourgolf
Twitter- @alpstourgolf
Latest Alps Tour Golf News