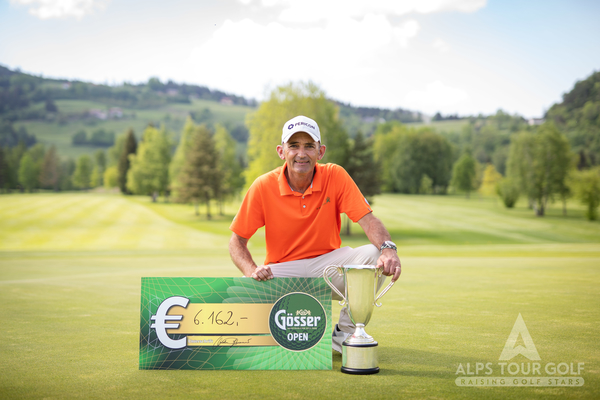 Legends Tour player Markus Brier winner of the 30th anniversary of the Gösser Open. Photo Credit: Federico Capretti / Alps Tour
14th May 2022 | Alps Tour Golf
Austria's Markus Brier wins the 30th anniversary of the Gösser Open
Graz, May 14th, 2022 –The Final Round of the 30th Gösser Open began at 8:30 from hole 1 and 10. The final group that included, two Legends Tour players, Austria's Markus Brier and America's Clark Dennis with Round 2 leader Lukas Lipold teed off at 9:47 from the 1st hole. It was a beautiful spring day with optimal scoring conditions for the players, at Golf Club Erzherzog Johann in Maria Lankowitz. This course has hosted the Gösser Open since 2000.
Legends Tour player, Austria's Markus Brier won by one shot on the 18th hole over his compatriot Lukas Lipold. One shot back, there was a three-way tied at 16 under-par : Italy's Andrea Saracino, Austria's Lukas Lipold and fellow Legends Tour player American Clark Dennis. This is the third time that Markus Brier wins the Gösser Open, his previous wins were in 1994 and 1995.
Koen Kouwenaar, remains the current Alps Tour Order of Merit leader. He has a 3,399.39 points advantage over Italy's Stefano Mazzoli who is still in second place.
Winner Quotes-
Legends Tour player, Markus Brier, won by 1 shot the 30th Gösser Open celebrating another home success for Austria. He is a previous winner of this tournament in 1994 and 1995 when it was still played at its previous host, Steiermärkische Golf Club Murhof. Brier shot a 6 under-par round for an overall 17 under-par. He turned professional in 1995 and he is a multiple winner on the Challenge Tour as well as the European Tour. Brier was very happy after his round today, "This is probably the most surprising victory I have celebrated in my professional career. The key to success today was that I got into a good rhythm very quickly and made a lot of birdies on the first nine holes." He was really pleased about the victory today especially after not having played well the week before at the Legends Tour event at Murhof Golf Club.
Andrea Saracino who finished in a tied for 2nd place, just one shot back, had a final round, 6 under-par 66 that included 1 eagle, 6 birdies and 2 bogeys. After his solid performance this week, Saracino has now moved to 19th in the Alps Tour Order of Merit. He turned professional in 2017 and hopes to move up in the Alps Tour Order of Merit to regain his Challenge Tour card.
Austria's Lukas Lipold who unfortunately bogeyed the 18th hole to finish in a tied for 2nd, had 5 birdies and 3 bogeys in today's round for a 2 under-par. Lipold turned professional at the end of 2019, this is his 3rd season as a professional player and he hopes to qualify for the Challenge Tour.
In his final round, Clark Dennis shot a 5 under-par 67 with 1 eagle, 4 birdies and 1 bogey finishing tied for 2nd. Dennis turned professional in 1986 and has played on the Nationwide Tour, on the PGA Tour, and currently plays on the Legends Tour as well as the Champions Tour. He was very pleased with his result this week in preparation for `his participation in the Senior PGA Championship in a few weeks.
Final Round-
Markus Brier, winner of the 30th Gösser Open, earned € 6,162.50. There was a three-way tied for second place at 16 under-par that included, Clark Dennis, Andrea Saracino and Lukas Lipold.
For the Final Round leaderboard click here or go on the official Alps Tour Golf app
The Alps Tour returns to the Northern part of Italy for the 9th event of the season. The event is scheduled from May 25thuntil May 27th at Golf Club La Pinetina in Como, Italy for the 2022 Memorial Giorgio Bordoni.
Tournament Promoter-
The promoter of this week's tournament is the Murhof Gruppe. They own various golf courses throughout Austria that include this week's venue.
The sponsors and partners of Murhof Gruppe are Gösser Beer, Region Graz, Lipizzaner Heimat- Steiermark, Austrian Golf Federation, the city of Maria Lankowitz Wallfahrtsort Freizeitparadies and Steiermärkische Sparkasse. Their media partners are: Gepa Pictures, Antenne Steiermark, Kleine Zeitung.
Follow along on www.alpstourgolf.com or the official "Alps Tour Golf" app to keep up on all the latest news (available on App Store for iOS devices and Play Store for Android)
Instagram- @alpstourgolf
Facebook- Alpstourgolf
Twitter- @alpstourgolf
Latest Alps Tour Golf News