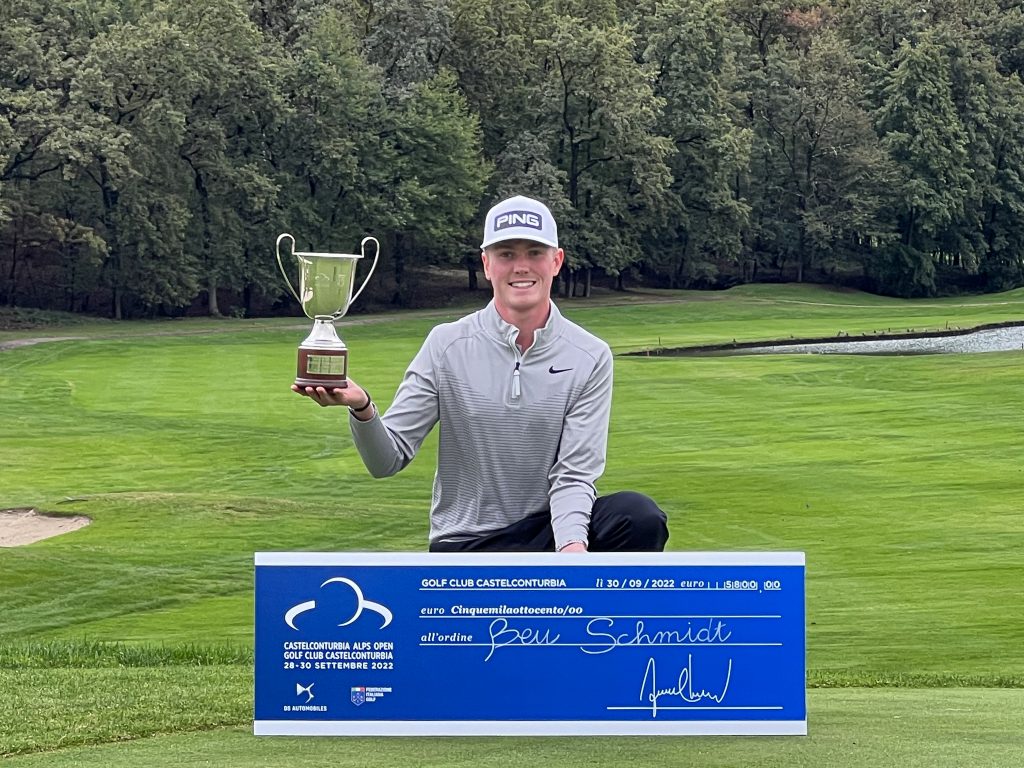 Ben Schmidt winner of the 2022 Castelconturbia Alps Open.
30th September 2022 | Alps Tour Golf
Ben Schmidt wins the 2022 Castelconturbia Alps Open.
Leaderboard-
| | | |
| --- | --- | --- |
| Pos. | Name | Score |
| 1 | Ben Schmidt (England) | -15 (201) |
| 2 | Vince Van Veen (Netherlands) | -14 (202) |
| 3 | Gary Hurley (Ireland) | -13 (203) |
| T4 | Sam Robinson (England) | -12 (204) |
| | Tom Vaillant-am (France) | -12 (204) |
| | Edoardo R Lipparelli | -12 (204) |
Quick Links-
Agrate Conturbia, September 30th 2022- Ben Schmidt wins with an unbelievable birdie-birdie finish his 1st professional event at the 2022 Castelconturbia Alps Open with a score of 15 under-par. Vince Van Veen, winner at the 2022 Fred Olsen Alps de La Gomera concluded the tournament just one stroke back 14 under-par.  In third place, another of this season previous winner Ireland's Gary Hurley at 13 under-par. There was a 3-way tie for 4th place at 12 under-par with: Sam Robinson, Tom Vaillant (am) and Edoardo R Lipparelli.
The final round tee times of the 2022 Castelconturbia Alps Open were delayed 1 hour due to heavy overnight rain that caused unplayable greens. Thanks to the unbelievable work performed by the Golf Club Castelconturbia superintendents the final round began at 9:00am with the overnight leaders teeing off at 10:20am. Players competing in today's final round had to face a cold and rainy day with softer course conditions compared to the last few days.
Final Round Player Quotes-
Ben Schmidt won his first professional event here at the 2022 Castelconturbia Alps Open by just one stroke. He concluded the tournament at 15 under-par with a 5 under-par final round. During today's final round, Ben made 6 birdies and 1 bogey. After he finished his round, his first reactions were, "My game was very good today, it's been very solid all week. I made a small mistake on 16 with a bogey today but it was a nice finish with 2 good birdies on 17 and 18. So I was very happy with that. He also added that: "I've enjoyed this course, it's a thinkers course, you have to put it in play off the tee and if you don't then it will be hard to hit good shots into the greens. The greens are tricky but very rewarding at the same time. I've really enjoyed playing this course." With this being his first professional win, he added:  "this is my first professional win so I would like to try and take everything that I've learned from this week into my next events."
Vince Van Veen from Netherlands, shot a final round of 7 under-par for a three-day total of 14 under-par to conclude his tournament in 2nd place just one stroke from the lead. After he concluded his final round under some difficult conditions, Vince was very pleased: "I've worked really hard on my putting and this week more pieces were coming together and it's exactly what I wanted heading into the final next week. I was playing very well. I made a few mistakes but was able to recover and made pars. Making 7 birdies with no bogeys is always good before the finals." He now has a few days off before the finals next week and Vince plans on "resting a lot the next few days before the finals." When asked what his plan is for the finals, Vince commented: "Next week I want to maintain focus on the process goals that is what makes me perform well and stay present day by day."
The Alps Tour Order of Merit rank heading into next week's 2022 Emilia Romagna Alps Tour Grand Final has Italy's Gregorio De Leo leading and France's Tom Vaillant (am) and Julien Sale to close out the top three spots. In 4th place, Ireland's Gary Hurley and in 5th place Netherland's Vince Van Veen.
Final Round-
Ben Schmidt winner of the 2022 Castelconturbia Alps Open, earned 6,525 Order of Merit points and the winning check of €5,800.
Next week the top 50 players in the official Order of Merit rank, will compete at the 2022 Emilia Romagna Alps Tour Grand Final which will be played at Modena Golf & Country Club from October 6th– October 8th.  The tournament prize fund is set at € 50,000 and 5 Challenge Tour cards will be given out to the top 5 players in the order of merit at the conclusion of the event.
Tournament Promoter-
Like the majority of the Alps Tour events played in Italy, this event is organized by the Italian Pro Tour, which is a branch of the Italian Golf Federation. They promote a great part of professional golf events that are played in Italy. The main sponsors that support the Italian Pro Tour include DS Automobiles, Fideuram, Kappa, Rinascente and Poste Assicura. In addition, their media partners are the following three Italian newspapers: Corriere dello Sport, Tuttosportand Il Giornale. The Italian Pro Tour featured social partner is Sport Senza Frontiere Onlus and with an official advisor, Infront.
Follow along on www.alpstourgolf.com or the official "Alps Tour Golf" app to keep up on all the latest news (available on App Store for iOS devices and Play Store for Android)
#risinggolfstars
#raisinggolfstars
Instagram- @alpstourgolf
Facebook- Alpstourgolf
Twitter- @alpstourgolf
Latest Alps Tour Golf News