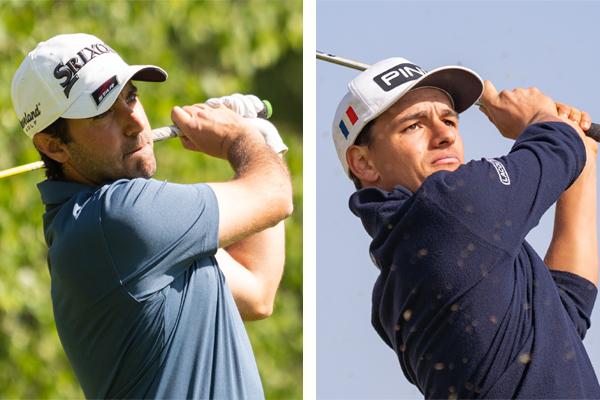 Round 2 Leaders: Daniel Berna Manzanares and Tom Vaillant. Photo Credit: Federico Capretti/Alps Tour Golf
17th June 2022 | Alps Tour Golf
Daniel Berna Manzanares and Tom Vaillant co-lead after Round 2 at the Aravell Golf Open by Crèdit Andorrà.
Aravell, June 17th 2022– Spain's Daniel Berna Manzanares and France's Tom Vaillant are co-leading at the 2022 Aravell Golf Open by Crèdit Andorrà with a 14 under-par at the conclusion of round 2. Eemil Alajarvi is just one shot back of the pair with a two-day total of 13 under-par. In 4th place, Ireland's Gary Hurley with a total score of 11 under par. Vince Van Veen and Manuel Morugan are tied for 5th place at 10 under-par, only 4 shots back of the lead at the end of today's round.
Another beautiful summer day with very hot temperatures welcomed players for the second round at Aravell Golf & Country Club near Lleida, Spain. Round 1 resumed at 7:30 this morning due to yesterday's delays. Once the first round was concluded, Spain's Daniel Berna Manzanares lead the field with a course record, 10 under-par 61. He held a 1 stroke advantage over Eemil Alajarvi who shot a 9 under-par 62 and a 2 strokes advantage over amateur, Tom Vaillant who shot an 8 under-par 63.
Round 2 Player Quotes-
Daniel Berna Manzanares, who was the first-round leader, shot a 4 under-par in round 2, for a two-day total of 14 under-par and is co-leading entering the final round. He turned professional in 2015 and has been an Alps Tour player since. After his round, Daniel commented, "I really like the design of this golf course, the par 3 are difficult and the par 5 are very fun to play. I think my strategy is what has helped me the most so far this week. I'm leaving myself a lot of shots between 120 and 160 which I really like." When asked about his strategy heading into the final round, tied for the lead, he responded, "Tomorrow I want to enjoy it like I enjoyed it today and if I have some luck and win it will be even better, it's been a good week so far and I'm happy."  
Tom Vaillant, last week's winner, is co-leading after two rounds with a total score of 14 under-par. In round 2, he shot a bogey-free 6 under-par round. When Tom finished today's round, he was pleased with his game even if he didn't play as well as yesterday, "game was great, not as good as yesterday but still very solid. The course played slightly differently today due to the wind but I kept my same strategy and it definitely worked. Tomorrow I want to approach it the same as every other day, do my best, give 100% and never give up and see what happens."
Manuel Morugan, winner of the 2022 Abruzzo Alps Open, shot the lowest round of the day with an 8 under-par 63. With today's round, Manuel is tied for 5th place and 4 shots back of the lead. Manuel was very pleased with his golf game so far this week: "I played well both days. Today I just made a lot more putts because I played identical both days. Today I also tried to focus more on playing a good golf game compared to being focused on the results. It was a perfect day with perfect conditions to shot a good round of golf." Manuel's win came from 3 shots back so he knows what it's like being in this position, "I am just going to focus on hitting the best shots I can hit and play my best golf. If I am able to do that, I know I will have a chance tomorrow."
Final Round –
The final round of the inaugural 2022 Aravell Golf Open by Crèdit Andorrà, will begin at 8:00 am from hole 1 and 10.
A total of 50 players including 7 amateurs made the cut which was set at -1 (141). The final group will tee off at 9:28 am from the 1st hole. The winner of the inaugural 2022 Aravell Golf Open by Crèdit Andorrà, will earn €5,800 and 6,525 Order of Merit points.
For the complete Round 2 Leaderboard or the Final Round tee-times click here or go on the official Alps Tour Golf app.
Tournament Promoter-
The tournament this week is promoted and organized by Spain's José Manuel Lara. A former DP World Tour player with two victories (Hong Kong in 2006 and Austrian Golf Open in 2010) in his professional career.
The title sponsorship of this week's event, belongs to Crèdit Andorrà. It is an Andorran banking house which was founded in 1949 and has its headquarters in Andorra la Vella.
Follow along on www.alpstourgolf.com or the official "Alps Tour Golf" app to keep up on all the latest news (available on App Store for iOS devices and Play Store for Android).
#risinggolfstars
#raisinggolfstars
Instagram- @alpstourgolf
Facebook- Alpstourgolf
Twitter- @alpstourgolf
Latest Alps Tour Golf News