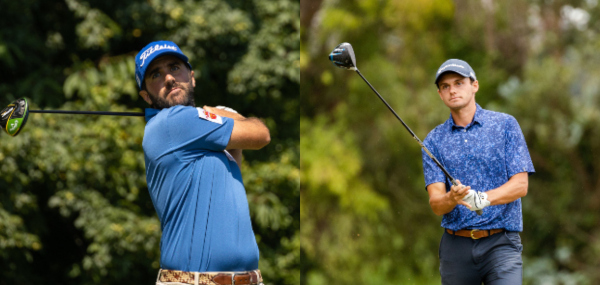 Daniel Berna Manzanares and Ryan Lumsden share the lead at -6 Photo Credit: Filippo Vanelli
Photo Credits: Filippo Vanelli
10th September 2021 | Alps Tour Golf
Dual Leaders after Round 2 in Andalucia
September 10th, 2021 – Malaga, Spain – At the end of play today two players were two strokes ahead at the Alps de Andalucia. One of yesterday's leaders, Daniel Berna Manzanares from Spain, and a newcomer at the top of the board, Ryan Lumsden from Scotland both on -6 (138).
Both players started from the 3rd tee with mixed results. Daniel Berna Manzanares opened with two pars followed by a pair of bogeys but recovered well:
"I played completely differently from yesterday. The strategy I planned was similar, but I putted a bit worse. On the other hand, I hit the ball better and ended up with 7 birdies and 4 bogeys. We didn't have that much wind, so it made things easier. I got over par very quickly, with 2 bogeys at the beginning but then I had 9 holes where I played really good golf and managed to hole 6 birdies to turn the round around. I holed a really good birdie on 16, hit a driver almost to the water then hit a perfect and difficult shot from the bunker for birdie. It's too bad I finished after that with 2 silly 3-putt bogeys".
He finished the day with a 69 (-3) as yesterday which met his game plan:
"I can't complain. I reached my goal which was to be up there in the final round to give me a chance to win".
Ryan Lumsden started at Par and opened his round with a birdie. He then played straight pars through to the 9th but his result there sparked a mindset change:
""It was a solid day. I was trying to bounce back from my finish yesterday which was very frustrating. It is difficult to know out how to play here so I just tried to get my head right and fresh today. I stated playing well and then I made a poor bogey to go to 1 over and said, ok, it is time to wake up and play good golf out there. And I took advantage of the chances I go".
An eagle, six birdies and two bogeys saw him card 66 (-6), the best round of the day. The two-time winner this season and current leader of the Order of Merit has a clear objective tomorrow:
"A third win is definitely always on my mind. I knew this course was going to test me mentally. Whoever deals better with it will win tomorrow and of course I will try my best. I've put myself in position and it would be great to finish this with another win".
Two strokes behind the leaders is the French player, Edgar Catherine, on -4. Teeing off from the 11th this afternoon he totalled six birdies and two bogeys.
A strong Spanish presence sits in joint fourth with three players at -3: Marcos Pastor who had the second-best score of the day with a 67 (-5), Gerard Piris Mateu with a 68 (-4) and Antonio Hortal with a 70 (-2).
The cut came at +4 (148) leaving 47 players,41 pros and 6 amateurs to tee off tomorrow for the final here at the  Añoreta Golf course.
The Alps de Andalucia enjoys the support of the Real Federación Española de Golf, Real Federación Andaluza de Golf, Ayuntamiento de Rincón de la Victoria, Turismo Costa del Sol, Añoreta Resort, Consejo Superior de Deportes, Allianz, EDP Solar, AON, Kyocera, Tag Heuer, Nextcaddy, Yaphone, JGolf.
Results Round 2: click here or check on the Alps Tour Golf app.
Stay tuned! www.alpstourgolf.com and the app « Alps Tour Golf » (on App Store for iOS devices and Play Store for Android) will keep you updated on every news about Alps Tour.
Instagram @alpstourgolf
Facebook @Alpstourgolf Satellite
Twitter @AlpsTourGolf
Latest Alps Tour Golf News