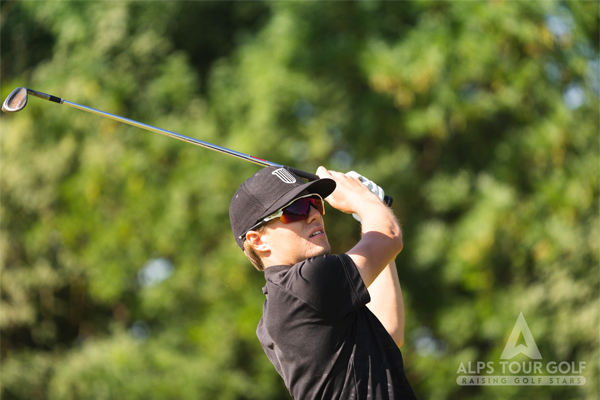 Eemil Alajarvi the current clubhouse leader at 9 under-par. Photo Credit: Federico Capretti/ Alps Tour
16th June 2022 | Alps Tour Golf
Eemil Alajarvi is the Clubhouse Leader as Round 1 is suspended for darkness at the Aravell Golf Open by Crèdit Andorrà.
Aravell, June 16th 2022– Finland's Eemil Alajarvi is the current clubhouse leader with a 9 under-par 62 as Round 1 was suspended at the inaugural Aravell Golf Open by Crèdit Andorrà. Spain's Daniel Berna Manzanares is also at 9 under-par, however he has 3 holes remaining to conclude his first round. France's Tom Vaillant is just one shot back at 8 under-par. He holds a 1 stroke advantage over his fellow countryman, Franck Medale who is in 4th place with a 7 under-par 64 round. Netherland's Vince Van Veen and Spain's Josep Maria Serra Busquet who shot a 6 under par round 65 and are currently tied for 5th place.
A beautiful summer morning with a light breeze and temperatures reaching a high of 37* welcomed the players at Aravell Golf & Country Club near Lleida, Spain for the first round of the tournament. Play began at 8:00 am from both the 1stand 10th hole. The first round of the tournament was suspended at 5:02pm due to inclement weather in the area. Play then resumed at 8pm (2hour 57 mins delay). Another delay occurred at 9:23pm due to darkness. Round 1 will resume at 7:30am tomorrow morning.
Round 1 Player Quotes-
Eemil Alajarvi from Finland had a great round 1 to start his tournament here at the Aravell Golf Open by Crèdit Andorrà. Today, Alajarvi shot a bogey-free 9 under-par round 62 and is the current clubhouse leader. He turned professional last year and this is his second season playing on the Alps Tour. After his round, Alajarvi commented on how well he played, "I would say I played well today. I hit many good shots and made many putts. I hit my long irons very well today. It's normally not my strength but it definitely was today." He also said how he's enjoying the course and looking forward to the rest of the week, "I like this course a lot, the course is in good conditions and beautiful. I'm just going to try and keep going and enjoy every round without thinking about the leaderboard. There are still 2 rounds left so everything is possible"
Last week's winner and current 2nd in the Order of Merit, French amateur, Tom Vaillant shot a bogey-free 8 under-par round and sits just 1 shot back of the lead at the end of round 1. Vaillant was happy with his game today, "I played really nicely today, my strengths were good today so it helped me be in position for birdies most of the time. The course is great, it's in good conditions and it's really cool to play here. My long game is fitting very well with the course so it's helping me." He also commented on how his win last week gave him a confidence boost but doesn't change his mentality going into his week, "winning is always great and gives a lot of confidence but it's a new week so I just restart the week with the same mindset."
France's Franck Medale, a past winner on the Alps Tour shot a 7 under-par 64 round and is currently in 4th place and only 2 shots back of the current clubhouse lead. After his round, he commented on how his strategy helped him with his round, "the course was playing well. You could be aggressive with some pins positions which helped me with my score. I putted well and placing my long irons off the tees well helped me put a good round together."
Among the 130 players competing this week you'll find 105 professionals and 25 amateurs from 19 different nationalities. They are competing for a total prize fund of €40.000 and 45,000 Order of Merit points.
Round 2-
Round 2 of the inaugural Aravell Golf Open by Crèdit Andorrà, will begin at 8:00 am from hole 1 and 10. After the second round, a cut will be made to the top 40 players and ties.
For the current Round 1 Leaderboard or the Round 2 tee-times click here or go on the official Alps Tour Golf app.
Tournament Promoter-
The tournament this week is promoted and organized by Spain's José Manuel Lara. A former DP World Tour player with two victories (Hong Kong in 2006) and (Austrian Golf Open in 2010) in his professional career.
The title sponsorship of this week's event, belongs to Crèdit Andorrà. It is an Andorran banking house which was founded in 1949 and has it's headquartes in Andorra la Vella.
Follow along on www.alpstourgolf.com or the official "Alps Tour Golf" app to keep up on all the latest news (available on App Store for iOS devices and Play Store for Android)
#risinggolfstars
#raisinggolfstars
Instagram- @alpstourgolf
Facebook- Alpstourgolf
Twitter- @alpstourgolf
Latest Alps Tour Golf News