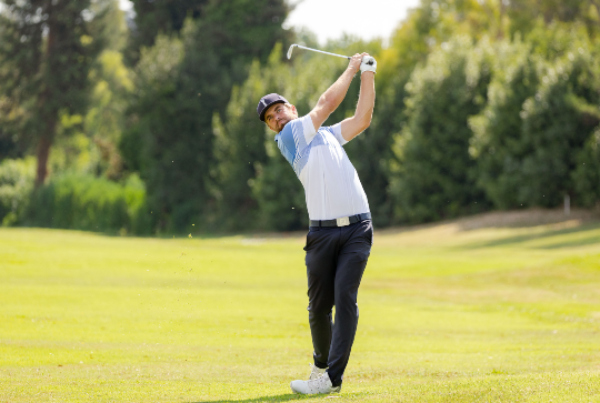 Mathias Eggenberger took the lead today on -8. Photo Credit: Filippo Vianelli
Photo Credit: Filippo Vianelli
8th October 2021 | Alps Tour Golf
Eggenberger Edges Ahead Day 2
October 8th, 2021, Rome – After sharing the lead yesterday, Mathias Eggenberger moved ahead of the rest of the field by four shots with a -8 (136) to top the leader board at the Golf Nazionale Alps Open.
Teeing off from the 10th this morning the Swiss player opened with a birdie followed by four pars in a row, and finished birdie, bogey, par. An error-free incoming nine and three more birdies saw him card a 68 (-4), as the day before:
"My game was solid again today, like yesterday. I just kept it in play. It was quite windy out there, so I just gave myself enough chances and holed a few putts, so it was good. The wind makes the tough holes on the course easier, like holes 4 and 5, because you're playing downwind. But wind always makes a course more difficult. For tomorrow, I'll just go out there and play my best and see where we end up. One day after another".
A pack of five players on -4 (140) are chasing the leader including two of yesterday's co-leaders, the Irishman, David Carey and Nicola Maestroni from Italy. Carey had a fairly nightmarish front nine with five bogeys which he countered to some extent with three birdies but settled down for a bogey-free back nine and two more birdies to finish par for the day. Maestroni's two opening birdies were cancelled out by two bogeys going out, leaving him at par for the front nine and ditto on the back nine to leave him also at par for the day.
Two other Italians are in the -4 posse, Alessandro Tadini who played one under today and Jacopo Vecchi Fossa, number three on the Order of Merit, who carded a three under. The final member is the top amateur of the day, Julien Sale from France. He had a great front nine with four birdies and just one bogey. Two additional bogeys on the back nine looked like putting a dampener on his score, but he finished with panache, holing an eagle.
His compatriot and fellow-amateur, Paul Margolis, one of yesterday's leaders, played to par going out with two bogeys and two birdies. An opening birdie looked promising followed by straight pars, but a double bogey on the 6th left him at one over for the day on -3 (141). He is joined by Carlo Casalegno from Italy who carded a one under for the round.
The cut came at +5 (149) leaving a total of 46 pros and 8 amateurs teeing off for the final round tomorrow. Play begins at 8:00 am from tees 1 and 10.
The temperature continues to rise tomorrow, and the wind should drop but strong gusts can still be expected.
Results Round 2: click here or check on the Alps Tour Golf app.
Stay tuned! www.alpstourgolf.com and the app « Alps Tour Golf » (on App Store for iOS devices and Play Store for Android) will keep you updated on every news about Alps Tour.
Instagram @alpstourgolf
Facebook @Alpstourgolf Satellite
Twitter @AlpsTourGolf
Latest Alps Tour Golf News