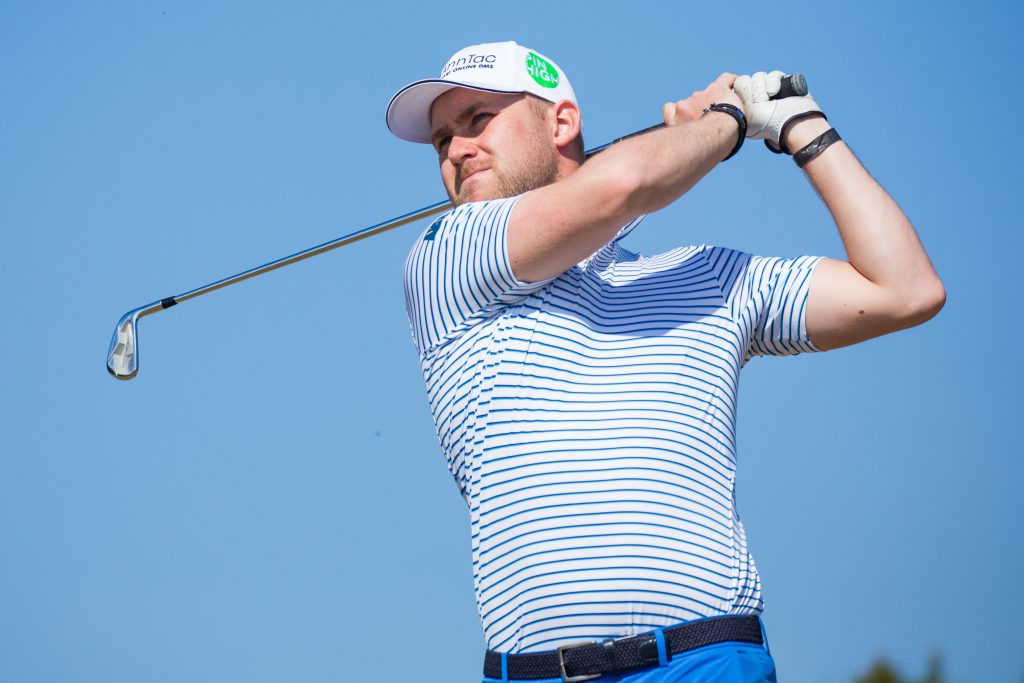 Davey Porsius, with a second round in 64 shots, is co-leading the Ein Bay Open. Credit: Tristan Jones.
23rd February 2022 | Alps Tour Golf
Ein Bay Open 2022 – 5 way-tie at Sokhna Golf Club after second round
February 23, Egypt, 2022 – It was another lovely day along the shores of Gulf of Suez.
The course, after yesterday's heat and light winds, got a little bit dryer and harder. The 120 partecipants had to re-adapt their game to make the cut.
Co-leading the field, with a brilliant -10, Italians Gregorio De Leo (68) and Stefano Mazzoli (65), Frenchman Pierre Pineau (69), Englishman Jack Floydd (68), Dutch Davey Porsius (64) .
In particular, Davey Porsius and Stefano Mazzoli scored an impressive round today which took them to the top of the leaderboard. The Dutchman, 26 years old, who was in 35th place after the first day, scored a fabulous 64 (-8) while Mazzoli, 25, scored a bogey free round with 5 birdies and 1 eagle.
Some great results also came from the amateurs. The French Julien Sale and the two compatriots Martin Couvra (the winner of the 2022 Qualifying School) and Tom Vaillant are just three shots behind the leaders tied with a total score of -7. The other amateurs who made the cut are the Italian Flavio Michetti and the French Oihan Guillamoundeguy currently in 26th and in 40th place respectively.
Among the 53 players who made the cut at -1, 10 nationalities are represented: 16 Italians, 13 French, 8 Spanish, 4 Irish, 3 English, 2 Dutch,  2 Austrians, 2 Portuguese, 1 from Switzerland and 1 from South Africa.
Today the course was bit easier than yesterday: 421 birdies (13 more than yesterday) 1293 par (9 more than yesterday) and 328 bogeys (26 less than yesterday).
"Even if I'm struggling a little bit with my driver off the tee – said Porsius – I hit a lot of good shots with my wedges and this gave me the chances to nail a lot of putters. Fortunately I had a couple of good bounces with my tee shots and if you're near the fairway you have plenty of possibilities to attack the course. I was a little frustrated the first holes because I three-putted twice but then on the back nine I holed almost everything".
"Conditions were basically the same as yesterday. Unfortunately on the first day I ended up loosing 3 shots on the greens and today on the front nine I had the same feeling. From the 10th hole, however, my game changed and I managed to hole an eagle and many birdies" said Mazzoli.
Jack Floydd, 25, who was tied at the second place after day 1, said: "It was pretty a solid day for me today. I played very well on the front nine. I converted earlier some birdies but I missed a couple of putters on the back nine which were a bit tougher. I had a good pace on the green which are in perfect conditions. We're very lucky to be able to play in such a course". Today he scored a solid 68 (5 birdies-1 bogey).
"I had a tough start because I had to save 4 important par and I got a bogey on the fourth. When I holed a very difficult putt downhill on 6th hole my round suddenly changed and I had a good pace on the green for the rest of the day. I really enjoy this kind of golf course even if I don't have the real opportunity to prepare myself to this game. The course is in great shape" said Gregorio De Leo, 21, at his second appearance at the Ein Bay Open.
"I missed few birdies opportunities today but I had a solid start. I'm very happy with my long game today, just need a few more putts tomorrow. I hit an incredible hybrid shot on 8th from west area to 3 feet for eagle", is Pierre Pineau's quote.
The 2022 Ein Bay Open enjoys the support of Sokhna Golf Club, Ein Bay, Hassan Allam Properties, TPC – Touristic Promotion Company, Jaz Hotel Little Venice.
Results Round 2: click here or check on the Alps Tour Golf app.
Stay tuned! www.alpstourgolf.com and the app « Alps Tour Golf » (on App Store for iOS devices and Play Store for Android) will keep you updated on every news about Alps Tour.
#risinggolfstars
#raisinggolfstars
Latest Alps Tour Golf News