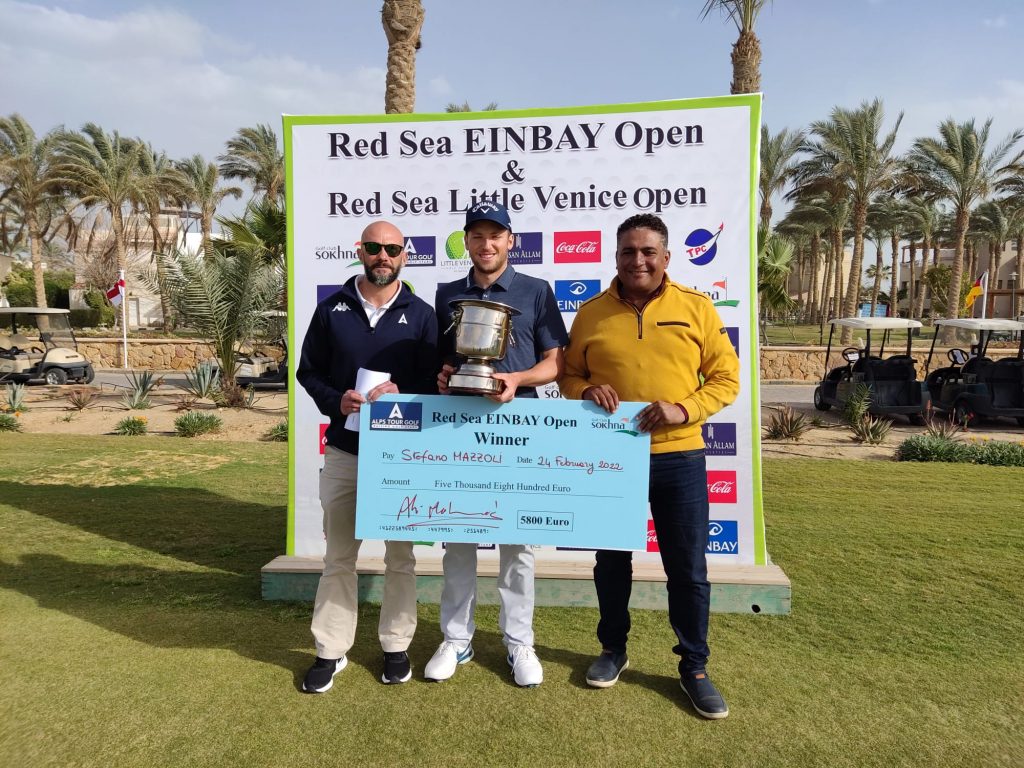 From left: Alessandro Pia, Alps Tour Tournament Director; Stefano Mazzoli, winner of the 2022 Ein Bay Open; Ali Mohammed Ali, General Manager of Sokhna GC.
24th February 2022 | Alps Tour Golf
Ein Bay Open 2022 – Italian Stefano Mazzoli wins in Egypt
Egypt – February 24, 2022 – Italian Stefano Mazzoli, 25, kept the overnight lead during the 3rd final round at Sokhna Golf Club battling head to head till the 17th hole with Irishman Conor Purcell  to claim the victory of the Ein Bay Open 2022, the first stage of the Alps Tour Season 2022.
Mazzoli started his last round with 3 birdies on the first six holes but lost 2 shots on the 7th due to a double bogey. He came back on the back nine with 3 birdies on the last five holes. He scored just 3 bogeys and 1 double bogey during the whole tournament and saved strokes with 17 birdies and 1 eagle. He scored a total of 202 (69-65-68).
"This is my second victory in Egypt (after 2020 Red Sea Little Venice Open) and the third on the Alps Tour (2021 Antognolla Alps Open). I'm very happy about my start, I've played very well during the week. Today I scored a bad double bogey on the 7th where I ended in the water hazard but then I came back soon. It was almost a matchplay between me and Conor until the 17th where we finished on the green with the second shot but I ended up making a birdie and Conor three-putted. I'm very happy with my start here for the first stage of the Tour".
Mazzoli earns a cheque of 5,800 euros and adds 6,525 points to lead the Order of Merit.
The prize for the second place (3,940 euros) went to Irishman Conor Purcell, 24, who was in 6th place just 2 shots behind the leader after day 2.
"It was particularly tough knewing I had to score probably a 5 or 6 under par to gain the victory. But I'm happy with my score also because the weather got a little windier on the course. I can't complain with my game even if I had the chance to score some more birdies. Congratulations to Stefano who played a very solid 3rdround here".
The third place was shared between Frenchman Pierre Pineau and Spaniard Enrique Marin Santander both at -11.  "I didn't expect such a great start said Enrique Marin Santander. I've been playing well all the week. I'm really excited for the next couple of tournaments coming up these next weeks. I recently turned pro and my goal is to make some experiences here on the Alps Tour and even if I had some invitations to play on the Challenge Tour my main goal is to play well here on the Alps".
A great results during these 3 days came from French amateurs Tom Vaillant, 20, in 7th position with a total of 208 (69-68-71) and for his compatriot Martin Couvra, 19, in 15th place with a total score of 209 (70-67-72).
Tomorrow, Friday 25th, it is time for the Sokhna Golf Club Pro Am with 18 teams on courses B+C, the same that will host the second stage of the 2022 Alps Tour Season from Sunday 27th to Tuesday 1st for the 2022 Red Sea Little Venice Open where Italian Luca Cianchetti will try to defend his title.
The Tour will then move to New Giza Golf Club on March 4th for the 2022 New Giza Open.
The 2022 Ein Bay Open enjoys the support of Sokhna Golf Club, Ein Bay, Hassan Allam Properties, TPC – Touristic Promotion Company, Jaz Hotel Little Venice.
Final Results: click here or check on the Alps Tour Golf app.
Stay tuned! www.alpstourgolf.com and the app « Alps Tour Golf » (on App Store for iOS devices and Play Store for Android) will keep you updated on every news about Alps Tour.
#risinggolfstars
#raisinggolfstars
Latest Alps Tour Golf News