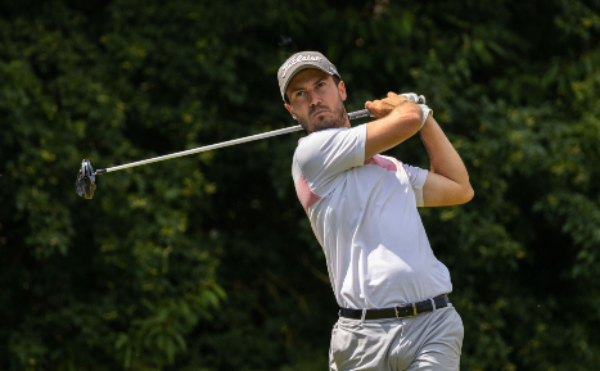 Four players are on -3 (69) after 18 holes. Franck Medale was the first into the clubhouse.
Photo Credits: Filippo Vanelli
9th September 2021 | Alps Tour Golf
Four Way Tie After Round 1 at the Alps de Andalucia
September 9th, 2021 – Malaga, Spain – Windy conditions complicated play today and at the end of Round 1, we have a four-way tie at the top of the leader board on -3 (69). Franck Medale from France, Jacopo Vecchi Fossa from Italy and the two Spanish players, Daniel Berna Manzanares and   Jose Luis Adarraga Gomez.
First into the clubhouse at the end of the morning round was Franck Medale. Winner of this year's Open de la Mirabelle d'Or, he teed off from the 3rd and had par through the ninth. He then started with three birdies in a row off the tenth, another on the 15th, bogey on the 16th, a long par five with a raised green protected by bunkers. He then settled down for two more pars, another bogey on the 1st and finished with a birdie.
"It was a good round, tricky with the wind and harder at the end but I could follow my strategy to avoid making mistakes and take my chances. But I believe I can do better. I am happy with the way I managed the course as I have only played the practise round, and so I am not still familiar with it. Last year was my first season on the Alps Tour, a difficult season with very few events, so this year I am very happy with my results".
Next in from the afternoon flights was Daniel Berna Manzanares from Spain. Off from the 11th he had an eagle and a birdie on the first nine holes and finished the round with a card of clean pars.
"I arrived with very little time to recce the course as I played a two-day tournament last week and this is a golf course that you really need to know well if you are looking for a good score. I played a tidy game avoiding bogeys and double bogeys that are easy to do here, so it is good to finish the round with a birdie and an eagle and bogey free. On the 15th, the shortest par 4 in the course I played a perfect 3 wood to 2 meters for eagle. My season has been up and down but at the last event I managed to do three good rounds. My goal is to win one of the next 3 events and get into the Challenge Tour from the Alps Tour".
The Italian player, Jacopo Vecchi Fossa, winner of the 2021 Abruzzo Alps Open plus four top ten places this season, started off the 11th with a birdie. Four birdies and a bogey later he was leading by one stroke when a bogey on the par 6th put him back a shot and he finished with a string of pars.
When I started playing there was a lot of wind, but I managed to play well and made 4 birdies on the first 5 holes. Then it got windier, and I didn't manage to hit the flags and couldn't make any more birdies. But I am happy with the score and the way I played under this wind. I hope tomorrow we can play with less wind, and I can manage to do a good score and maybe win this week to secure my card to play next year on the Challenge Tour. Last season I played Alps and Challenge Tours half and half, and it didn't work so I decided to concentrate this season only on the Alps Tour and I think that was a good decision. I think my game has improved a lot during this season".
The last player of the quartet to finish was Jose Luis Adarraga Gomez. Teeing off from the 3rd he started with a birdie but a bogey on the 8th neutralised the advantage. Straight pars and three more birdies put him on -3 with a hole to play. Par on the 2nd and he joined the other three players for tied first.
"A very strategic round. I only hit two drivers and the rest has been 2 irons, 4 irons and 5 irons. This morning we were saying with Balmaseda and Blazquez that you have to get into the game no matter how short the hole is. And that was the key. I played very tidy, hitting many greens and though I missed a few chances I also holed some good ones. I am very happy with my strategy. It worked".
Only four other players came in under par today which shows the effect of the wind on this tricky Añoreta Golf course. Tomorrow looks like the wind will drop which may make playing conditions a little easier.
The Alps de Andalucia enjoys the support of the Real Federación Española de Golf, Real Federación Andaluza de Golf, Ayuntamiento de Rincón de la Victoria, Turismo Costa del Sol, Añoreta Resort, Consejo Superior de Deportes, Allianz, EDP Solar, AON, Kyocera, Tag Heuer, Nextcaddy, Yaphone, JGolf.
Results Round 1: click here or check on the Alps Tour Golf app.
Stay tuned! www.alpstourgolf.com and the app « Alps Tour Golf » (on App Store for iOS devices and Play Store for Android) will keep you updated on every news about Alps Tour.
Instagram @alpstourgolf
Facebook @Alpstourgolf Satellite
Twitter @AlpsTourGolf
Latest Alps Tour Golf News