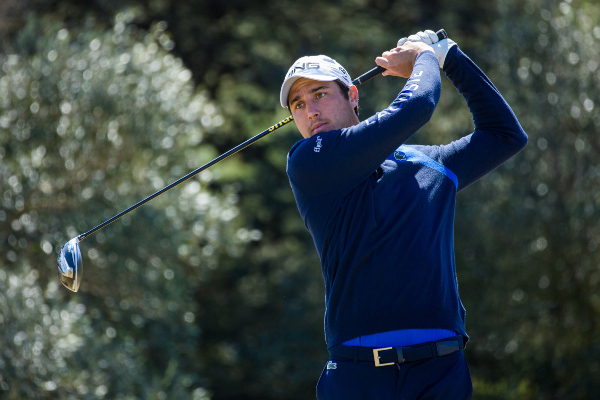 First into the Clubhouse, Paul Margolis, the French amateur among the leaders on -4 (68) Photo Credit: Tristan Jones Photography
Photo Credit: Tristan Jones Photography
7th October 2021 | Alps Tour Golf
Four Way Tie End of Day One at the Golf Nazionale Alps Open
October 7th, 2021, Rome – Three professionals and one amateur are tied at -4 (68) in the Golf Nazionale Alps Open after Round 1: David Carey from Ireland, Mathias Eggenberger from Switzerland, Nicola Maestroni from Italy and Paul Margolis from France.
The weather forecast was accurate making conditions tough with strong winds and showers proving a real test for the players.
First into the clubhouse was the French amateur, Paul Margolis, starting from tee 1, he shot three birdies and two bogeys out but had a bogey-free inward nine with three more birdies:
"I played really good golf. It was very windy plus we had some rain, so I knew it would be tough, but I stuck to my plan all day. It's a great course in great shape, I really like it so let's just see what happens in the next two days.".
When asked about his future plans for becoming professional his plans were clear: "I've got one more year as an amateur as I want to play the World Cup as an amateur next year, so I'll be turning pro in August 2022.".
Next in was the experienced Italian player, Nicola Maestroni. Starting from the 10th he carded a birdie and a bogey going out and came in with four birdies:
"The course was very tough this morning with wind, a bit of rain, cold. So, you had to really stay focussed to have a good score but eventually I did it so I'm happy. I drove well, I had good chances on the green and hopefully I'll do the same thing tomorrow. On a course like this you have to be patient, have a good strategy, not be bold and stay low, like on a links course. That's the key in the end".
Also playing off the 10th, David Carey, winner of the 2019 Cervino Open, had a run of eight pars and a birdie and came in with four more birdies and a sole bogey:
"It was a difficult day, really windy and a bit wet as well. I hit it really well tee to green, so I'm happy today. I have good memories of this course as the last time I played it was in 2019 and I did a 7 under, so, yes, good memories".
Departing at the same time but off the 1st, Mathias Eggenberger had a blip-free front nine with two birdies and came home with three more birdies and just the one bogey.
"I played really solid today. It was quite windy, so it wasn't always too easy. I was solid off the tee, hit a lot of greens and holed a few putts, so that all helped today. I didn't make many mistakes, so it was a solid round".
The field behind is tight with ten players under par with just behind the leaders Alessandro Tadini and Jack Floydd on -3 (69) and including Gregorio De Leo on -2 (70), Paul Elissalde and Jacopo Vecchi Fossa on -1 (71) and seven more at par, including Stefano Mazzoli.
Weather conditions will continue to be challenging tomorrow with strong winds forecast again but no rain and higher temperatures. Play begins at 7:40 am from tees 1 and 10.
Results Round 1: click here or check on the Alps Tour Golf app.
Stay tuned! www.alpstourgolf.com and the app « Alps Tour Golf » (on App Store for iOS devices and Play Store for Android) will keep you updated on every news about Alps Tour.
Instagram @alpstourgolf
Facebook @Alpstourgolf Satellite
Twitter @AlpsTourGolf
Latest Alps Tour Golf News