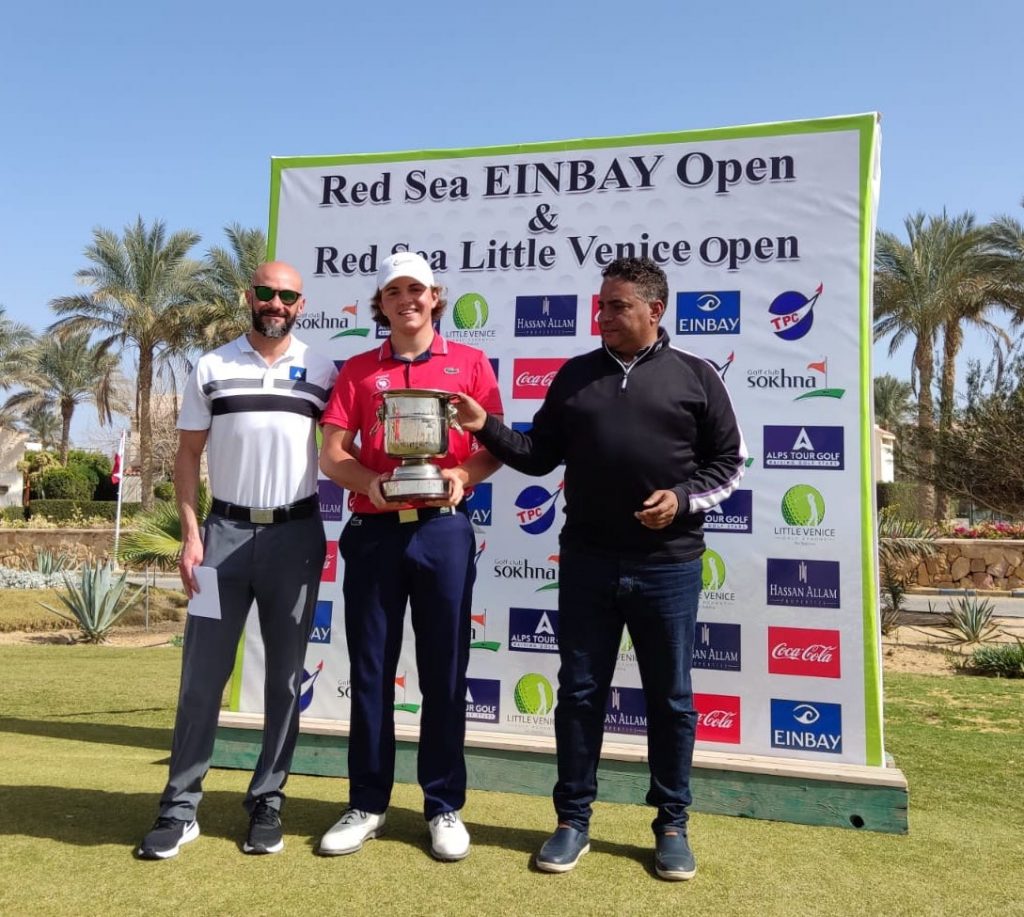 From left to right: Alessandro Pia, Alps Tour Tournament Director; Oihan Guillamoundeguy, winner of the 2022 Red Sea Little Venice ; Ali Mohammed Ali, General Manager of Sokhna GC.
1st March 2022 | Alps Tour Golf
French amateur Oihan Guillamoundeguy wins the 2022 Red Sea Little Venice Open
Egypt, March 1, 2022 – After three days of great golf, French amateur Oihan Guillamoundeguy, only 17 years old, wins the Red Sea Little Venice Open 2022 at Sokhna Golf Club (course B+C) with an impressive total score of -24 (65-64-63).
The young golfer, coming directly from the Qualifying School held in November last year, maintained the lead since R2 and demonstrated to be able to compete at an incredible level.
He had a strong start, scoring 3 birdies on the first 4 holes and finishing the front nine with 1 bogey and 1 eagle. Then, he faced the back nine with steady mind. He holed 3 birdies and another eagle for a daily total of -9. "This victory is incredible. I'couldn't even believe it yet. The main goal was to stay focussed on my game and I managed to do it very well , I just scored 2 bogeys in 3 days! I putted very well throughout all the three rounds. Today, as always, I've been asking my father some advices on the greens and he helped me to hole some putts, too".
Guillamoundeguy, a first-time winner on a professional tournament (one of the youngest winner of all time), left Spaniard Jorge Maicas, 24 , 8 strokes back (-16, 68-66-66). Maicas scored a very solid 3rd round in 66 strokes with 7 birdies and just 1 bogey. He played consistently throughout the three days. "I'm very happy about how I worked on my game and this paid off with this performance here at Red Sea Little Venice Open 2022. I had a solid start which is what everyone wants from the first holes. Then I finished with 4 birdies in a row from 14th to 17th which is even greater".
5 different nationalities are among the top 6 positions: on 3rd place Dutchman Koen Kouwenaar (67-69-65), 24, who finished on 5th position during Ein Bay Open 2022 last week; on tied 5th place Irishman Conor Purcell(68-68-66), 24, who finished in 2nd position last week at Sokhna GC (course A+B); together with Italian Giacomo Fortini (67-69-66), 25 years old, playing the Red Sea Little Venice Open for the third time.
Good performances also for  2 amateurs: Frenchman Tom Vaillant finished this week tied 9th with 67-67-69 (-13); Italian amateur Flavio Michetti, who is turning 18 years old today, finished a great week of golf on tied 14th place, 69-69-66 (-12)
Alps Tour Season will move in the next few days to New Giza Golf Club, close to Il Cairo, to host the New Giza Open 2022 from March 4th to March 6th.
This tournament was last held in 2019 when Italian pro Lorenzo Scalise won thanks to a total score of -14.
We are looking forward to see all the players in the capital of Egypt.
The 2022 Red Sea Little Venice Open enjoys the support of Sokhna Golf Club, Ein Bay, Hassan Allam Properties, TPC – Touristic Promotion Company, Jaz Hotel Little Venice.
Final results: click here or check on the Alps Tour Golf app.
Stay tuned! www.alpstourgolf.com and the app « Alps Tour Golf » (on App Store for iOS devices and Play Store for Android) will keep you updated on every news about Alps Tour.
#risinggolfstars
#raisinggolfastars
Latest Alps Tour Golf News