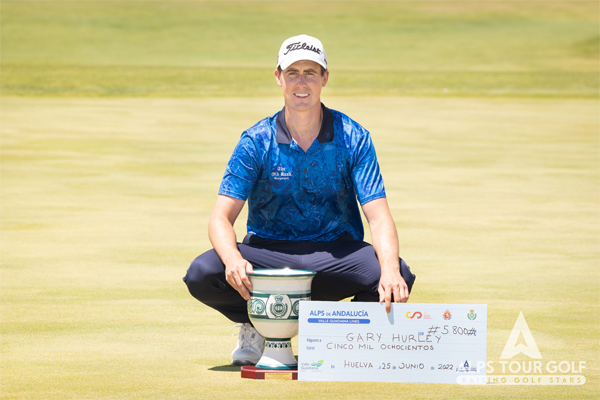 Gary Hurley winner of the 2022 Alps de Andalucía. Photo Credit: Federico Capretti/Alps Tour Golf
25th June 2022 | Alps Tour Golf
Gary Hurley grabs his first win at the 2022 Alps de Andalucía.
Ayamonte, June 25th 2022- Gary Hurley wins the 2022 Alps de Andalucía with a total score of 18 under-par. French amateur Julien Sale concluded the tournament in 2nd place with a three-day score of 14 under-par. In a three-way tie for 3rd place at 12 under-par: Italy's Andrea Romano, Carlo Casalegno and France's Matthieu Caron, with Italy's Gregorio De Leo just 1 stroke back in 6th place at 11 under-par.
The weather conditions have been constant throughout the days. When the first groups teed off, the temperature was slightly chillier with barely any wind. However, the temperatures quickly rose to a high of 27*. A persistent moderate wind picked up soon after the day began creating intricate conditions for the players. Play began at 8:45 am and the leaders group teed off at 10:02 am from the 1st hole.
Winner Quotes-
Ireland's Gary Hurley wins the 2022 Alps de Andalucía by 4 shots. He shot a final round of 5 under-par, that included 2 bogeys, 1 eagle and 5 birdies. Hurley had a very successful amateur career before turning professional. He helped guide Great Britain and Ireland to victory at the 2015 Walker Cup and scored a runner-up finish at the 2015 European Championship. He has played consistently well since the start of the season and was just looking for a deserved victory.  When asked about his game today, Hurley was very happy:"I've been playing very well this year, it was just a matter of having everything click. I was in a really good space this week. Probably the best I've ever been, today I controlled my emotions very well. I'm not surprised but I'm very happy." On his last 4 holes of the day, he scored an eagle, birdie, par and birdie on the 18th hole to finish, at one point during his round today, he was unware to be tied with Sale, "I looked at the leaderboard on the 18th fairway for the first time today, I could see Julien was playing well ahead of me but I was just taking care of my business since I couldn't control what he would do.  I controlled my emotion and my execution really well. I was nervous but excited to test it today and feel the nerves." This is his first official win as a professional and he was very satisfied:"It is my first win on the official world golf ranking, it feels amazing. Today was a great day for me even, if it hadn't been with a win, I controlled my game and my emotions and I'm very pleased."
French amateur Julien Sale concluded his tournament in 2nd place with a three-day score of 14 under-par, even though he experienced a tough draw during the 1st round having teed off in stronger wind conditions. After his round, he was very happy with the result of this week and how his game is evolving:"I still managed to make a good score during the first round in tricky conditions, then the 2nd day I managed to go low and get into contention. Today I knew I had to go low to catch the leader. I had a slow start but then managed to turn things around on the back 9 today. On the 15th hole I knew I was tied for the lead and that gave me a little boost. I'm very happy with the 2nd place and score some good points for the Order of Merit. I'm very happy with how many game is with a lot of good finishes, I hope to continue the rest of the year and hopefully a win."
The tournament ends with a three-way tie for 3rd place at 12 under-par with Italy's Andrea Romano and Carlo Casalegno as well as France's Matthieu Caron. Just 1 stroke back in 6th place at 11 under-par, Italy's Gregorio De Leo.
Tom Vaillant remains the current Alps Tour Order of Merit Leader after 12 tournaments. Thanks to his 2nd place finish this week, France's Julien Sale (am) has jumped into 2nd place in the rankings. Italy's Gregorio De Leo remains in 3rdplace of the current Order of Merit ranking.
Final Round –
Gary Hurley winner of the 2022 Alps de Andalucía, earned 6,525 Order of Merit points and the winning check of €5,800.
For the Final Round Leaderboard click here or on the official Alps Tour Golf app.
The Alps Tour heads back to France for the 13th event of the season, the 2022 Hauts de France-Pas de Calais Golf Open. The event will be played from June 30th– July 2nd at AA Saint Omer Golf Club, in Saint-Omer, France.
Tournament Promoter-
This tournament is promoted and organized by JGolf.
The Alps de Andalucía can count on the support of the joint collaboration between two main sponsors, the Real Federación Española de Golf and the Real Federación Andaluza de Golf. The tournament also has the support of numerous co-sponsors: Valle Guadiana Links, Consejo Superior de Deportes, EDP Solar, Allianz, AON, Kyocera (servicios oficiales de impresión), Tag Heuer, BCD Sports, Mahou San Miguel, Solán de Cabras and JGolf.
Follow along on www.alpstourgolf.com or the official "Alps Tour Golf" app to keep up on all the latest news (available on App Store for iOS devices and Play Store for Android)
#risinggolfstars
#raisinggolfstars
Instagram- @alpstourgolf
Facebook- Alpstourgolf
Twitter- @alpstourgolf
Latest Alps Tour Golf News