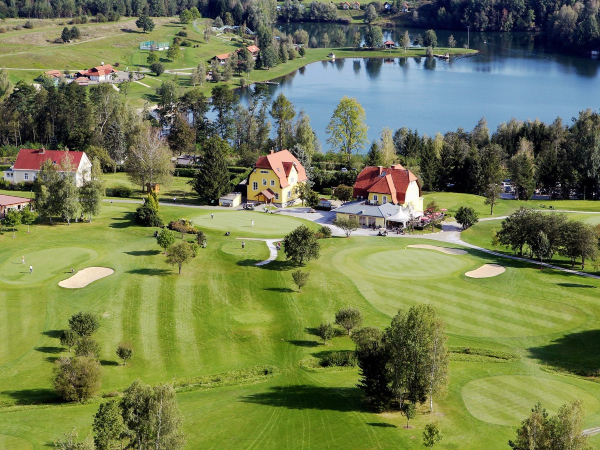 The Golf Club Erzherzog Johann is hosting the first of the final four tournaments of the Alps Tour 2021 season
16th August 2021 | Alps Tour Golf
Gösser Open Kicks off Alps Tour End of Season
August 16th, 2021 – Maria Lankowitz, Austria – After a four-week break, the Alps Tour players are back on the tee box here at the Golf Club Erzherzog Johann. The Gösser Open or '5th Major' as it is sometimes referred to by members, sees its 29th edition this year. With just three more tournaments to go this year, the players will be aiming for points on the Order of Merit.
We have got seven out of the eight winners to date this season lined up. The absentee from the victors list is the Spanish two-time winner and currently first on the OofM, Angel Hidalgo Portillo. However, the number two, Ryan Lumsden from Scotland, who also has a brace of wins this season with the MIRA Golf Experience Acaya Open plus Alps de Las Castillas and a close second at the recent Roma Alps Letas Open, will be looking for that illusive third.
Winner of the last event, Frenchman Xavier Poncelet, currently twelfth on the OofM, will be more than focussed on repeating the feat here in Austria. His compatriots, the amateur Paul Margolis, winner of the MIRA Live the Soul Open and Franck Medale, victor at the Open de Mirabelle d'Or, fourth and fifth respectively on the OofM will be ready to give him a run for his money. They are joined by Thomas Elissade who previously won the Gösser Open back in 2014.
The other three 2021 title holders head a thirty-two strong Italian contingent: Jacopo Vecchi Fossa, winner of the Abruzzo Alps Open, the Antognolla Alps Open champion, Stefano Mazzoli, and Luca Ciancetti, victor at the Red Sea Little Venice Open. Sitting third, seventh and ninth on the OofM, they all have everything to play for.
The host country is represented by forty-two players, more than half of which are amateurs. Florian Thuller and Maximilian Klaus recently both had top ten finishes in the 2021 Austrian Amateur Championship. Among the pros, there are two former Alps Tour winners Clemens Gaster at the 2017 Alps de Andalucia and Uli Weinhandl whose wins may go back to the 2009/2010 season but who has had eighteen top ten finishes to date. The last two Gösser Open winners, Lukas Nemecz 2020 and Timon Balt 2019 were Austrian. Both are absent from the field this year, but their countrymen will be keen to keep the trophy at home.
Events get underway on Wednesday with the Pro-Am and weather conditions promise to be mild with periods of sunshine, light breezes, and no rain for the duration of the tournament.
Many thanks again go to the historic promotor, Murhofgruppe, for making the tournament possible.
Entries: click here or check on the Alps Tour Golf app.
Stay tuned! www.alpstourgolf.com and the app « Alps Tour Golf » (on App Store for iOS devices and Play Store for Android) will keep you updated on every news about Alps Tour.
Instagram @alpstourgolf
Facebook @Alpstourgolf Satellite
Twitter @AlpsTourGolf
Latest Alps Tour Golf News