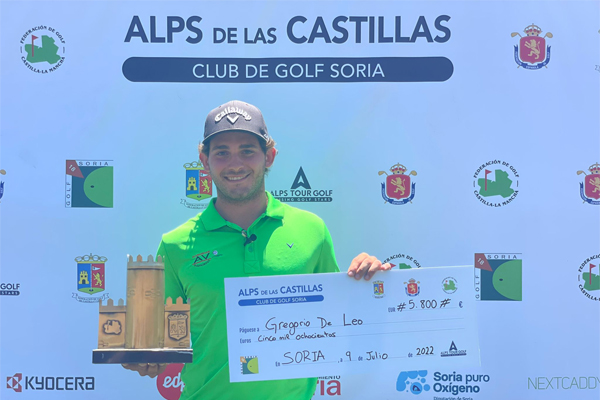 Gregorio De Leo winner of the 2022 Alps de Las Castillas.
9th July 2022 | Alps Tour Golf
Gregorio De Leo captures his 2nd win of the season!
Soria, July 9th 2022- Gregorio De Leo 2nd victory of the season aids him in conquering his dream of becoming a Challenge Tour player next season. He captured his second win of the season at the 2022 Alps de Las Castillas with a total score of 14 under-par. Mathias Eggenberger concluded the tournament in 2nd place with a three-day score of 13 under-par. In a three-way tie for 3rd place at 12 under-par: Portugal's Vitor Londot Lopes, Italy's Giacomo Fortini and Netherland's Lars Keunen.
The weather and scoring conditions have been constant throughout the past few days. When the first groups teed off, the temperature was in the low 20*, however the temperatures quickly rose to a high of 35* with no wind today making the scoring conditions very favorable for the players. Play began at 8:15 am and the leaders group teed off at 9:21am and 9:32am from the 1st hole.
Winner Quotes-
Gregorio De Leo wins the 2022 Alps de Las Castillas by 1 stroke. He shot a final round of 5 under-par, that included 1 bogey and 6 birdies. He won the 2022 Memorial Giorgio Bordoni presented by Aon with an unbelievable 59 in the final round, adding therefore another title to his record. His dream of playing on the Challenge Tour is gradually fulfilling thanks to his victory today. He dedicates his second professional win to his parents, coach Alain and girlfriend that have supported him all along the way. After his win, De Leo commented on how "the course was much firmer today especially around the greens it was much harder to make good recoveries. The pins were a good mix, some tricky ones you had to be careful and some were more accessible."  When asked about his game today, he was very happy: "I'm very satisfied, yesterday I was expecting -15 to be the winning score and I was very close. Today I putted very very well. Today was an incredible day. I'm very happy. My putting definitely helped me a lot to win this week. I putted very well last week also which gave me more confidence into this week. The only mistake during the round was my 3-putt on the 10th hole so I could have reached what I expected be the winning score." When asked about his plans for the rest of the season, De Leo explained: "I wasn't expecting to win another tournament so I'm not sure yet how I will my strategy change going forward. I will speak to my coach once I'm home and decide what's best. I would like to play maybe a couple Challenge Tour events to see how the courses are different and my game compares to their but we will see."
Another of this season past winners Mathias Eggenberger, winner at 2022 Winter Series Golf Nazionale concluded the tournament in 2nd place just 1 stroke back. After his round, he was very happy with this week's result and how his game is evolving: "Today was pretty good, can't complain. I had a tough 1st round but coming back to finish the tournament at 13 under-par I'm happy."
The tournament ends with a three-way tie for 3rd place at 12 under-par with Portugal's Vitor Londot Lopes, Italy's Giacomo Fortini and Netherland's Lars Keunen. Just 1 stroke back in 6th place, Netherland's Floris De Haas at 11 under-par.
Gregorio De Leo has now moved into 1st place of the Alps Tour Order of Merit ranking after his victory today, Tom Vaillant(am) has moved into 2nd place and France's Julien Sale (am) into 3rd place.
Final Round –
Gregorio De Leo winner of the 2022 Alps de Las Castillas, earned 6,525 Order of Merit points and the winning check of €5,800.
For the Final Round Leaderboard click here or on the official Alps Tour Golf app.
The Alps Tour players now head to the Canary Islands, a Spanish archipelago off the coast of northwestern Africa for the 2022 Fred Olsen Alps de La Gomera. The event will be played from July 14th– 16th at Tecina Golf La Gomera.
Tournament Promoter-
This tournament is promoted and organized by JGolf.
The Alps de Las Castillas can count on the support of the joint collaboration between two main sponsors, the Real Federación Española de Golf and the Federación de Golf de Castilla León and Castilla La Mancha. The tournament also has the support of numerous co-sponsors: Club de Golf de Soria, el Ayuntamiento de Soria, la Diputación de Soria, el Consejo Superior de Deportes, EDP Solar, Kyocera, Mahou San Miguel and Solán de Cabras. The 2022 Alps de Las Castillas supports the 2023 Solheim Cup.
Follow along on www.alpstourgolf.com or the official "Alps Tour Golf" app to keep up on all the latest news (available on App Store for iOS devices and Play Store for Android)
#risinggolfstars
#raisinggolfstars
Instagram- @alpstourgolf
Facebook- Alpstourgolf
Twitter- @alpstourgolf
Latest Alps Tour Golf News