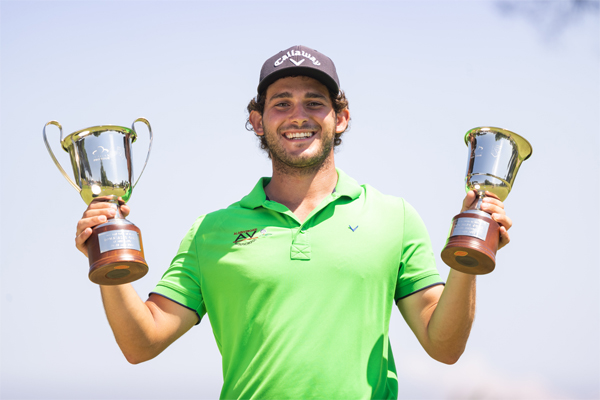 Gregorio De Leo, winner of the 2022 Roma Alps Open. Photo Credit: Federazione Italiana Golf/ Federico Capretti
23rd July 2022 | Alps Tour Golf
Gregorio De Leo secures his Challenge Tour card at the 2022 Roma Alps Open.
Leaderboard-
| | | |
| --- | --- | --- |
| Pos. | Name | Score |
| 1 | Gregorio De Leo (Italy) | -20 (196) |
| T2 | Stefano Mazzoli (Italy) | -17 (199) |
| | Gary Hurley (Ireland) | -17 (199) |
| 4 | Davey Porsius (Netherlands) | -16 (200) |
| 5 | Alex Esmatges (Spain) | -15 (201) |
Quick Links-
Rome, July 23rd 2022- Gregorio De Leo wins his 3rd tournament of the season and secures his Challenge Tour card for the 2023 season. He captured his third win of the season at the 2022 Roma Alps Open with a total score of 20 under-par. Two of this seasons previous winners: Stefano Mazzoli and Gary Hurley concluded the tournament in a two-way tie for 2nd place at 17 under-par. In 4th place at 16 under-par, Davey Porsius. Alex Esmatges concludes his tournament in 5thplace at 15 under-par.
The weather conditions have been constant throughout the past few days at Golf Club Parco de' Medici in Rome, Italy. Today, players had to face another day of humid summer temperatures. At the 2022 Roma Alps Open, the temperature once again, reached again over 40° which made it physically exhausting. Play began at 7:30 this morning from both the 1st and 10th hole. The leaders teed off at 9:09 am.
Final Round Player Quotes-
Gregorio De Leo, only 22 years old, captures his 3rd win of this season by 3 strokes. He shot a final round of 8 under-par for a three-day total of 20 under-par. His final round included 1 bogey, 7 birdies and an eagle on the 17th hole. He previously won the 2022 Memorial Giorgio Bordoni presented by Aon with an unbelievable 59 in the final round and the 2022 Alps de las Castillas. Thanks to his three victories, Gregory guarantees himself one of the Challenge Tour cards with Category 13 for the 2023 season. After he finished his round, his first reactions were, "I'm extremely happy! Obviously being able to win 3 events on the same tour during the same season it's incredible. This is my first year as a professional and it's very special. Winning definitely gives you extra confidence. After my first win it gave me some extra motivation to do well for the rest of the season." He dedicates his 3rd win "to my coach, we are doing any incredible job together. It's definitely for him and then my family and girlfriend who are always ready to support me."  He was happy he was able to recover after an unfortunately bogey on the 15th hole with a great birdie on 16 and then making an eagle putt from 6 meters on the 17th hole.  
Italy's Stefano Mazzoli, 25 years old and winner of the first event of the season, concluded the tournament in a tie for 2ndplace at 17 under-par alongside Gary Hurley. Today, Stefano made an unbelievable 11 birdies and 2 bogeys for a 9 under-par final round. When he finished his round, he was very satisfied with his game this week, "I played well all week. My long game was very solid all week. I struggled with my putting in the first 2 rounds but today finally putts were dropping." When asked how he plans to get ready for the final tournaments of the season after this break, Stefano commented, "I'm going to take some time off to recharge and then I will play a few events on the Challenge Tour to get ready for the final event and the Grand Final."
Gary Hurley from Ireland, winner at the 2022 Alps de Andalucía shot a final round at 6 under-par to conclude the tournament in the two-way tie at 17 under-par. He made 3 birdies on the front nine holes and 1 bogey, 2 birdies and an eagle on the 17th hole to conclude his round. Gary has now moved into 5th place of the Order of Merit rank ahead of the final two event of the season.
The Alps Tour Order of Merit rank remains intact, with Italy's Gregorio De Leo leading and France's Tom Vaillant (am) and Julien Sale (am) to close out the top three spots.
Final Round-
Gregorio De Leo winner of the 2022 Roma Alps Open, earned 6,525 Order of Merit points and the winning check of €5,800.
The Alps Tour players now have a few weeks off before the next scheduled event which will remain in Italy but move north to Castelconturbia Golf Club for the 2022 Castelconturbia Alps Open. The event will be played from September 28th– September 30th.  It will be the last regular event of the season before players head to the 2022 Alps Tour Grand Final which will be played the following week at Modena Golf & Country Club.
Tournament Promoter-
Like the majority of the Alps Tour events played in Italy, this event is organized by the Italian Pro Tour, which is a branch of the Italian Golf Federation. They promote the majority of the professional golf events that are played in Italy. The main sponsors that support the Italian Pro Tour include DS Automobiles, Fideuram, Kappa, Rinascente, Eureco and Poste Assicura. In addition, their media partners are the following three Italian newspapers: Corriere dello Sport,Tuttosport and Il Giornale. The Italian Pro Tour featured social partner is Sport Senza Frontiere Onlus and with an official advisor, Infront.
Follow along on www.alpstourgolf.com or the official "Alps Tour Golf" app to keep up on all the latest news (available on App Store for iOS devices and Play Store for Android)
#risinggolfstars
#raisinggolfstars
Instagram- @alpstourgolf
Facebook- Alpstourgolf
Twitter- @alpstourgolf
Latest Alps Tour Golf News