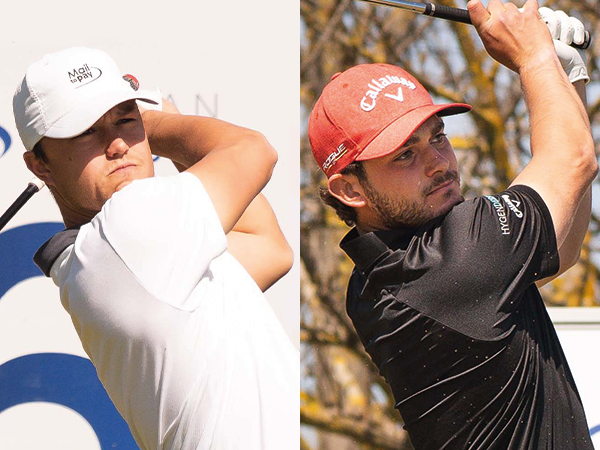 Round 2 Leaders: Vince Van Veen and Gregorio De Leo. Photo Credits: Federazione Italiana Golf and Federico Capretti
14th April 2022 | Alps Tour Golf
It's a two-way tied for the lead entering the Final Round at Miglianico Golf and Country Club.
Pescara, April 14th, 2022 – Another beautiful day for the second round of the 2022 Abruzzo Alps Open. The event is organized by the Italian Pro Tour, a branch of the Italian Golf Federation which promotes all golf professional events played in Italy. The groups that teed off in the early part of the morning wave had beautiful blue skies with slightly chillier temperatures that warmed up for the rest of the field to be a beautiful spring day.
There is a two-way tied for the lead entering the final round at Miglianico Golf. Netherland's Vince Van Veen is co-leading with Italy's Gregorio De Leo with a two-day total of 10 under-par. Round 1 leader, Koen Kouwenaar is 1 stroke back of our current leaders with a two-day total of 9 under-par.
After a beautiful 7 under-par round 63 in the morning wave, Vince Van Veen was pleased to comment "My game was heading in the right direction. I've been playing consistently for a while now and was just waiting for a lower number to come and I'm happy it came today. I made a lot of clutch putts today. I'm going to keep doing the same thing and see what happens tomorrow." His round today included 8 birdies and a single bogey for a two-day total of 10 under-par.
Gregorio De Leo, who had a stellar bogey-free 8 under-par round 62 today was happy with comment on how is short game helped him score a low round today,"Today was good day. My short game and putting were fundamental for today's score. I made 5 consecutive birdies and most of them thanks to my short game. I've worked a lot these past two weeks on that area of my game and I was happy to witness the results today of the hard work" 
Italy's Luca Cianchetti who is a past winner at Miglianico Golf and Country Club, shot a 2 under-par round 68 today with 3 bogeys and 5 birdies and is currently 3 shots off the lead. Cianchetti won this event as an amateur in 2015 with a total score of 11 under par. After his round today he states, "I played consistent but not great these past two days. I putted well and made some good recoveries with my short game. Today is windier than yesterday with harder pin so scores might be a little higher. Miglianico is a golf course I like and enjoy where you can have fun."
A total of 44 players made the cut which was set a 2 under-par, 42 professional players and 2 amateur players.
The Final Round of the 2022 Abruzzo Alps Open, will begin tomorrow at 8:10 from hole 1 and 10. The winner of the 2022 Abruzzo Alps Open, will earn €5,800 and 6,525 Order of Merit points.
For the complete Round 2 leaderboard click here or on the official Alps Tour Golf app
Follow along on www.alpstourgolf.com or the official "Alps Tour Golf" app to keep up on all the latest news (available on App Store for iOS devices and Play Store for Android)
#risinggolfstars
#raisinggolfstars
Latest Alps Tour Golf News