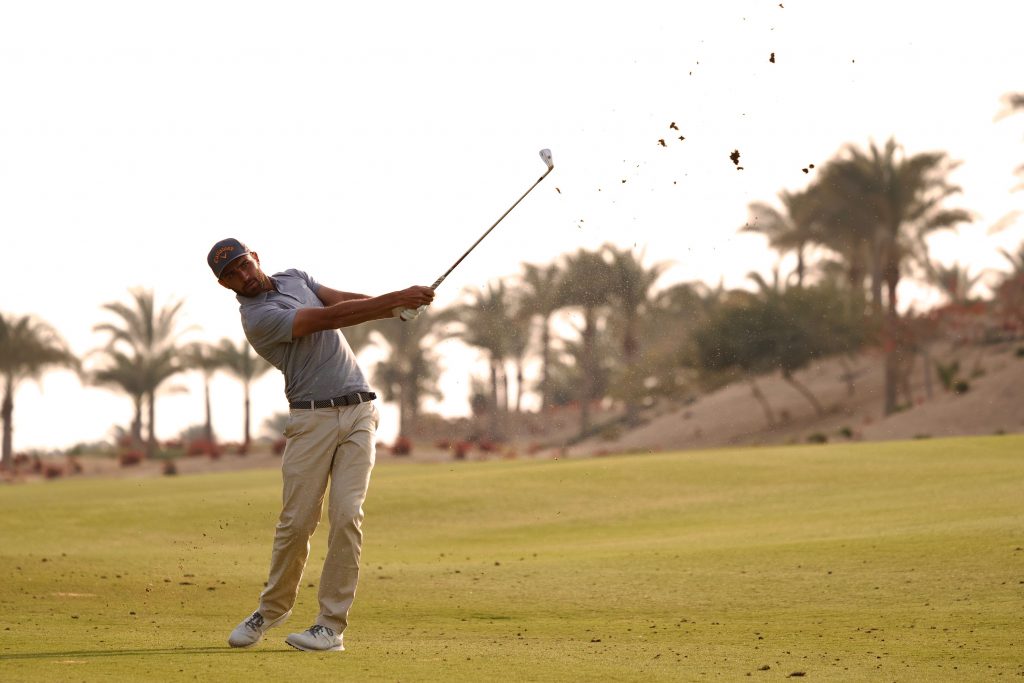 Joel Moscatel leads the 2022 New Giza Open after R1. Credit: Federico Capretti
4th March 2022 | Alps Tour Golf
Joel Moscatel leads the 2022 New Giza Open after R1
Egypt, March 4, 2022 – The first round of the 2022 New Giza Open hosted at New Giza Golf Club ended this afternoon, whith 118 golfers competing for the last tournament of the Alps Tour Egypt Swing.
On top of the leader board at -9 with a total score of 63, is Spaniard Joel Moscatel, 23 years old. During these first 18 holes, the young golfer dind't loose a single shot and scored a significant number of birdies (5) and eagles (2).  "I've approached very well the tournament mentally. I was very calm today and this was the key factor for my game. I've been driving my ball off the tee as I was supposed to do and I holed a lot of putters on the greens. I didn't miss a lot of greens so also my wedges were very consistent and precise. This course suits better my game than the previous ones because it is longer and gives me some advantages". 
With 64 strokes, just one shot behind the leader, there is Clement Poletti from France. Poletti, just 20 years old, like his direct competitor, dind't loose a single shot on the course and scored a series of birdies (6) and one eagle.
"I've started my round very confident and after I made a couple of birdies on 2nd and 3rd I gained a lot of extra confidence. Then I approached my back nine with a calm mindset and trusting my own game. I quickly scored 1 birdie and 1 eagle in a row and that helped me to stay positive and in the floe. I finished the first day without any bogey which is always great. Today I think the course was much easier than it usually is because there was no wind. These are my first tournaments as a pro on the Alps Tour after I've gained a full category thanks to the Qualifying School and I hope this is the start of a long journey ahead".
The 3rd place with 65 strokes (-7) is shared by two Frenchmen. Edgar Catherine, 23, is playing the tournament here at New Giza Golf Club for the second time and last year in September he was the winner of the Alps of Andalucia.  "It was a really good day. My game was very solid in every aspect. I've just missed few putts but I've been playing shots from 100 meters very well. I really love playing here, the course is in great shape and the greens are just as good as I thought".
The same great score came from the French amateur Julien Sale, 24 years old, who has been playing very well since the first stage of the Alps Tour at Sokhna Golf Club. Today the youngman scored a bogey free round with 7 birdies.
"I really love the layout of this course. There are big greens with a lot of slopes, and it can be very tricky to understand the right line, but it is very challenging so I love it. This is my first season on the Alps Tour, I've been playing very good during the last two weeks, I just hadn't the right result to put my name on the top of the leaderboard. Today I've hit some very nice and precise shots and I've holed a couple of putts, let's see what tomorrow will bring to me."
New Giza Golf Club, voted #1 in Egypt and #11 in MENA (Middle East and North Africa) region, is hosting the New Giza Open for the second time. The first tournament here was held in 2019 when Italian Lorenzo Scalise won with a total score of -12 (204 strokes) and this brought him good luck, as he is now a regular on the Challenge and DW World Tour.
Tomorrow the players will have to face more testing weather conditions, as a bit more wind is expected during the day.
First round results: click here or check on the Alps Tour Golf app.
Stay tuned! www.alpstourgolf.com and the app « Alps Tour Golf » (on App Store for iOS devices and Play Store for Android) will keep you updated on every news about Alps Tour.
#risinggolfstars
#raisinggolfastars
Latest Alps Tour Golf News