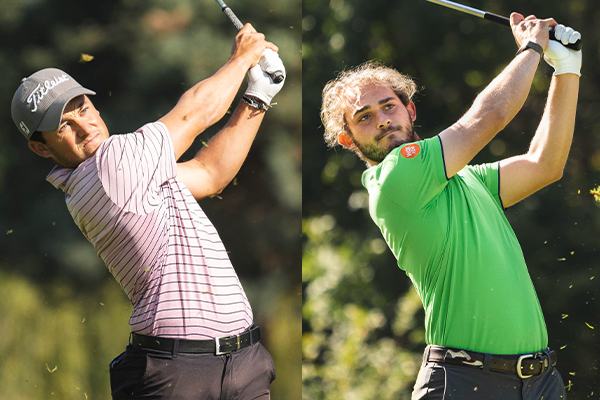 Victor Garcia Broto & Gregorio De Leo head the leader board on -8 after Day 1. Photo Credit:Federico Capretti
14th October 2021 | Alps Tour Golf
Joint Leaders After Round 1 of Emilia Romagna Alps Tour Grand Final
October 14th, 2021, Modena – Victor Garcia Broto and Gregorio De Leo jointly head the leader board today here at the Modena Golf & Country Club after carding -8 (64) in Round 1 of the Emilia Romagna Alps Tour Grand Final. Leading the field by three strokes, they also both match the course record and in doing so join prestigious company as it was established in 1993 at the Italian Open by Seve Ballesteros.
The First Round pairings teed off according to their position on the Order of Merit prior to the Grand Final, so the Spanish player, Victor Garcia Broto, in 21st position on 9,191 points was first into the clubhouse with a bogey-free round and two eagles :
« I started really well on the front nine. I made birdies on the 2nd and the 4th, then some great shots but didn't make the putts but holed an eagle on the 7th and birdie on the 8th. Then the next holes from ten to 10 to 16 I struggled a little bit but managed to save pars and at the end I hit two great shots and finished birdie, eagle ».
Knowing that there are two possible strategies to tackling the course, play safe or take risks, which did he choose ?
« I like the course, it's a good design and when I came here, I felt pretty confident as it matches my game. You try to be on the fairway, that's the first point because there are some holes that are pretty tight. And when you're in position it's good to try and attack the flags which is what I tried to do today ».
The Italian player, Gregorio De Leo, currently in 10th position on the OofM with 12,805 points came in five flights later and chose the alternative strategy:
« I started really good because I had two birdies in the first four holes. I played safe and didn't take a lot of risky shots. I putted well and made a lot of putts from 3 to 4 metres, and am really happy as I played such a great game. It's true that there are two options on this course as there are a lot of holes where you can play a risky shot and have a return with a short second shot or play safe off the tee and have a slightly longer second shot. It's a good strategy for the first and second round and we'll see what happens in the third round ».
Three players are in the chasing pack at -5 (67) : Vitor Londot Lopes from Portugal who partnered De Leo today, had an unfortunate bogey on the 18th after an error-free round up to then ; Andrea Saracino from Italy and David Carey from Ireland both had two bogeys and seven birdies on their cards.
The leading amateur of the day was Tom Vaillant from France who sits in joint sixth place on -4 (68) alongside Jack Floydd from England and the two Italians, Luca Cianchetti and Carlo Casalegno.
Twenty eight of the field of forty eight came in under par today in near perfect climatic conditions which saw a chilly start this morning turn into glorious sunshine in the afternoon.
Play starts tomorrow at 8:20 am with pairings teeing off according to their positions on the leader board at the end of play today.
The Emilia Romagna Alps Tour Grand Final 2021 is promoted by the Alps Tour with the fundamental support of the Italian Golf Federation, Modena Golf & Country Club, and the Emilia Romagna Region.
Results Round 1: click here or check on the Alps Tour Golf app.
Stay tuned! www.alpstourgolf.com and the app « Alps Tour Golf » (on App Store for iOS devices and Play Store for Android) will keep you updated on every news about Alps Tour.
Latest Alps Tour Golf News