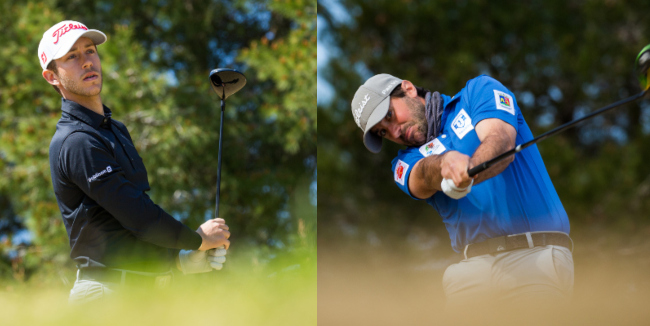 Edgar Catherine & Daniel Berna Manzanares top the leader board after 18 holes on -9. Photo credit: Tristan Jones Photography
Tristan Jones Photography
19th August 2021 | Alps Tour Golf
Joint Leaders Day 1 – Edgar Catherine & Daniel Berna Manzanares
August 19th, 2021 – Maria Lankowitz, Austria – Leader at the end of the morning flights Daniel Berna Manzanares from Spain maintained the top spot until near end of play when the French player Edgar Catherine entered the clubhouse to join him at -9 (63) after the first round of the Gösser Open.  The two players equalled the Golf Club Erzherzog Johann course record of -9 (63) today to take the lead by one stroke.
Daniel Berna Manzanares started and finished in style with a birdie on the tenth and an eagle to close for a bogey-free round totalling seven birdies.
"I played very well from tee to green and holed a couple of very long putts, so it was a good day. I took the break of four weeks to teach and so I didn't really train like I normally do but I was very relaxed, and it was very clear in my mind for the round today. I've been practising to control the ball and make high balls fly and so I'll try to do the same tomorrow".
Edgar Catherine started the front nine smoothly with an error-free 33 (-3). A bit of a wobble on the par 4 tenth with a bogey but then he absolutely powered home with seven birdies and par and 30 (-6).
"I started with a three putt on the first, and said to myself 'okay, lets keep going and see what happens'. I had a good front nine including a birdie on the eighth from 1.5 metres and finished 3 under for nine. Coming in I sent my 3 wood too long on the tenth and ended up in the water and made bogey. From then I really motivated myself to give it my all and it worked well. I sank a few putts from 4 or 5 metres and had a great iron shot on the seventeenth leaving a short putt and the bonus was on the eighteenth when, from ten metres, with the break it went in. It's always satisfying to finish like that and I was globally happy with all the aspects of my game today".
In joint third place on -8 (64), are Gary Hurley from Ireland and the Italian, Carlo Casalegno. The Irishman briefly took the lead this morning after carding eight birdies. Casalegno, playing in the same flight as Berna Manzanares had a terrific round with nine birdies but missed sharing the lead when a wayward shot cost him a bogey on the par 4 fifth hole with its green protected by water.
There is a three-way tie at fifth place on -7 (65) with Joel Moscatel from Spain, best result among the amateurs today, Franck Medale from France, winner of the Open de la Mirabelle d'Or this year and Hamza Amin from Pakistan.
The highest ranked Austrians are Clemens Gaster and the amateur Fabian Lang on -5 (67) putting them in joint tenth.
More than half the field of 144 players came in at par or better today and with 27 players within 5 strokes of the leaders there is still everything to play for. Playing conditions should be much the same as today for Round 2 with tee offs from both the first and tenth at 7:30 am.
Results Round 1: click here or check on the Alps Tour Golf app.
Stay tuned! www.alpstourgolf.com and the app « Alps Tour Golf » (on App Store for iOS devices and Play Store for Android) will keep you updated on every news about Alps Tour.
Instagram @alpstourgolf
Facebook @Alpstourgolf Satellite
Twitter @AlpsTourGolf
Latest Alps Tour Golf News