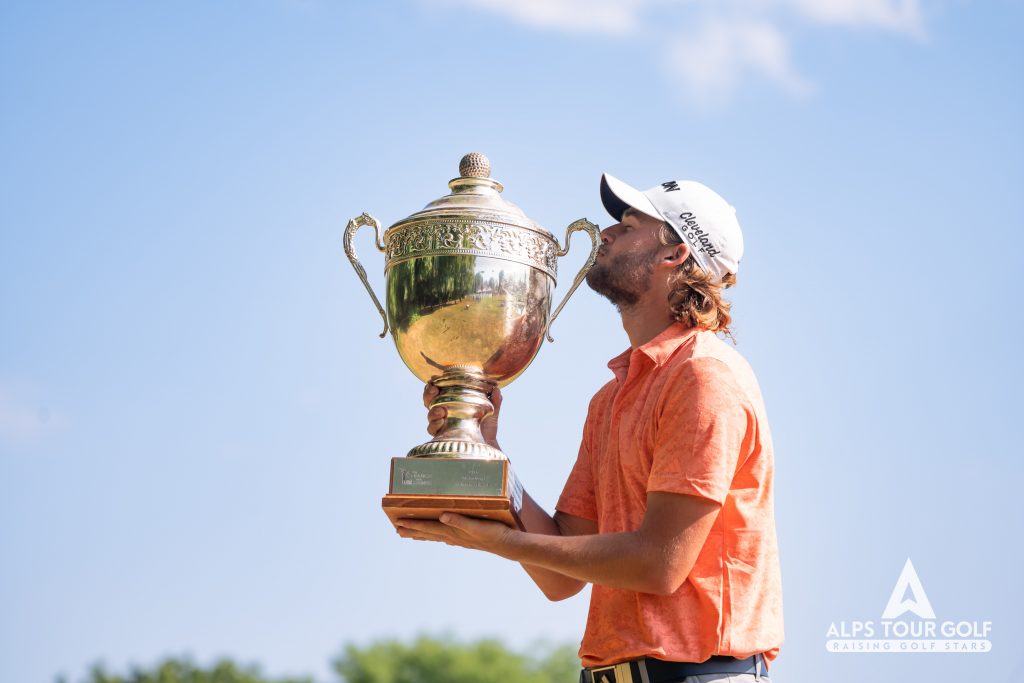 Kiet Van der Weele winner of the 2023 Open de La Mirabelle d'Or.  Photo Credits: Alps Tour Golf / Federico Capretti 
4th June 2023 | Alps Tour Golf
Kiet Van der Weele wins his third title at the 20th Open de La Mirabelle d'Or.
Final Round Notes
Golf de La Grange Aux Ormes
Metz, France
2
nd
– 4
th
 June 2023
Alps Tour Media Contact: [email protected]
Leaderboard
| | | |
| --- | --- | --- |
|    Pos. |                 Name |      Score |
|       1 | Kiet Van der Weele (NED)* | -5 |
|       T2 | Nicolas Aparicio (FRA) | -5 |
| | Jack Floydd (ENG) | -5 |
| | Theo Brizard (FRA) | -5 |
|       5 | 2 players tied at | -4 |
Quick Links
---
Kiet Van der Weele wins his third title at the 20th Open de La Mirabelle d'Or. 
Metz, June 4th 2023- 
After 2 holes of sudden-death playoff, Netherland's 
Kiet Van der Weele
 captures his 3
rd
 title of the season, the 
20th Open de La Mirabelle d'Or 
and secures his 
Challenge Tour
 card. The Dutch alongside, France's 
Nicolas Aparicio
, England's 
Jack Floydd
 and France's 
Theo Brizard
 all concluded their final round at 
Golf
Domaine de la Grange aux Ormes
 tied for the lead, therefore taking part in the four-way sudden-death playoff thanks to their final score of 5 under-par. Tied for 5
th
 place, 1 shot back at 4 under-par France's 
Augustin Hole
 and Ireland's 
Ronan Mullarney
.
It was another warm and beautiful day with sunny skies at Golf Domaine de la Grange aux Ormes. The players were able to compete under optimal scoring and weather conditions. The course has hosted this event since its inaugural year in 2003. However, it officially became part of the Alps Tour schedule in 2005. The final round of the 2023 Open de La Mirabelle d'Orbegan at 9:00 am from hole 1 and 10. The final group teed off at 10:40 am from the 1st hole.
Final Round Player Quotes
Netherland's Kiet Van der Weele only 22 years old, captured his 3rd win of the season at the 2023 Open de La Mirabelle d'Or in just 6 starts. In addition to winning his 3rd event of the season and the second back-to-back, he guaranteed himself a Challenge Tour category 12 card for the remainder of this season as well as the 2024 season. He previously won the 2023 Alps de Las Castillas and last week's 2023 Memorial Giorgio Bordoni presented by Aon. After he finished his round, his first reactions were, "It feels like a dream, I always imagined it but do it is another thing. I'm extremely happy! It's a great feeling to be in this position and to see all the hard work coming out. I'm honestly still speechless and I think I'll be that way for a while."  When asked how he approached the final round, Van der Weele added: "I knew the course was playing tricky today as the wind was picking up and the pins were tricky and tucked. I knew the other players weren't going to go very low with the conditions so I knew if I stayed patient and focused on my strategy I couldn't be to much out of it and I'm very glad it worked." 
Theo Brizard from France, who was leading after round 2, had a final round of 1 over par for a three-day total of 5 under-par. He had a bad start with 4 bogeys in his first 5 holes, nevertheless he managed to turn it around on the back nine to be able to compete in the sudden-death playoff at 5 under-par. Brizard turned professional in 2021 and he represents Golf Bastide de la Salette. After his round, he commented that for "sure my bad start was due to some stress. I hit poor shots and after a really nice tee shot on 4 I made a very bad decision. I knew something good could have happened on the back nine so tried to stay positive. I made a good up and down on 10 and a close shot on 11 and a nice 6 iron into the 12th hole. After that it was a very good fight with Jack until the end. We both played well and holed good putts."  He added that he is, "taking a lot of positives from this week. I'm getting closer and I managed to stay in it which I'm happy. I know I'll have more opportunities and I'm already focused on next week, hungry for a trophy!"
France's Nicolas Aparicio who was close to the top of the leaderboard all week, shot a 3 under-par round 67 today with 6 birdies and 3 bogeys for a three-day total of 5 under-par. He had a strong finish with back-to-back birdies on the last two holes. Aparicio turned pro in 2016 and represents Golf du Medoc.
England's Jack Floydd, who captured his first professional win at the 2023 Ein Bay Open, was one of the 4 players that took part in the sudden-death playoff for the title. He shot a final round of Even Par for a three-day total of 5 under-par. He is 26 years old and currently represents Haywards Heath Golf Club. This is his third season on the Alps Tour. During today's final round, Floydd made 1 eagle and 1 bogey on his front nine and 1 double bogey, 1 bogey and 2 birdies on the back nine. After his round, he commented: "I played very nicely this week, it required a lot of thinking. It was plotting your way around the course with some good strategy which I really enjoyed as it was very different compared to the usual Alps Tour courses." When asked about his start, "I got off to a great start, I made a fantastic eagle on 4, I was playing solid with only a few bad shots but then on hole 10, I played it the same way I had done the last 2 days but hit a poor tee shot and lost my ball. I made a comfortable decision which was the same as my previous two rounds and just didn't get a good swing and got penalized due to the very thick rough this week."
France's Augustin Hole, 25 years old who represents Biarritz Le Phare was tied for 17th after round 2, had a final round, 5 under-par 65 that included 4 birdies, 1 bogey and a hole-out eagle on the par 4 11th hole for a three-day total of 4 under-par and concluded the tournament tied for 5th place.  He continued his solid performance after finishing 4th at last week's event in Italy. After the round, Hole happily commented: "today was a great round, starting early was a good advantage with no wind and good greens. My eagle on 11 was awesome, I holed out from 50 meters. I couldn't see the green but heard the claps. It was a great feeling." He came up just 1 stroke short from entering the play-off and was "slightly disappointed coming up a little short as I had chances on 16 and 17 but I'm overall very happy with how I played this week. There are a lot of positive to take to the next tournaments."
Alongside Hole, tied for 5th place with a three-day score of 4 under-par, 2023 Gösser Open winner, Ireland's Ronan Mullarney. He shot a final round of 2 under-par that included 5 birdies and 3 bogeys. He turned professional in 2019, competed in the 2022 Open Championship and this is his 1st full season playing on the Alps Tour.
After the 6th event of the season and his third win, Kiet Van der Weele extends his lead in the Order of Merit Rank. In 2ndplace Ronan Mullarney with 13,434 points and in 3rd place Jack Floydd with 10,140 points.
Final Round
Kiet Van der Weele winner of the 2023 Open International de La Mirabelle d'Or, earned the winning check of €5,800 and 6,525 Order of Merit points.
Next week the players head to Italy for the next scheduled event. From June 8th to June 10th they will compete at Croara Country Club near Piacenza, Italy for the inaugural 2023 Croara Alps Open.
Tournament Promoter
The tournament is organized and promoted directly by the golf club, Golf Domaine de la Grange Aux Ormes.
The Institutional Sponsors that support this tournament are: Région Grand Est, Département de la Moselle, Ville de Marly, Inspire Metz and Fédération Française de Golf.
The Private Partners at this event are: Crédit Agricole, Quadral, Mercedes Kroely, Demathieu & Bard and Opéra Théâtre.
The Official Suppliers of the tournament are: Eurogolf Luxembourg, Lemoy, Heineken, Château Sainte-Marguerite, Cristian Senez, Agence Grand Angle, Leon Noël, Evian, Pernod Ricard, France Boisson, Metro, Fayard and Cafés Richard.
Follow along on 
www.alpstourgolf.com
 or the official "Alps Tour Golf" app to keep up on all the latest news (available on App Store for iOS devices and Play Store for Android).
#risinggolfstars
#raisinggolfstars
Latest Alps Tour Golf News