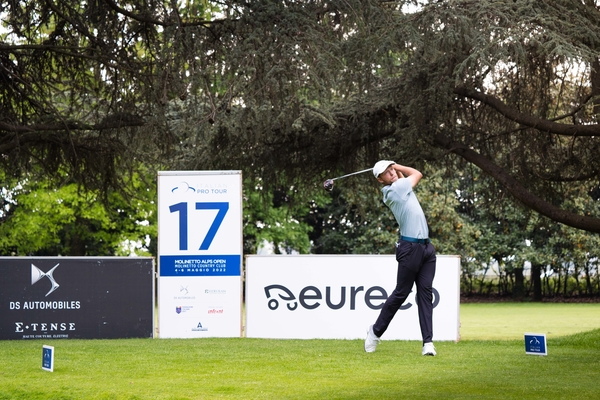 Koen Kouwenaar leader of the First Round at Molinetto Country Club. Photo Credit: Federazione Italiana Golf and Federico Capretti
4th May 2022 | Alps Tour Golf
Koen Kouwenaar leads the way after the First Round at Molinetto Country Club
Milan, May 4th 2022- An overcast morning with a pleasant spring temperature welcomed the players for the 1st round of the inaugural 2022 Molinetto Alps Open in Milan, Italy.  Play began at 7:30 am from both the 1st and 10th hole. The first round was suspended at 17:41 due to dangerous weather in the area and resumed at 18:41 (1 hour).
At the completion of the first round, we have a packed leaderboard with Koen Kouwenaar leading the field with a brilliant 8 under-par round 63.  Eemil Alajarvi, Stefano Pitoni and Jacobo Pastor are just one shot back with a 7 under-par round 64. They hold a 1 stroke advantage over Italy's Davide Buchi, France's Sebastien Gandon and Nicolas Platret and Swiss Mathias Eggenberger who shot a 6 under-par round 65. Current Order of Merit leader, Italy's Stefano Mazzoli shot a 3 under-par round and is 5 shots from the lead.
Round 1  Quotes-
Netherland's Koen Kouwenaar who turned professional at the end 2020 is currently playing in his first season on the Alps Tour, due to a wrist injury which ended up needing surgery last year. When Koen concluded his bogey-free 8 under-par round 63 he was very pleased and commented his game by saying, "I was solid all the way around with a decent putter and a consistent straight long irons which you need on this type of course. The greens are slightly smaller than usual but they are very good." Koen hopes to conclude this week with a win but knows he "needs to stay in the process and not look at the results to quickly. It is very hard to finish it off so I need stay focused and not get carried away by the results."
Jacobo Pastor currently 33 years old and a past winner on the Alps Tour shot a 7 under-par round today which included 9 birdies and 2 bogeys. After his round today, Pastor was pleased to comment on how well he played today, "I am very happy with today's result. Starting with a -7 is fantastic and I hope to keep it going the rest of the week. Each player has its own strategy this week because you need to be straight from the tee shots otherwise you'll be penalized and I prefer to hit a lot of 3 woods to have short irons into these greens to have more birdie opportunities."  Pastor also said he started this season with a lot of expectations and wasn't playing well but after being forced to stay home 2 weeks from having contracted COVID-19, he was able to re-evaluate his strategy and work method. He now "hopes this is the start of something very good."
Italy's Stefano Pitoni, 32 years old, a past winner on the Alps Tour had a consistent round today with 32 shots on the front nine and 32 shots on the back nine for a total 7 under-par 64. In his round, he had 1 eagle, 1 bogey and a total of 6 birdies. After his round, Stefano commented, "I am very happy about today, you have to be very precise of the tee on this course which I'm glad I was. I hit some amazing second shots and got lucky holing a couple long putts."
Finland's Eemil Alajarvi only 22 years old and playing his 7th event of this season had a great start to his first round here at the inaugural 2022 Molinetto Alps Open.  His round included 8 birdies and just one bogey for a 7 under-par 64. He started his round with 3 birdies on his front and continued with 1 bogey and 5 birdies on the back nine to end his round. After his round, Alajarvi commented on how well he played and how his game fitted this course. He said, "I played very solid and hit a lot of good approach shots and that made it easy to have a lot of birdie opportunities. I really like Molinetto Golf Club and it's very good for my game as I don't hit it very long but I hit it very straight so it fits my game very well."
Among the 144 players competing this week you'll find 130 professionals and 14 amateurs. The tournament winner will earn 6,525 Order of Merit points and 5,800 €. The players will be competing for a prize fund of 40.000 € and 45,000 Order of Merit points.
Tournament Promoter-
Like the rest of the majority professional golf events that are played in Italy, the inaugural 2022 Molinetto Alps Open is organized by the Italian Pro Tour. The main sponsors that support the Italian Pro Tour include DS Automobiles, Fideuram, Kappa and Eureco. In addition, their media partners are the following three Italian newspapers: Corriere dello Sport, Tuttosport and Il Giornale. The Italian Pro Tour featured social partner is Sport Senza Frontiere Onlus with official advisor, Infront.
Round 2-
Round 2 of the 2022 Molinetto Alps Open, will begin again at 7:30 am from hole 1 and 10. Thanks to the crowded leaderboard, it will be an intriguing second round with possible severe weather incoming in the afternoon.
For the complete Round 1 leaderboard click here or go on the official Alps Tour Golf app.
Follow along on www.alpstourgolf.com or the official "Alps Tour Golf" app to keep up on all the latest news (available on App Store for iOS devices and Play Store for Android)
#risinggolfstars
#raisinggolfstars
Instagram- @alpstourgolf
Facebook- Alpstourgolf
Twitter- @alpstourgolf
Latest Alps Tour Golf News