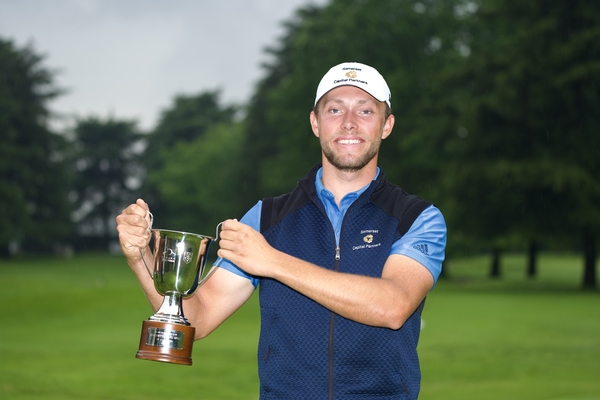 Koen Kouwenaar winner of the 2022 Molinetto Alps Open. Photo Credit: Federico Capretti and Federazione Italiana Golf
6th May 2022 | Alps Tour Golf
Koen Kouwenaar wins the inaugural 2022 Molinetto Alps Open
Milan, May 6th, 2022 – A long day ahead for the players competing in the inaugural 2022 Molinetto Alps Open at Molinetto Country Club near Milan, Italy. At 7:30 under a consistent rain, play for round 2 resumed.  Once, round 2 was completed, a total of 50 players, which included 46 pros and 4 amateurs made the cut that was set at 138, 4 under-par.
The Final Round of the 2022 Molinetto Alps Open began at 9:20 from hole 1 and 10. The final group that included, Round 2 leader Alessandro Tadini at 11 under-par, his fellow countryman Gregorio De Leo just 1 stroke back at 10 under- par and Netherland's Koen Kouwenaar at 9 under-par teed off at 10:48. After a long battle especially on the last couple of holes between Alessandro Tadini and Koen Kouwenaar, Kouwenaar wins on the 18th hole by just one stroke at 14 under-par.
Molinetto Country Club is a course that has never previously hosted an Alps Tour event before this week but proved to be a good test for the players especially in the conditions they had to face the last two rounds.
Player Quotes-
After his win today, Koen Kouwenaar, has become the new Order of Merit Leader after the 7th event. Koen who turned professional at the end of 2020 but is playing his first season on the Alps Tour as he was unable to play last year due to a wrist surgery. His final round, included 1 double bogey and 3 birdies on the front nine and 4 birdies on the back. After his round, Koen was very pleased with his day, "My game was good, I was satisfied with my game especially with my long irons and I had my putter which was hot and obviously that helps and I'm very happy." Koen complimented his playing partners especially Italy's Alessandro Tadini, "I didn't know Alessandro but you can see in his experience and especially the way he handled his game while being in contention." Koen dedicated this win to himself, especially the hard work, long hours and dedication he had to put in his game since his surgery. Now, Koen looks ahead and is excited for the rest of the season as he has reached one of his goal and now looks towards gaining his Challenge Tour card especially being the new Order of Merit Leader.
Alessandro Tadini of Italy, who was in tied contention with Koen Kouwenaar up until the 18th green, shot a 2 under-par final round which included 6 birdies and 4 bogeys. He had a consistent game throughout the final round but slightly blames his nerves for not being able to capture the win. "I needed to be a bit less nervous on the last 4/5 holes and probably I would have been more in contention. I came on 18 after a few holes of mishitting my tee shots and wasn't at ease on the 18th hole. I am very happy about this week and I putted very well so I gave myself a chance to return to victory but unfortunately it wasn't meant to be this week."
The four amateurs that made the cut, concluded their tournament at 8-under-par.
Final Round-
The winner of the inaugural 2022 Molinetto Alps Open, will earn €5,800 and 6,525 Order of Merit points.
For the Final Round leaderboard click here or on the official Alps Tour Golf app
The next stop on the Alps Tour schedule moves to Graz, Austria for the 30th Goesser Open. The event is scheduled from May 12th– May 14th at Golf Club Erzherzog Johann, Maria Lankowitz.
Tournament Promoter-
Like the majority professional golf events that are played in Italy, the inaugural 2022 Molinetto Alps Open is organized by the Italian Pro Tour. The main sponsors that support the Italian Pro Tour include DS Automobiles, Fideuram, Kappa and Eureco. In addition, their media partners are the following three Italian newspapers: Corriere dello Sport, Tuttosport and Il Giornale. The Italian Pro Tour featured social partner is Sport Senza Frontiere Onlus with official advisor, Infront.
Follow along on www.alpstourgolf.com or the official "Alps Tour Golf" app to keep up on all the latest news (available on App Store for iOS devices and Play Store for Android)
#risinggolfstars
#raisinggolfstars
Instagram- @alpstourgolf
Facebook- Alpstourgolf
Twitter- @alpstourgolf
Latest Alps Tour Golf News