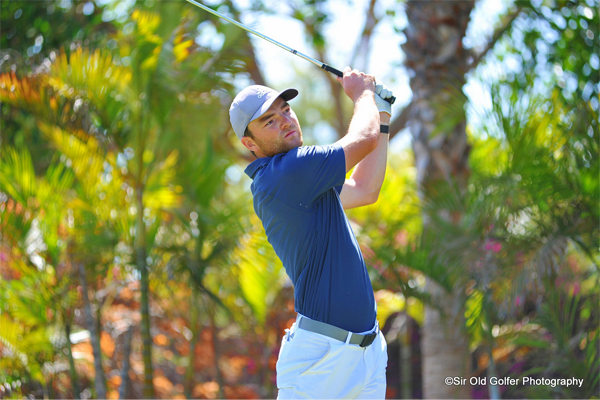 Round 1 Leader Lars Keunen. Photo Credit: Sir Old Golfer Photography.
14th July 2022 | Alps Tour Golf
Lars Keunen leads after Round 1 at the 2022 Fred.Olsen Alps de La Gomera.
La Gomera, July 14th 2022- Netherland's Lars Keunen leads the field with an 8 under-par 63 at the conclusion of Round 1. Spain's Asier Aguirre Izcue, Netherland's Vince Van Veen and French amateur Julien Sale are in a three-way tie for 2nd place at 5 under-par. Just one shot back, at 4 under-par and tied for 5th place: Spain's Enrique Marin Santander, Italy's Stefano Mazzoli and England's Ben Schmidt.
In the beautiful backdrop of the Canary Islands, the first round of the 2022 Fred.Olsen Alps de La Gomera played at the beautiful Tecina Golf, on the Island de la Gomera began at 8:30 am. La Gomera is the second- smallest main island in the chain of the Canary Islands. This is the 3rd edition of the tournament, with the two previous events being played in 2018 and 2019. There were perfect weather conditions favoring good scoring opportunities for the players, with a sunny sky, temperature in the upper 20s and a northeastern wind around 20km/h.
Round 1 Player Quotes-
Netherland's Lars Keunen leads the field with an 8 under-par, 63 in the first round of the 2022 Fred.Olsen Alps de La Gomera. His round today included a total of 9 birdies and 1 single bogey. He ended his round in a very positive way making 4 birdies in his last 4 holes. Lars has been playing well so far this season and his most recent finish was a tied for 3rd place last week at the 2022 Alps de Las Castillas. After his round, he commented "My driving has been very solid today. After playing well last week I felt good going into this week and am very happy with how the tournament began. Of course there is still a lot of golf to be played but it's a very good start." Lars also mentioned on how "the course is great this week and the views are really nice too! Makes it all a better day."
Spain's Asier Aguirre Izcue is one the three players tied 3 strokes back of the lead at the end of the 1st round. When he concluded his round, he commented on how he had a lot of opportunities for birdies and eagles during the round which he unfortunately didn't convert, but his long game was extremely good all day. Asier said "I missed a short birdie putt but I made very good putts at 5 meters length. I was able to take advantage of all the short par 4s and the par 5s today and that was very good." He also proudly mentioned on how this is his first time at "La Gomera and I love the place, and of course the golf course. I came with my mother, who is caddying for me, she came to disconnect a little and we are having a wonderful time, we are happy and enjoying a lot."
Vince Van Veen from Netherland, who represents Goyer Golf & Country Club, is the second player in the three-way tie for 2nd place at 5 under-par. He has been playing very consistent throughout the entire season with his most recent top 10 finish at the Aravell Golf Open last month. After his 66 in round 1, Vince proudly commented on how "my game felt good today, I created enough chances even though I felt like I left some shots on the course and I had more in the tank. I played here before so I knew what it was like and what to expect. I would like to continue to focus on my own process and obviously it would be nice to continue the good play I've been doing."
French amateur Julien Sale, who represents Saint Cloud Golf Club is the final player in the three-way tie for 2nd place just one-stroke back at 5 under-par. He's been playing very well this entire season and has 8 top 10s so far, with his most recent finish being a tie for 3rd place at the 2022 Hauts de France-Pas de Calais Golf Open. After his round, Julien commented "my game was good, I played great from the beginning to the end and I was very in control of my game. I gave myself a lot of chances. I like the course, it's really nice, it's not tricky if there is no wind, however it complicates itself once the wind picks up. So far, we have been lucky with the wind. The view of the sea and Tenerife are amazing." He is still an amateur and competes on the French National Team, he will "turn pro sometime in September as I will be playing in my last amateur event at the World Amateur Team Championship during the last week of August. After that during the month of September I will change my status and begin my professional career."
Three players are in a tie for 5th place with a first-round score of 4 under-par: Enrique Marin Santander, Stefano Mazzoli and Ben Schmidt. There are 11 players in a tie for 8th place at 3 under-par which include: Tom Vaillant (am), Oihan Guillamoundeguy and Davey Porsius.
Among the 80 players competing this week you'll find 67 professionals and 13 amateurs. They are competing for an overall prize fund of €40.000 and 45,000 Order of Merit points. The tournament winner will earn €5,800 and 6,525 Order of Merit points
Round 2-
Round 2 of the 2022 Fred.Olsen Alps de La Gomera, will begin at 8:30 am from hole 1. After the second round, a cut will be made to the top 40 players and ties.
For the complete Round 1 Leaderboard or the Round 2 tee-times click here or go on the official Alps Tour Golf app.
Tournament Promoter-
The 2022 Fred.Olsen Alps de La Gomera is promoted and organized by JGolf. The tournament can count on the support of the Fred. Olsen S.A., the Federación Canaria de Golf, the Gobierno de Canarias, Promotur Turismo de Canarias, el Cabildo Insular de la Gomera and Kyocera. The Fred Olsen Alps De La Gomera supports the celebration of the 2023 Solheim Cup.
Follow along on www.alpstourgolf.com or the official "Alps Tour Golf" app to keep up on all the latest news (available on App Store for iOS devices and Play Store for Android)
#risinggolfstars
#raisinggolfstars
Instagram- @alpstourgolf
Facebook- Alpstourgolf
Twitter- @alpstourgolf
Latest Alps Tour Golf News