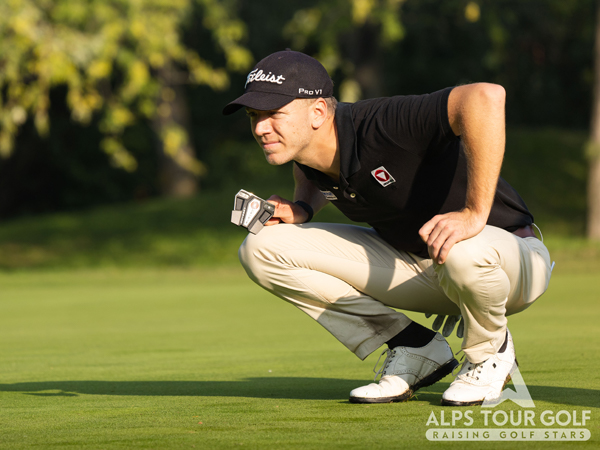 Lukas Lipold leader after Round 1 at the 2022 Emilia Romagna Alps Tour Grand Final. Photo Credit: Federico Capretti / Alps Tour Golf
6th October 2022 | Alps Tour Golf
Lukas Lipold leads after Round 1 at the 2022 Emilia Romagna Alps Tour Grand Final
Leaderboard-
| | | |
| --- | --- | --- |
| Pos. | Name | Score |
| 1 | Lukas Lipold | -6 (66) |
| T2 | Jonathan Yates | -5 (67) |
| | Gary Hurley | -5(67) |
| T4 | Carlo Casalegno | -4 (68) |
| | Franck Medale | -4 (68) |
| | Julien Sale | -4 (68) |
| | Gregorio De Leo | -4 (68) |
Quick Links-
Modena, October 6th 2022– Austria's Lukas Lipold leads with a 6 under-par 66 at the conclusion of the first round. Just one stroke back in a tie for 2nd place an Irish duo, Jonathan Yates with a bogey-free round and Gary Hurley at 5 under-par. There is a 4-way tie for 4th place at 4 under-par that includes the current Order of Merit leader Italy's Gregorio De Leo. Alongside De Leo in the 4-way tie there is: Italy's Carlo Casalegno and France's Franck Medale and Julien Sale.
A beautiful fall day with a comfortable temperature and perfect scoring conditions welcomed the players for the first round of the 2022 Emilia Romagna Alps Tour Grand Final. The tournament is being held at Modena Golf and Country Club. Play began this morning at 8:30 am from the 1st hole for all competitors. Forecasts still give another two sunny days with good temperatures that will ease the players competing this week. This is the season ending event where the top 5 players in the Order of Merit rank at the end of this week's tournament will earn a Challenge Tour, category 12 card for the 2023 season. Gregorio De Leo, current Order of Merit leader has already secured himself one the of five Challenge Tour cards that is up for grabs at this week's event
Round 1 Player Quotes-
Austria's Lukas Lipold who turned professional at the end of 2019, shot a 6 under-par to lead after the 1stround of the 2022 Emilia Romagna Alps Tour Grand Final. After a steady start, Lukas had a strong finish with 2 birdies on the last two holes. Following today's round, he happily commented, "I had a pretty nervous start, I hit a few bad shots in the beginning and was able to scramble through it. Just before the turn I was able to catch some speed, felt good with some putts rolling in and it was a fun round." When asked to comment his strong finish, Lukas said: "I made a mistake a few holes before the end that bothered me so it was good to like finish that heading into tomorrow. I hit a lot of very good tee shots, it's tough out here there are some very small gaps you must hit into and then I hit a lot of very good shots into the greens."  Lukas turned professional at the end of 2019 and hopes to move up to the Challenge Tour.
Ireland's Jonathan Yates who had an incredible bogey-free 5-under par round, is in a two-way tie for 2ndplace alongside his compatriot Gary Hurley. He made 3 birdies on the front nine and 2 birdies on the back nine for his bogey-free round. After Jonathan completed the round, he commented: "Today was very enjoyable playing with Manuel, we had a stress-free round with a lot of fairways and a lot of greens. I played better around the turn but unfortunately missed a few putts. However, it was nice to get rewarded towards the end of the round and finish with two birdies. Overall it was a good solid round." I'm looking forward. I'm just looking to win, I have nothing to lose and nothing to gain so I'm just trying to win."
Gary Hurley from Ireland, is the other player in the two-way tie for 2nd place at 5 under-par just 1 stroke back of the lead. He had a strong finish to his round making 3 birdies on the last 3 holes to conclude his round. Gary was pleased after his round, "Today was a good round, a nice finish. I played ok, I hit some nice shots, I hit some funny shots. I definitely left a few shots out there today but then it gave me a few shots coming in which was nice. Today was a good day. It definitely was a good start." He also said he wants to stay in the moment of what he's doing.
In the 4-way tie for 4th place alongside current Order of Merit Leader Gregorio De Leo at 4-under par and 2 shots back of the lead there is Italy's Carlo Casalegno, France's Franck Medal and Julien Sale. In a tied for 8th place at 3 under-par there are 5 players.
The 45 players in the field this week are competing for an overall prize fund of €50,000 and 60,000 Order of Merit points.
Round 2-
The second round of the 2022 Emilia Romagna Alps Tour Grand Final will begin again at 8:30 am with the leaders teeing off at 12:00pm from the 1st hole.
Tournament Promoter-
The 2022 Emilia Romagna Alps Tour Grand Final is promoted directly by the Alps Tour. The event can count on the support of Regione Emilia- Romagna, Modena Golf & Country Club and Federazione Italiana Golf. The tournament also has the support of numerous sponsor suppliers such as: BPER Banca, Costa Crociere, Jaguar Land Rover, Sky Sport, Golf 2.0, Hygien Fee and Tweentee. The event also has numerous partners such as: Geo Group, Farmacia Costa, Consultants, Nanoprom, Costruzioni Generali due, Spin Automazioni, Golf'us, Ecoricerche, Gruppo Fiori, GSM, Slurp, Blondi Gioielli, Termoidraulica Venturelli/Ferretti Costruzioni, ITAS Assicurazione Agenzia Bevilacqua, Marano Lamiere, Poligolf Modena, Modula, Voiello and Parmigiano Reggiano.
Follow along on www.alpstourgolf.com or the official "Alps Tour Golf" app to keep up on all the latest news (available on App Store and Play Store)
#risinggolfstars
#raisinggolfstars
#2022EmiliaRomagnaAlpsTourGrandFinal
#emiliaromagna
Instagram- @alpstourgolf
Facebook- Alpstourgolf
Twitter- @alpstourgolf
Latest Alps Tour Golf News