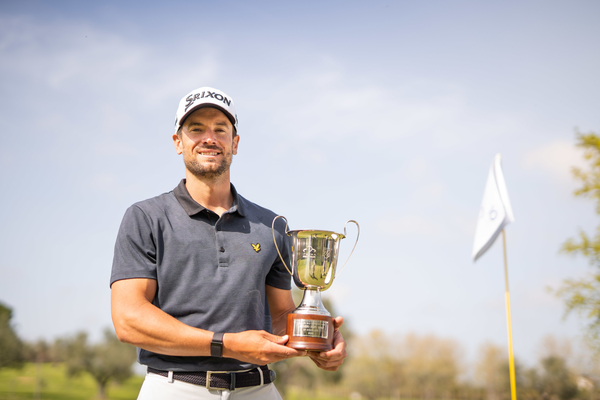 2022 Abruzzo Alps Open Champion Manuel Morugan. Photo Credit: Federazione Italiana Golf and Federico Capretti
15th April 2022 | Alps Tour Golf
Manuel Morugan wins the 2022 Abruzzo Alps Open after a sudden-death playoff.
Pescara, April 15th, 2022 – It was another beautiful spring day with pleasant temperatures for the final round of the 2022 Abruzzo Alps Open. This allowed the players to have an opportunity for optimal scoring conditions. The event this week was organized by the Italian Pro Tour, a branch of the Italian Golf Federation which promotes all professional golf events in Italy.
Three players concluded their final round with a three-day score of 12 under-par which lead to a 3-way sudden-death playoff on the 10th hole of Miglianico Golf to claim the 2022 Abruzzo Alps Open. Ireland's David Carey, Spain's Manuel Morugan and Netherland's Koen Kouwenaar took part of the 3-way sudden-death playoff.
Spain's Manuel Morugan won the 2022 Abruzzo Alps Open with a birdie on the first playoff hole after hitting his shot to 80 centimeters from the hole on the 10th green. By winning the 2022 Abruzzo Alps Open, he earned €5,800 and 6,525 points in the Order of Merit and after his victory 13th in the Order of Merit. For Manuel Morugan, 31 years of age representing Real Guadalhorce Club de Golf, this week was his fifth event of the season and his first victory on the Alps Tour. Morugan stayed near the top of the leaderboard this week with three rounds consistently under par. He shot a 68 in round 1, a 65 in round 2, and final round 65 which included 1 eagle and 3 birdies. Morugan was very emotional after his winning birdie putt today with tears of joy running down his face "This win is very special for me as last year I wasn't able to compete due to a wrist tendon surgery I had to get done and wasn't able to play. I am very happy to have won especially after a playoff. I have an amazing family, staff and girlfriend who support my career and I wouldn't have done it without them. I definitely want to come back to Italy and play the next event at Molinetto."
Koen Kouwenaar turned professional at the end of 2020 but is playing his first season on the Alps Tour due to a wrist surgery which occurred last year and ended up needing surgery. Kouwenaar was the Round 1 leader of the event with a brilliant 7 under-par round.
Ireland's David Carey who is currently 25 years of age and turned pro in 2015 and has been an Alps Tour member since. He has numerous top 3 finishes on the Alps Tour including a win at the 2019 Cervino Open. Carey had a three-day total score of 12 under-par here at the 2022 Abruzzo Alps Open. His final round today included 7 birdies, 1 eagle and a single bogey for an 8 under-par round, 62.  After his round Carey was very pleased with his performance and how his game performed at Miglianico Golf, "I'm very happy with today's round. I birdied 5 of my last 6 holes yesterday and continued that momentum into today's round. I'm very happy with how I managed my game, lots of softer swings especially with my driver. I wasn't hitting it as far as I normally would, but I made up for it with some very good short game and putting. I eagled my last hole, so I'm very happy with my temperament and how I handled the whole situation." Carey also commented on how the conditions were nicer today as there was less wind compared to yesterday and also on how "I struggled with the par 5 the first couple of days but made up for it today with 2 birdies and 1 eagle. The par 3 at Miglianico Golf play very difficult so the tee shots need to be accurate." Carey enjoys playing here at this venue because "It's not so long but it's tricky if you are out of position. I've always enjoyed playing this course. I'm very good with my wedges so I think that's what suits me about this course."
Gary Hurley was in solo second place one shot from the playoff.
Stefano Mazzoli of Italy remains the current Order of Merit Leader after 6 events with 12,687.86 points.
Italy's Gregorio De Leo, one of the leaders after Round 2 was awarded as the best Italian player in the field. His had a total score of 10 under-par, just 2 shots back from the leaders, he was pleased with his round "I'm happy about the results of this tournament even though I wanted to win. I'm working hard on my game and I'm finally seeing the results. I want to win and hope to win on Italian soil." France's Tom Vaillant was awarded the low amateur of the tournament with a total score of 8 under-par.
The next stop on the Alps Tour schedule stays in Italy but will move north towards Milan at a country club that has never previously hosted an Alps Tour event. The event is scheduled from May 4th-6th at Molinetto Golf and Country Club for the inaugural Molinetto Alps Open.
For the Final Round Leaderboard click here or go on the official Alps Tour Golf app.
Follow along on www.alpstourgolf.com or the official "Alps Tour Golf" app to keep up on all the latest news (available on App Store for iOS devices and Play Store for Android).
#risinggolfstars
#raisinggolfstars
Instagram- @alpstourgolf
Facebook- Alpstourgolf
Twitter- @alpstourgolf
Latest Alps Tour Golf News