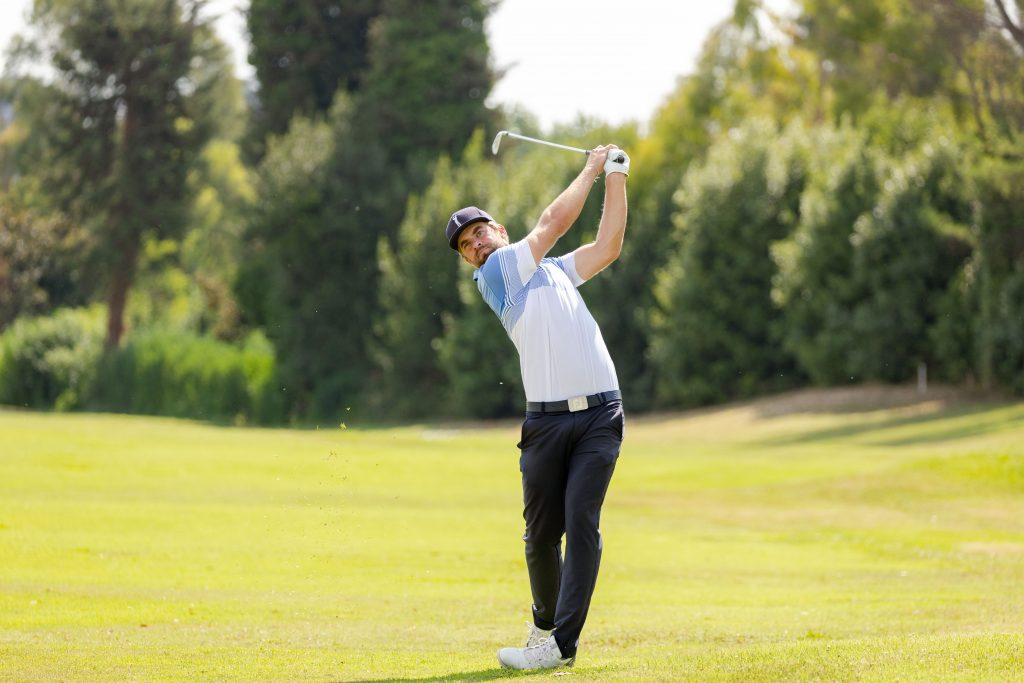 Mathias Eggenberger carded a daily 71. Credit: Filippo Vianelli
22nd March 2022 | Alps Tour Golf
Mathias Eggenberger leads the Winter Series Golf Nazionale after R2 with 2 strokes margin
Italy, March 22, 2022 – Mathias Eggenberger, from Bad Ragaz Golf Club (SUI), co-leader with French amateur Julien Sale after R1, is now a solo leader of the Winter Series Golf Nazionale after the second round with a 2 strokes margin (total 138, 67-71) on Italian Stefano Mazzoli and Frenchman Tom Vaillant, tied at the 2nd place on -4.
Golf Nazionale is internationally renowned to be one of the hardest course in Italy and today only 21 golfers managed to play under par. The firm and dry greens challenged the entire field and forced the young players to do their best with the back nines that played a little bit harder than the front nine with a daily average score of 38.03 against the 37.47 of the front nine.
However, Swissman Eggenberger, who had his ever-best result here at Golf Nazionale last October when he finished on 2nd place during the Golf Nazionale Alps Open, confirmed he knows how to play in hard conditions and carded a daily score of 71 strokes which took him to the first place at -6.
He dropped just a single stroke during the day and had different birdie chances. Unfortunately, he managed to hole just 2 putts to go under par. "It was a tough day. Greens are very slopy and the firmness makes it more complicated. However, I'm proud of my game and I hope I'll can repeat today's game also tomorrow".
Tom Vaillant, 20, representing Cannes-Mougins GC, is once again among the top players this year. He ended the 2022 Red Sea Little Venice T9 and the Winter Series at Terre dei Consoli on T6. "My iron game was good and putting was even better. This helped me a lot to go under par these two days. Tomorrow will be a normal day on the course and I'll try to do my best".
Italian Stefano Mazzoli, 25 from Villa d'Este, leader of the Order of Merit with 10,591.50 points, is one of the 21 players who played under par today. He had a difficult start due to 2 bogeys on the front nine but he came out on the back nine thanks to 3 birdies and 1 eagle on 14th which took him to T2. "Even if I'm leading the Order of Merit, I'm trying to play each tournament as calm as possible without thinking too much about the result. I think everyone is having a hard time on the greens here at Golf Nazionale. Today I have 3 putted 3 times and I'm having some problems on finding the right pace on them".
It is a 3 way-tie for the 4th place. Dutchman Davey Porsius, Frenchman Julien Sale, co-leader after R1 with Eggenberger, and Englishman Ben Schmidt are at -3.
Congratulations to Frenchman Benjamin Grimal who nailed is iron shot from the tee box on hole number 3 for an awesome hole in 1. Unfortunately, that was not enough for him to make the cut and he won't play the final round here at Golf Nazionale.
Proof that the course was pretty difficult, the lowest score carded today is -4 (68) by Austrian Florian Thuller .
46 players made the cut (43 pros and 3 French amateurs: Tom Vaillant, Julien Sale and Nicolas Muller).
Tomorrow the first tee time is scheduled 8:00.
Results R2: click here or check on the Alps Tour Golf app.
Stay tuned! www.alpstourgolf.com and the app « Alps Tour Golf » (on App Store for iOS devices and Play Store for Android) will keep you updated on every news about Alps Tour.
#risinggolfstars
#raisinggolfstars
Latest Alps Tour Golf News