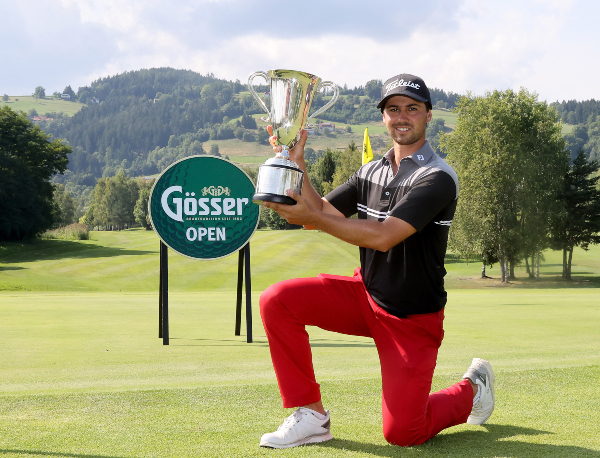 Paul Elissalde with the trophy after his first Alps Tour win; Photo credit: GEPA-pictures
21st August 2021 | Alps Tour Golf
Paul Elissalde Clinches Victory
August 21st, 2021 – Maria Lankowitz, Austria – We saw a real battle out on the fairways of Golf Club Erzherzog Johann today with five of yesterday's top players jockeying for pole position. However, Paul Elissalde finally clinched victory by one stroke on the eighteenth green finishing on -20 (196).
Elissalde had another error-free round today. The birdies may not have fallen as abundantly as yesterday but he pulled one out of the bag at the perfect moment. With four birdies up to the eighteenth tee putting him at -19, he stood level with Daniel Berna Manzanares and Gregorio de Leo who were already in the clubhouse. His final putt dropped for a birdie on the par 4 eighteenth and gave him his first Alps Tour win.
"My game was not quite as good as the last two days when I made very few mistakes. I felt under pressure today, I must admit. I looked at the leader board from time to time and saw that the flight in front were playing really well which put some additional pressure on me. Nevertheless, I managed to stay focussed, and I'm really pleased with the result today as I didn't have a single bogey on my card."
The 25-year-old Biarritz native has made some recent changes to his training routine:
"I've been gaining experience for 5 years now on the Alps Tour and am managing situations better. I started mental coaching two months ago after finally finding someone who was a good fit with me, so that's new and it's really helped. I've also changed my physical trainer this year. Its satisfying to see that all the hard work is bearing fruit."
Interestingly, his older brother Thomas Elissalde had his first Alps Tour victory at the same tournament in 2014. He finished this year on one under.
The two runners-up on -19 (197), Daniel Berna Manzanares from Spain and the Italian amateur, Gregorio de Leo, both played 64 (-8) today.  Teeing off on -11 from the first tee, De Leo started with a bang, holing an eagle on the par 5 first and completed the front nine with four birdies. Three more birdies coming in and a lone bogey completed a stellar performance. His playing partner, Berna Manzanares, started with a birdie, the first of the nine he holed today with just one bogey on the front nine.
Ryan Lumsden playing with Paul Elissalde and Franck Medale in the last flight, came in fourth on -18 (198). The Scotsman put in a third solid performance of the week with six birdies and was the only other player in the top ten, besides the winner, without a bogey or higher on his card. He now moves to the top of the Order of Merit
Paul Elissalde's win catapults him up to fifth on the OofM just behind his compatriot Franck Medale whose -16 (200) put him at number five for the tournament today.
Next stop Spain, and the Alps de Andalucia at the Anoreta Golf Club in Malaga from September 9th-11th. Just two more tournaments before the Grand Final in Italy in October.
Final Results: click here or check on the Alps Tour Golf app.
Stay tuned! www.alpstourgolf.com and the app « Alps Tour Golf » (on App Store for iOS devices and Play Store for Android) will keep you updated on every news about Alps Tour.
Instagram @alpstourgolf
Facebook @Alpstourgolf Satellite
Twitter @AlpsTourGolf
Latest Alps Tour Golf News