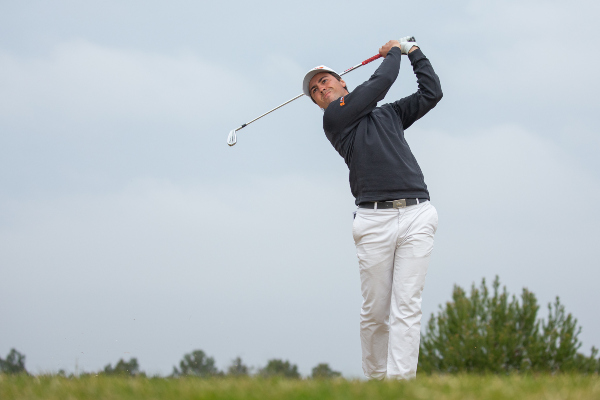 Paul Elissalde played 63 (-9) today to sit leader at -15 after two rounds. Photo Credit: Tristan Jones Photography
Tristan Jones Photography
20th August 2021 | Alps Tour Golf
Paul Elissalde Tops the Leaderboard Day 2
August 20th, 2021 – Maria Lankowitz, Austria – After a flawless round today, Paul Elissalde from France took the lead here at the Gösser Open. Another course record of 63 (-9) put him on -15 (129), one stroke ahead of his compatriot Franck Medale.
Elissalde had a total of nine birdies and narrowly missed a tenth on the final green:
"I played well throughout the day. I put quite a few wedge shots close to the pin and sank a few long putts and managed to get some points here and there. The course is very good. It was a bit wet at first but playing in the afternoon meant it had time to dry out. The greens are a little bit complicated putting with the grain as we are not used to it. I started the season well with a fifth place and then it was a little bit more complicated until the last tournament when I finished third so tomorrow, I'm going to fight to improve on that result".
Franck Medale teed off this morning and was leader in the clubhouse before his fellow countryman came in. After seven birdies and zero bogeys, he stands at -14 for thirty-six holes. The winner of the Open de la Mirabelle d'Or this June has had two consistent rounds which promises for tomorrow's final round:
"The two rounds started slowly, I took a bit of time to get into it, but I was patient and waited for the birdies to start dropping. I played intelligently and set up lots of birdie opportunities even if I missed a few. I've been daring to take aggressive drive lines which helped me to get near the pin and boosted my confidence. Having already won this season also helps me feel more confident, knowing that I can consistently produce good scores and even when I hit a bad shot, I can recover. I'm happy with the two days and two good scores.".
Two strokes behind on -12, Ryan Lumsden continues his streak of impressive results. Seven birdies today keep the Scottish two-time winner this season well in contention for the title.
A three-way tie at fifth position on -11 are the two Italian players, Carlo Casalegno, third yesterday and Gregorio de Leo who had the best result among the amateurs. Alongside them, one of yesterday's joint leaders, Daniel Berna Manzanares from Spain had two bogeys on the front nine and one more on the back which ate away points.
The next highest ranked amateur, Joel Moscatel from Spain was tied fifth yesterday. Today, a bogey on each nine cost him places but left him just five strokes behind the leader in seventh position on -10. With him is the Irishman, Gary Hurley who had all the colours of the rainbow on his card today; one eagle, five birdies, eight pars, three bogeys and a double bogey on the par 5 hole nine.
The same hole caused problems for yesterday's joint leader, Edgar Catherine, who started at -9 off the tenth. Four birdies and a bogey going out put him at -12 at the turn. Another birdie on the first hole but then things took a turn for the worst with a bogey on the fifth and a triple bogey on the sixth seeing him shed four shots in two holes. Birdie on the seventh was cancelled out by a disastrous double bogey on the last hole to leave him at one over for the day on -8. On the same score is the top home turf result of the day from Uli Weinhandl. The Austrian player shot a 68 (-4) today.
The cut came at -3 (141) with 59 players, 40 pros and 19 amateurs going through to the Final Round tomorrow which tees off at 8:30 am from tees one and ten.
Results Round 2: click here or check on the Alps Tour Golf app.
Stay tuned! www.alpstourgolf.com and the app « Alps Tour Golf » (on App Store for iOS devices and Play Store for Android) will keep you updated on every news about Alps Tour.
Instagram @alpstourgolf
Facebook @Alpstourgolf Satellite
Twitter @AlpsTourGolf
Latest Alps Tour Golf News