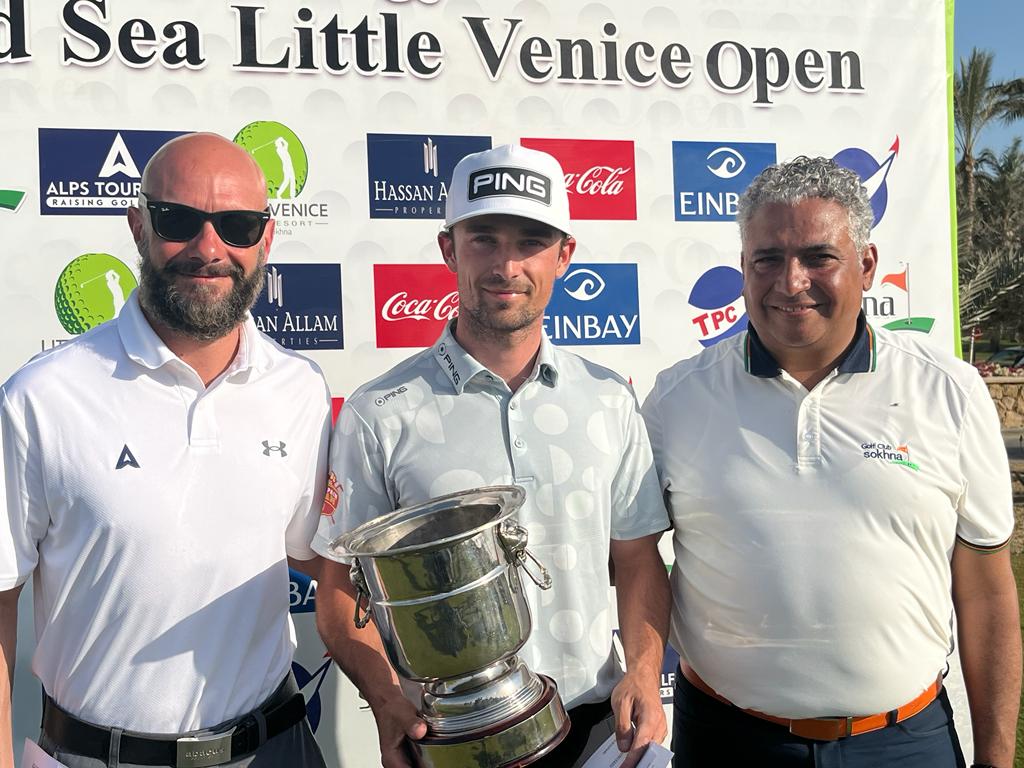 From left: Alessandro Pia, Alps Tour Tournament Director; the 2023 Red Sea Little Venice Open winner Quim Vidal (ESP) and Ali Mohammed Ali, General Manager of Sokhna Golf Club.Photo Credits: Alps Tour Golf 
28th February 2023 | Alps Tour Golf
Quim Vidal wins his 1st Alps Tour event.
Final Round Review
Red Sea Little Venice Open 
Sokhna Golf Club
Suez, Egypt
26th – 28th February 2023
Alps Tour Media Contact: 
[email protected]
Leaderboard
| | | |
| --- | --- | --- |
|    Pos. |                 Name | Score |
| 1 | Quim Vidal (ESP)* | -14 |
| T2 | Lars Keunen (NED) | -14 |
| | Issa Abou El Ela (EGY) (am) | -14 |
| | Davey Porsius | -14 |
| 5 | Oihan Guillamoundeguy (FRA) | -11 |
Quim Vidal wins his 1st Alps Tour event.

Egypt, February 28th 2023 – 
Quim Vidal
 wins the 
2023 Red Sea Little Venice Open
 with a birdie on the 3
rd
hole of sudden-death playoff. Netherland's 
Lars Keunen
, Spain's 
Quim Vidal
, Egypt's 
Issa Abou El Ela
 (am), and Netherland's 
Davey Porsius
 all concluded their final round at 
Sokhna Golf Club
 tied for the lead, therefore taking part in the four-way sudden-death playoff thanks to their three-day score of 14 under-par. In 5
th
 place, 3 shots back at 11 under-par, defending champion, France's 
Oihan Guillamoundeguy
.
After today's final round, Alps Tour President, 
Mr. Marco Durante
 commented: "I'm very proud that the Alps Tour keeps growing, giving more possibilities to young talented golfers from all over the world a chance to compete and try to reach the next level of professional golf."  Since 2001, the tour has expanded, visiting more countries also across the Mediterranean Sea, allowing more players the opportunity to compete.

Final Round Player Quotes –
Quim Vidal
 captures his first professional win at the 
2023 Red Sea Little Venice Open
 after 3 holes of a sudden-death play-off with a 5-meter putt. 
Quim
 shot a 4 under-par 68 during today's final round with 2 bogeys and 6 birdies for a three-day total at 14 under-par which tied him in the lead alongside 3 other players. When he completed the play-off, he was delighted even though he didn't 
"hit the ball my best today but the short game was really nice. I had a rough start but then I made 2 birdies making some nice putts that gave me confidence and that was able to put me on top of the leaderboard. Even if it wasn't my best day I was making the putts and staying patient because I knew birdies would come."
 He went on to express his joy about capturing his first professional win by saying, 
"this win feels really nice, I have a lot of confidence heading into the rest of the season and I'm really looking forward to it. This is my first professional win and couldn't dedicate it to anyone else other than my team, my family and my friends that support me every day."
Davey Porsius
 from the Netherlands shot a final round of 3 under-par with 4 birdies and 1 bogey to conclude the tournament tied for the lead at 14 under-par. He is a previous winner on the Alps Tour winning the 
2022 Hauts de France- Pas de Calais Golf Open
. After his round, Davey commented on how well he played today but couldn't 
"make any putts. I chipped in on 14, which was nice to give me the necessary birdie to share the lead. I got a bad break on 17 with my iron shot into the green and missed the putt."
  When asked about the playoff, he commented: 
"I, unfortunately, lost the playoff to a well-holed putt from 4 or 5 meters from Quim Vidal. I tried to stay steady throughout the entire round and the playoff but couldn't hole putts at all."
Egyptian amateur Issa Abou El Ela who represents Alexandria Sporting Club was one of the four players who took part in the sudden-death playoff at 14 under-par. He was on top of the leaderboard for the first two rounds and his performance continued with a 3 under-par, 69 in today's final round. After concluding his final round, he had mixed emotions: "I'm very disappointed I couldn't get the win here in my home country. However, it was a fun day with Davey. We kept matching each other with birdies. Going up 17 I was able to make a clutch birdie; however, I knew the guys in front had chances, and Davey also did, so I tried to stay in the moment." He went on to add, "it meant a lot to me to see so many people around the greens just clapping and being there for me. They've seen the struggles, and for me to have a chance to win here and give back to them would have been incredible." He was pleased about his game: "It's a step in the right direction; these players are all tour pros and playing at an excellent level, so for me to match them, I'm delighted. Hopefully, I will have another chance in the future. I would love to be able to play more Alps Tour events."
Netherland's Lars Keunen, shot a 6 under round 66 today with 2 bogeys and 8 birdies to be the 4th player tied for the lead at 14 under-par. He had a strong finish today, with 6 of the birdies occurring on the back nine, which allowed him to gain a spot into the playoff for the title.
Defending champion, 18 years old France's Oihan Guillamoundeguy shot the low round of the day in the final round today with a 7 under-par, 65. He concludes his tournament with a three-day total of 11 under-par and in 5th place. Oihan won this event last year as an amateur at 17 years old and now competes as a professional since he changed his playing status at the beginning of December 2022. He began his round with an eagle on the 3rd hole and then 6 birdies until a bogey on the last hole.
The Alps Tour Order of Merit rank after the first two events of the season has Quim Vidal leading and Jack Floydd and Davey Porsius to close out the top three spots. In 4th place, Andrea Romano and in 5th place Cristiano Terragni.
Final Round-
Quim Vidal winner of the 2023 Red Sea Little Venice Open, earned 6,525 Order of Merit points and the winning check of €5,800.
Now, the Alps Tour players will have a few weeks off before the third event of the 2023 season.
Tournament Promoter-

Both the 2023 Ein Bay Open and the 2023 Red Sea Little Venice Open are grateful for the support of: Sokhna Golf Club, Ein Bay, Hassan Allam Properties, TPC- Touristic Promotion Company, Jaz Hotel Little Venice and Coca Cola Egypt.

Follow along on www.alpstourgolf.com or the official "Alps Tour Golf" app to keep up on all the latest news (available on App Store for iOS devices and Play Store for Android).
#risinggolfstars
#raisinggolfstars
Latest Alps Tour Golf News