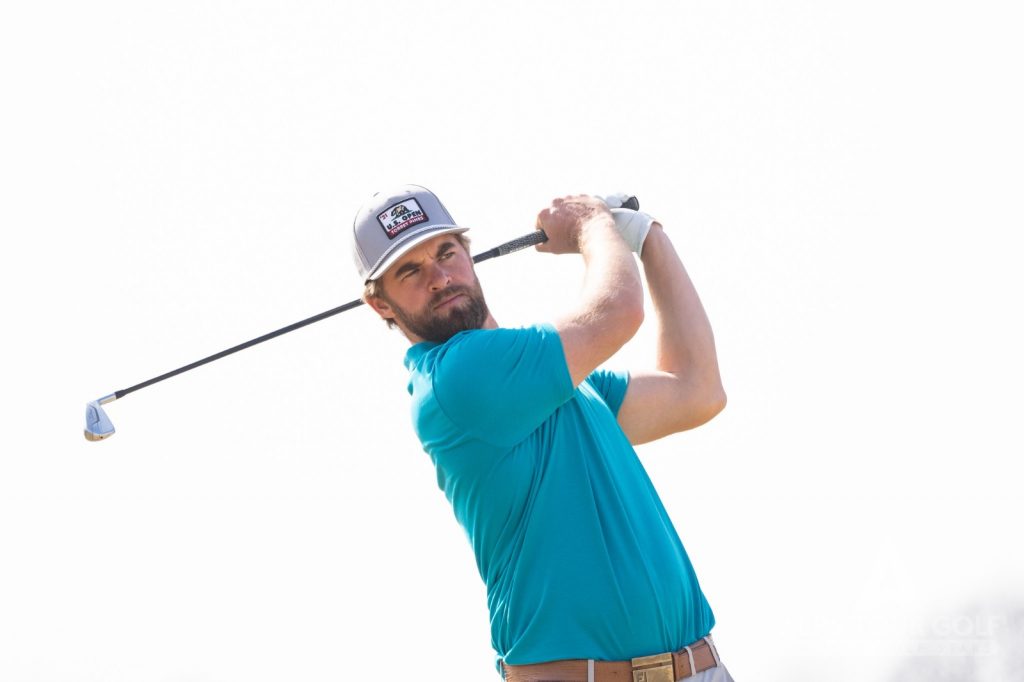 Mathias Eggenberger is co-leading the field after R1 with 67 strokes. Credit: Federico Capretti
21st March 2022 | Alps Tour Golf
R1 suspended with a 2 way-tie provisional lead at Golf Nazionale
Italy, March 21, 2022 – It was a very cold start today for the second leg of our Italian Winter Series starting today at Golf Nazionale.
Early this morning the course was a little bit hard due to the low temperatures of the last night and some breeze swirling around has complicated the day.
The game was suspended at 18:21 due to darkness and will resume tomorrow morning at 7:20.
In the provisional standing for round one, two players are sharing the lead: Swissman Mathias Eggenberger, representing Bad Ragaz Golf Club, and French amateur Julien Sale, presently 3rd in the Season ranking, both at -5 (67 strokes).
Eggenberger had a strong start on the front nine and even if he dropped a shot on 4th hole, he went through 5 birdies in a row which allowed him to play the first nine holes 4 under par. Then, he had a solid streak on his back nine where he carded 8 pars and 1 birdie on 14th. "It was really cold this morning and the course didn't play like it usually does. Unfortunately I've dropped one shot on 4th because a hit a fairway bunker and I didn't manage to make par. In spite of this I played a solid round of golf and I hope I'll can replicate it tomorrow".
Julien Sale, instead, went through some up and downs during the day. He dropped 2 shots due to 2 bogeys on 2nd and 4th hole but managed to finish the front nine 1 under thanks to 3 birdies. Then, he made 3 birdies, 1 eagle and 1 bogey to finish tied on top of the leaderboard. "I've been playing very well from tee to green all day long and my short game, specially my putts, was very solid. I hope to keep playing like this even tomorrow".
Irishman Gary Hurley, representing Saadiyat Beach GC, number 15th in the provisional Order of Merit thanks to a T4 at 2022 New Giza Open and a T7 at 2022 Ein Bay Open, is tied at the second place at -4 with Dutchman Davey Porsius.
Hurley proved once again he knows how to play a great round of golf. He had a slow start carding 2 bogeys and just 1 birdie on the front nine but then he came out with 4 birdies in a row from 13th to 16th and then holed a birdie putt on 18th. "Fortunately, it was again a good day. This morning I played nicely even if the course was a bit tricky due to the wind. This course has a lot of holes that should not be underestimated but I've been able to manage my feelings very well during the day and that is very important when you play a tournament of this kind".
5th place for Dutchman Koen Kouwenaar who had a solid round with 13 pars, 4 birdies and 1 bogey.
Ten players are sharing the 6th position at -2 (70), and among them three more French amateurs beside Julien Sale: they are Nicolas Muller and Tom Vaillant, both 20 from Cannes Mougins; and Martin Couvra, 19 from Golf de Terre Blanche.
Tomorrow the game will resume at 7:20 and R2 tee times remain unaffected.
R1 provisional result: click here or check on the Alps Tour Golf app.
Stay tuned! www.alpstourgolf.com and the app « Alps Tour Golf » (on App Store for iOS devices and Play Store for Android) will keep you updated on every news about Alps Tour.
#risinggolfstars
#raisinggolfstars
Latest Alps Tour Golf News