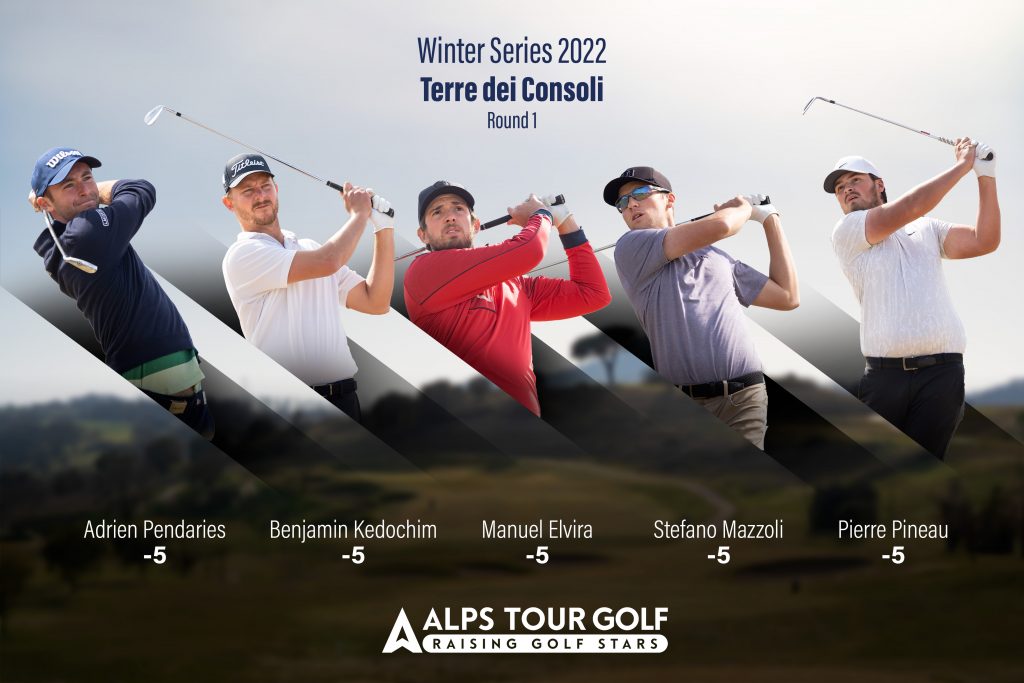 From left to right: Adrien Pendaries; Benjamin Kedochim; Manuel Elvira; Stefano Mazzoli and Pierre Pineau
16th March 2022 | Alps Tour Golf
R1 suspended with a 5 way-tie provisional lead at Terre dei Consoli
Italy, March 16, 2022 – This morning, due to persistent fog, starting times of the Winter Series held at Terre dei Consoli Golf Club have been delayed by 2 hours and 66 players have not been able to finish their first round.
Therefore, those who played late in the afternoon today, will have to start early tomorrow morning and finish the missing holes before re-starting for R2.
It is a 5 way-tie for the provisional lead with 67 strokes: Spaniard Manuel Elvira, 25, Italian Stefano Mazzoli, 25, winner of the Ein Bay Open last February, Frenchman Pierre Pineau, 22, from Le Vaudreuil, who finished 3rd in the first tournament of the season this year at Sokhna Golf Club and his two compatriots Benjamin Kedochim from Biarritz Le Phare Golf Club, and Adrien Pendaries, son of European Tour player Marc.
Elvira concluded the front nine holes in 35 strokes with one bogey on 3rd and two birdies on 4th and 9th. Then, he scored a great bogey free back nines where he added 4 birdies on 10th, 11th, 15th and 17th.
"Today the weather conditions were perfect, a little breeze, but super nice. It was just a little bit annoying to have to wait for two hours because of the fog, but we couldn't control it. The course is in great shape, quite firm, but the ball on the greens rolled pretty good. My game was very solid specially around the greens where I made some good up & downs during the day and some good putts as well".
Mazzoli went through a solid start this morning. He made 7 pars in a row and a birdie on 8th during the front nine. Then, he went through some up and downs with an eagle on 11th and two double bogeys on 12th and 13th. However, he came out of this situation quickly, recovering with 4 birdies in a row from 14th to 17th. "Even if the rough is low, it is very important to stay on the right way. It's a shame because I made 2 mistakes on the 12th , which to me is the easiest hole on the course, and on 13thwhere I had a bad bounce and I did not manage to have an up & down. However, I'm happy with this daily score and hope to continue like this also tomorrow".
Pineau had a slow start making 7 pars in a row on the front nine but then he holed 5 birdies from 8th to 12th. "The course is very firm and it is very difficult to hit iron shots close to the pin".
Same feeling for Benjamin Kedochim who went on the roller-coaster today. He carded 3 bogeys, 1 double bogey and 3 birdies on the front nine and 2 eagles and 2 birdies on the back nine. "I've been driving and putting very well even if I've missed some fairways and some putts too. I love this course because it drives you through easier holes where you can easily make birdie to holes where if you don't hit the ball as you should, you are not gonna leave the hole safe. Just look at my scorecard. Anyway, inside 3 meters, I've holed everything, all the important putts".
Adrien Pendaries did not make lots of mistakes here during R1 at Terre dei Consoli. "I've been driving off the tee as I wanted to. The greens and the fairways are very firm and being able to have a great lie is very important". He just scored a bogey on 9thhole but he finished R1 scoring 4 birdies and 1 eagle. "Hopefully tomorrow I'll be sharper with my wedges and be able to put the ball closer to the pin. It is such a fun to play here".
French Julien Sale, who has been one of the best amateur player in Egypt, finishing on 3rd place at 2022 New Giza Open, today ended up his round with 68 strokes, tied on 6th place. He has lost some shots on the front nine but he came out on the back nine where he carded 7 birdies. "The course is a little different from the last time I played it during the Qualifying School. I've been struggling during the front nine and almost nothing of my game was working. Then, suddenly something clicked and I managed to hole a lot of putts and I made 7 birdies in 9 holes which is incredible. I only have to work on a couple of things to have a better start tomorrow".
Today the front nine holes were a little bit easier than the back nine. In fact, players on the first ten positions lost 13 strokes on the front nine holes while from 10th to 18th they lost just 6 strokes. In particular, the 3rd hole, a par 3, enrolled a significant number of bogey and proved to be the hardest of the course.
Tomorrow round 1 will resume at 7:20.
Partial results R1: click here or check on the Alps Tour Golf app.
Stay tuned! www.alpstourgolf.com and the app « Alps Tour Golf » (on App Store for iOS devices and Play Store for Android) will keep you updated on every news about Alps Tour.
#risinggolfstars
#raisinggolfastars
Latest Alps Tour Golf News