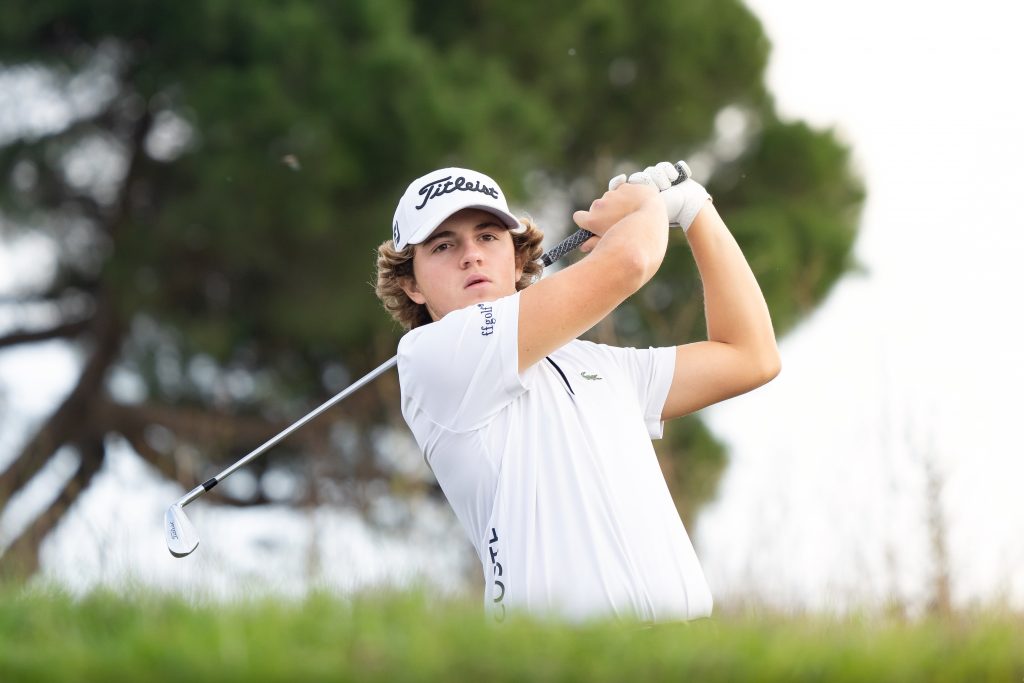 Oihan Guillamoundeguy (Fra) leads the 2022 Red Sea Little Venice Open with a total score of -15. Photo credit: Federico Capretti
28th February 2022 | Alps Tour Golf
Red Sea Little Venice Open 2022 – French amateur Guillamoundeguy takes the lead after R2
Egypt, February 28, 2022 – It was another sunny day along the shores of the Gulf of Suez.
After R2 of Red Sea Little Venice Open 2022 at Sokhna Golf Club (course B+C), French amateur Oihan Guillamoundeguy, only 17 years old, moved up from the 2nd position after R1 and took the lead with an impressive 4 strokes margin.
The cut, at -4, allowed 53 player (48 pros and 5 amateurs) to compete for the title in the last event here at Sokhna before the Alps Tour will move to Cairo.
Today Oihan, one of the youngest players in this tournament, finished 8 under par for a total score of -15 while Dutchman Davey Porsius, who was leading the tournament after day 1, finished his second round on 25thplace due to a daily score of 73 strokes (+1).
"I'm really excited about my round. I started very well with a birdie on 10th which gave me a lot of confidence. Then, I holed a couple of putts on 13th and 15th , and on 17th I holed a 8 meters putt for an awesome eagle. I've been driving off the tee very well and this made me able to attack the course from easier positions. Too bad for the bogey on the 5th. I had to hit a tricky iron and I ended up chipping from outside the green. However,  I'm very satisfied for today. I get along very well with my dad who is on my bag here, from time to time I ask for his advice when I'm in doubt with some breaks on the putting greens, but apart from that, every decision I make on the course it's only mine".
Following the leader, 4 shots behind at -11, Italian Andrea Saracino, his compatriot Federico Livio and Dutch Lars Keunen, respectively with a daily score of -6, -5, -6.
"I've been playing very well my long game and my irons during these 2 days. I hit lot of shots very close to the hole so I had many chances to score birdies. I hope tomorrow will be the same. I have to thank my mental coach, Francesco Garruba, who taught me how to focus on the course and to stay as positive as I can" said Andrea Saracino.
"This is my first time among the top players in a professional tournament. I've scored an impressive bogey free round today. I'm very satisfied with my game, specially with my putter. I had a slow start until the 7th where I started to hole some putts and then my round suddenly changed. I'm looking forward for tomorrow" said Federico Livio.
Lars Keunen, 25, was the winner of the Ein Bay Open 2020 here at Sokhna: "I had a good start today, specially from the tee. I think this course is pretty similar to the other one but this configuration is a little bit easier. I'm looking forward to what this year will bring to me".
The defending champion Luca Cianchetti is chasing his second title here in Egypt. He is on 5th place with a total of -10 thanks to two very consistent scores in 67-67. "During the past few months I've been working on my long game and I think I really improved it a lot. My short game, instead, could be better but fortunately I can have a lot of birdie opportunities. It is awesome to be the defending champion but I try to approach this tournament as if it was a simple round of golf and tomorrow I'll try to do my best to stand out".
Today, Italian Stefano Mazzoli, winner just last week of the 2022 Ein Bay Open , scored an awesome -8. He worked a lot on his short game and holed 9 birdies and just 1 bogey for a 64. "I didn't have the feeling I had last week but, however, I had a lot of birdie chances. I hope to keep doing like this also tomorrow".
The 2022 Red Sea Little Venice Open enjoys the support of Sokhna Golf Club, Ein Bay, Hassan Allam Properties, TPC – Touristic Promotion Company, Jaz Hotel Little Venice.
Results Round 2: click here or check on the Alps Tour Golf app.
Stay tuned! www.alpstourgolf.com and the app « Alps Tour Golf » (on App Store for iOS devices and Play Store for Android) will keep you updated on every news about Alps Tour.
Latest Alps Tour Golf News