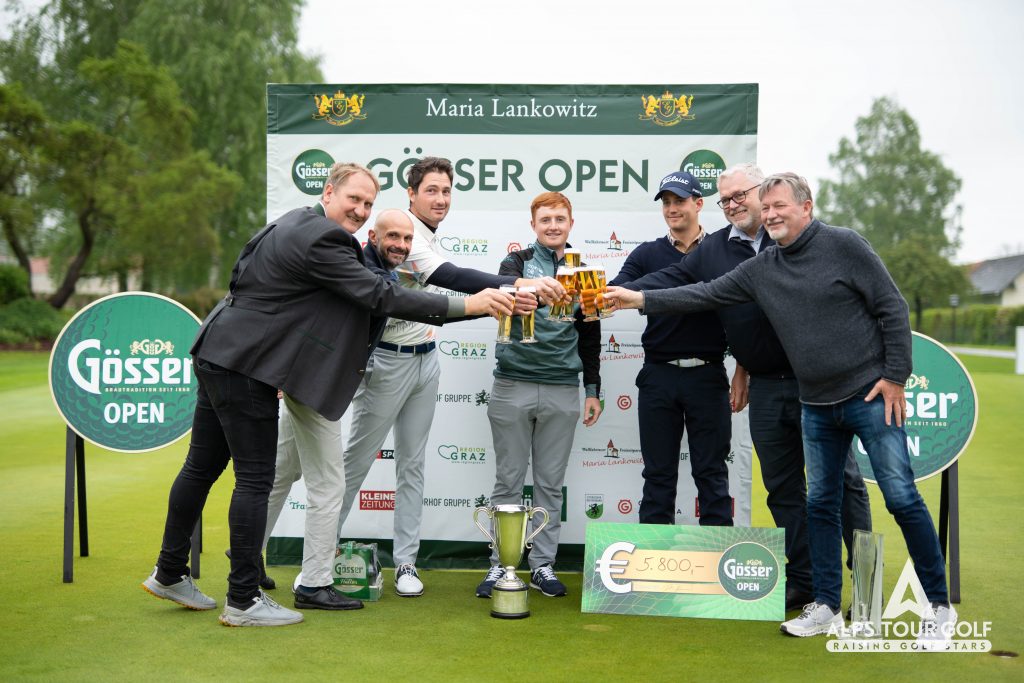 From Left to Right: CEO Murhof Gruppe Mag- Klaus Geyrhofer, Alps Tour Tournament Director- Alessandro Pia-, Runner-Up- Gianmaria Rean Trinchero, Ronan Mullarney winner of the 2023 Gösser Open, 3rd place finish- Timon Baltl, Marketing Gösser- Sigurd Aulibauer and GC Erzherzog Johann President- Gerald Lasnik.  Photo Credits: Alps Tour Golf / Federico Capretti
13th May 2023 | Alps Tour Golf
Ronan Mullarney wins the 31st Gösser Open
Final Review 
GC Erzherzog Johann
Maria Lankowitz, Graz, Austria
11th– 13th May 2023
Alps Tour Media Contact:
[email protected]
Leaderboard
| | | |
| --- | --- | --- |
|    Pos. |                 Name |      Score |
|       1 | Ronan Mullarney (IRL) | -12 (132) |
|       2 | Gianmaria Rean Trinchero (ITA) | -8 (136) |
|       3 | Timon Baltl (AUT) | -7 (137) |
|       4 | Oihan Guillamoundeguy (FRA) | -6 (138) |
| | Enrico Di Nitto (ITA) | -6 (138) |
Quick Links
---
Ronan Mullarney wins the 31st Gösser Open
Maria Lankowitz, May 13th 2023– Ireland's Ronan Mullarney wins a weather shortened 2023 Gösser Open with a two-round total of 12 under-par. Gianmaria Rean Trinchero from Italy concluded the tournament in 2nd place with a two-day score of 8 under-par. In 3rd place, a past winner of the Gösser Open Austria's Timon Baltl with a total score of 7 under-par. Tied for 4thplace just 1 stroke back France's Oihan Guillamoundeguy and Italy's Enrico Di Nitto.
The 144 players in the 2023 Gösser Open field had to compete three days with a constant rain fall and cold weather condition. As the rain never stopped falling over Golf Club Erzherzog Johann in Maria Lankowitz, Austria the course was definitely softer but the weather conditions didn't make it easy for the players.
Due to the delays and the unfavorable weather forecast, yesterday, the Tournament Committee of the 31st edition of the Gösser Open decided to reduce the tournament to 36 holes with no cut.
Play was first suspended on Thursday during the 1st round due to flooded greens and continuous heavy rain. Round 1 then resumed yesterday, Friday 12th May thanks to the great work performed by the Golf Club Erzherzog Johann- Maria Lankowitz superintendents lead by head superintendent Robert Keusch and his staff.
The second round began yesterday at 3:00pm but at 7:30pm, Tournament Director Alessandro Pia, suspended play due to darkness. The last 18 holes resumed today at 8:00 am still under an unceasing rain fall and cold weather.
Final Round Player Quotes
Ireland's Ronan Mullarney who is 27 years old, captured his 1st full-field professional win at the 2023 Gösser Open! He shot an 8 under-par 64 in this first round and a 4 under-par 68 in round 2 for a two-day total of 12 under-par. He previously had played in some events in 2020 before the Covid-19 pandemic began but this is his 1st full year on the Alps Tour. Ronan turned professional in 2019 and competed in the 2022 Open Championship. After his victory, he was very pleased, "It was a difficult 36 holes, in these conditions. Trying to keep the umbrella up and down and keeping my bag as dry as possible, a lot of things to happening on top of the golf that has to be played. Being from Ireland and having grown up into these conditions probably helped me. I can assure you that no one likes playing in these conditions but I might have slightly more experience than the rest of the guys."  Ronan went on to add: "I'm delighted to have won this event but it won't mean a lot to me unless I'm able to end the season in the top 5 at the end of the year."
Gianmaria Rean Trinchero from Italy who currently represents Golf Club Monticello concluded the tournament in 2nd place at 8-under par. After his round, Gianmaria happily commented: "today was another very wet round of golf, unfortunately, I got the bad side of the draw where we got hit with the heaviest rain but I'm pleased as I played pretty well from tee to green and putted very well." He went on to add that "I'm very happy because I didn't make any silly mistakes that allowed me to not make many bogeys. I would like to thank my caddy for the support this week on all the on-course decisions we made together and allowed me to not make silly errors". Gianmaria also said: "My objectives for the year won't change, I obviously would like to finish the season in the top 5 of the Order of Merit rank."
Austria's Timon Baltl who represents Murhof Golf Club and previously won the Gösser Open in 2019, concluded the tournament in 3rd place with a two-day score of 7 under-par. He captured his Challenge Tour card in 2020 thanks to the results he achieved on the Alps Tour in the 2019 season. Timon concluded the event as the highest Austrian player on the leaderboard. After the round, he commented "I played a lot of golf at this golf course since it's very close to where I was born. I played various junior events growing up as well as the Gösser Open for so many years. It really helps to know the course inside and out especially as I know the greens well and they can be tricky. I stayed in Graz at my dad's house this week which is what I believe one of the reasons that allowed me to play well."   Timon believed his key this week was to "stay calm and patient especially with the weather conditions we had and also because the course was really wet. It would have been easy to get frustrated but I'm glad I was able to remain patient throughout the week."
At the conclusion of the 31st Gösser Open, Spain's Quim Vidal still leads the current Order of Merit standings. Ireland's Ronan Mullarney jumped into 2nd place with his win today. In 3rd place Netherland's Kiet Van der Weele and in 4th place France's Oihan Guillamoundeguy. England's Jack Floydd rounds out the top 5.
Final Round
Ronan Mullarney winner of the 2023 Gösser Open, earned 6,525 Order of Merit points and the winning check of €5,800. The players competed for an overall prize fund of €40.000 and 45,000 Order of Merit points.
Due to the fact that the 31st Gösser Open became a 36 holes event with no cut, the prize money will be assigned to the top 40 professional players and ties. The Order of Merit points will be given to the top 40 (and ties) Alps Tour Members both professional as well as amateur players.
The next scheduled event is set for May 24th-16th at Golf Club La Pinetina in Como, Italy for the 2023 Memorial Giorgio Bordoni presented by AON.
Tournament Promoter
The 4th event of the 2023 season, is promoted by Murhof Gruppe. The sponsors and partners of Murhof Gruppe are Gösser Beer, Region Graz, Lipizzaner Heimat- Steiermark, Austrian Golf Federation, the city of Maria Lankowitz Wallfahrtsort Freizeitparadies and Steiermärkische Sparkasse. Their media partners are: Gepa Pictures, Antenne Steiermark andKleine Zeitung.
The Murhof Gruppe owns various golf courses throughout Austria including this week's venue.
Follow along on www.alpstourgolf.com or the official "Alps Tour Golf" app to keep up on all the latest news (available on App Store for iOS devices and Play Store for Android).
#risinggolfstars
#raisinggolfstars
Latest Alps Tour Golf News