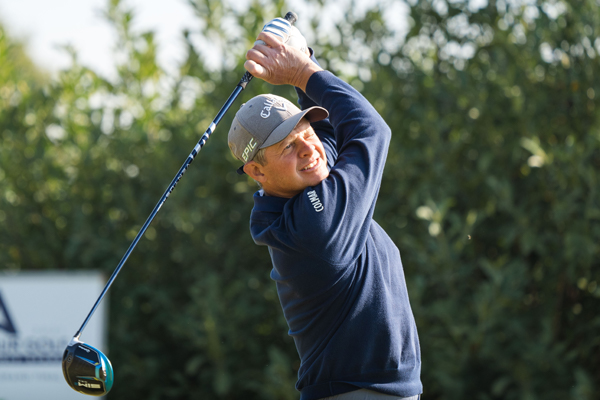 Alessandro Tadini current Round 2 Leader at Molinetto Country Club. Photo Credit: Federico Capretti
5th May 2022 | Alps Tour Golf
Round 2 suspended for darkness with Alessandro Tadini currently holding the lead.
Milan, May 5th, 2022 – An overcast morning with chillier temperatures and swirling wind welcomed the players for the 2nd round of the inaugural 2022 Molinetto Alps Open. Molinetto Country Club is a course that has never previously hosted an Alps Tour event, however was known for hosting the 42* Italian Open in 1985.  The event was held during the exact same dates, May 2nd through May 5th.
Round 2 was suspended at 14:51 due to dangerous weather in the area and play was then resumed at 16:30 (1hour 39mins delay). Players in the afternoon draw had to face a mix of weather conditions, from an overcast and chill temperatures to a delay due to lightning in the area and then a heavy and consistent rain fall. Round 2 was suspended at 19:51 for darkness and will resume at 7:30 tomorrow morning.
Round 2 Player Quotes-
Alessandro Tadini of Italy, had a brilliant bogey-free 8 under-par round 63 today for an overall 11under-par for the tournament, he holds a one shot lead over Gregorio De Leo. When he completed his round, Tadini was pleased to have been able to keep the momentum going from yesterday."Today was a fabulous day, I was able to maintain yesterday's positive feeling. I was able to make a lot of putts today which is very important for me as my long game has been sharp. I was able to make 5 birdies in my last 5 holes by holing a few important putts and hitting it close so I'm happy. I didn't expect this round today but I'm looking forward to the rest of the tournament."
Gregorio De Leo, currently holds the best round of the afternoon wave with 2 bogeys and 8 birdies for a 10 under-par 65. Gregorio is just one shot back of his fellow countryman, Alessandro Tadini.  When he concluded he round in tough conditions, he was very pleased, "I played very well without risking too much especially on the first 8 holes before the delay. I was 4 under-par putting for eagle on the 17th hole. After the delay I had a slow start but then managed to continue with a consistent play and birdie 2 out of the last 3 holes and unfortunately a disappointing bogey on my last hole of the day." He was overall very pleased with his round especially in the conditions he was playing, "I wanted to have a good round today, I expected a good round after the start I had today. Maybe I didn't expect the score but I am proud of my round."
Koen Kouwenaar, had 3 birdies and 1 double bogey in his round today is currently 2 shots back of the lead. He wasn't very pleased with his round today especially by not taking advantage of the par 5 that are reachable. "My game was rustier today, I struggled a little bit everywhere today and need to improve for tomorrow. When I mishit a shot today, I unfortunately hit it on the wrong place and at the wrong time. Especially on hole 10, I hit it in the water and made double bogey. I unfortunately didn't take advantage of the par 5 that were reachable so unfortunately I'm not so happy with how I played." Koen also talked about the conditions of today's round by saying, "The pins were more difficult and the wind was swirling a bit which made it a bit more complicated."
A past winner on the Alps Tour, Italy's Stefano Pitoni, who yesterday was 1 shot back of the lead, now finds himself a couple shots back after a tough finish to his round today. Pitoni bogeyed 2 out of his last 3 holes to finish 1under-par for the day and 8 under-par for the tournament. After his round, he said: "I made a lot more mistakes today and the pins were much harder than yesterday. I found that the course was playing hard today then yesterday also for the humidity we had."
Round 2-
Round 2 of the 2022 Molinetto Alps Open will resume tomorrow morning at 7:30. The projected cut is currently set a 4 under-par. The winner of the inaugural 2022 Molinetto Alps Open, will earn €5,800 and 6,525 Order of Merit points.
For the current Round 2 leaderboard click here or on the official Alps Tour Golf app
Tournament Promoter-
Like the majority professional golf events that are played in Italy, the inaugural 2022 Molinetto Alps Open is organized by the Italian Pro Tour. The main sponsors that support the Italian Pro Tour include DS Automobiles, Fideuram, Kappa and Eureco. In addition, their media partners are the following three Italian newspapers: Corriere dello Sport, Tuttosport and Il Giornale. The Italian Pro Tour featured social partner is Sport Senza Frontiere Onlus with official advisor, Infront.
Follow along on www.alpstourgolf.com or the official "Alps Tour Golf" app to keep up on all the latest news (available on App Store for iOS devices and Play Store for Android)
#risinggolfstars
#raisinggolfstars
Instagram- @alpstourgolf
Facebook- Alpstourgolf
Twitter- @alpstourgolf
Latest Alps Tour Golf News