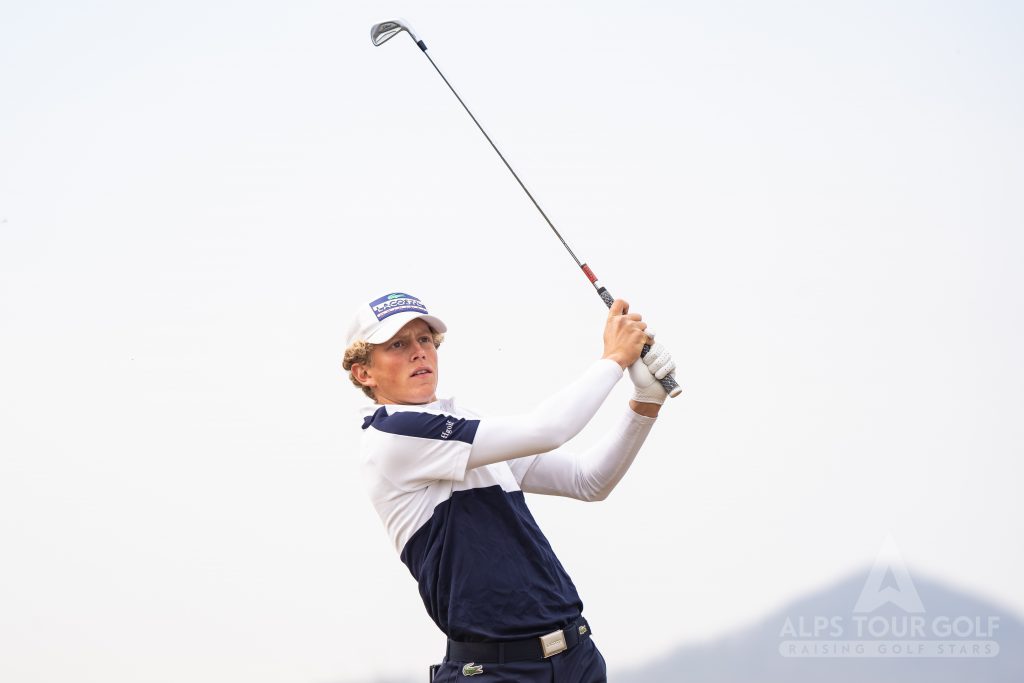 French amateur Martin Couvra carded a daily -7 (65). Credit: Federico Capretti
17th March 2022 | Alps Tour Golf
Round 2 suspended with Martin Couvra leading the provisional field at Terre dei Consoli
Italy, March 17, 2022 – The daily schedule for R2 of the Winter Series Terre dei Consoli was pretty tight due to yesterday's delayed starting times.
66 players had to end their first round early this morning and get ready to start for R2.
When R1 was over, Italian Giacomo Fortini, 25, from Cus Ferrara Golf Club, and Spaniard Jose Manuel Pardo Benitez, 23, from Golf Valdeluz, were tied for the lead at -6 (66 strokes).
Both Fortini and Pardo Benitez during the first day had a bogey free round without mistakes and with the right amount of birdies to take them on top of the leaderboard.
Due to the fog delay accumulated on the previous day, R2 started when the first round was still on, and therefore only part of the field managed to end the 36 holes. Today the game was suspended at 18h04 due to darkness, with 20 matches (60 players) still on the course; the round will resume tomorrow morning at 07h20 to decide the cut and the players making it to the final 18 holes.
French amateur Martin Couvra, just 19 years old, from Golf de Terre Blanche, winner of the Qualifying School held last November here at Terre dei Consoli and at Golf Nazionale, took the provisional lead at -11 after R2.
Today the young man carded a solid 65 with 8 birdies and just one bogey on 3rd hole and moved up on the leaderboard reaching the top quickly. In fact, after R1 he was tied on 9th place with other 7 golfers. "This course is really cool and I really enjoy playing here. It's really important to have a good game both on the short and on the long game to manage a very low score. I've been driving the ball straight off the tee which allowed me to get nice lies to attack the greens. I'm very proud of my game, specially for my putts which was one of the best part today".
It is a 6 way-tie for the provisional 2nd place with a total score of -8, but only three players have already signed their scorecards: Irishman Gary Hurley from West Waterford GC, who finished the first round on T9; Frenchman Franck Daux from Exclusive Golf Cely; and Italian Giacomo Fortini, co-leader after R1; while Spaniard Manuel Elvira, 25,from Llanes GC, Italian Stefano Mazzoli, 25, winner of the 2022 Ein Bay Open, and Frenchman Adrien Pendaries will all be among those who will have to hit the course tomorrow at sunrise to end R2.
Gary Hurley said that "even if it was a long day, I've been playing very well. I ha 2 great days of golf in a row which is awesome. Let's hope for tomorrow".
It was a long day for Franck Daux: "I had to play 26 holes in a row with no break in between the two rounds. I managed to play very well off the tee and to give me some good chances to attack the greens form a short distance. I'm very happy with my daily score and I'm preparing myself for tomorrow".
Giacomo Fortini said: "The course is pretty long but it is very firm so it doesn't play as long as it is. Greens are in great shape. Yesterday I've been putting better and today I did not holed as many putts as I wanted to but I'm happy with this result".
Today the course was a little bit easier than yesterday. Front nine looked more attackable and have allowed players to waste less strokes.
The cut is projected at -1 but it will depends on tomorrow morning scores. The final round will start right after the cut is set.
Provisional results R2: click here or check on the Alps Tour Golf app.
Stay tuned! www.alpstourgolf.com and the app « Alps Tour Golf » (on App Store for iOS devices and Play Store for Android) will keep you updated on every news about Alps Tour.
#risinggolfstars
#raisinggolfastars
Latest Alps Tour Golf News