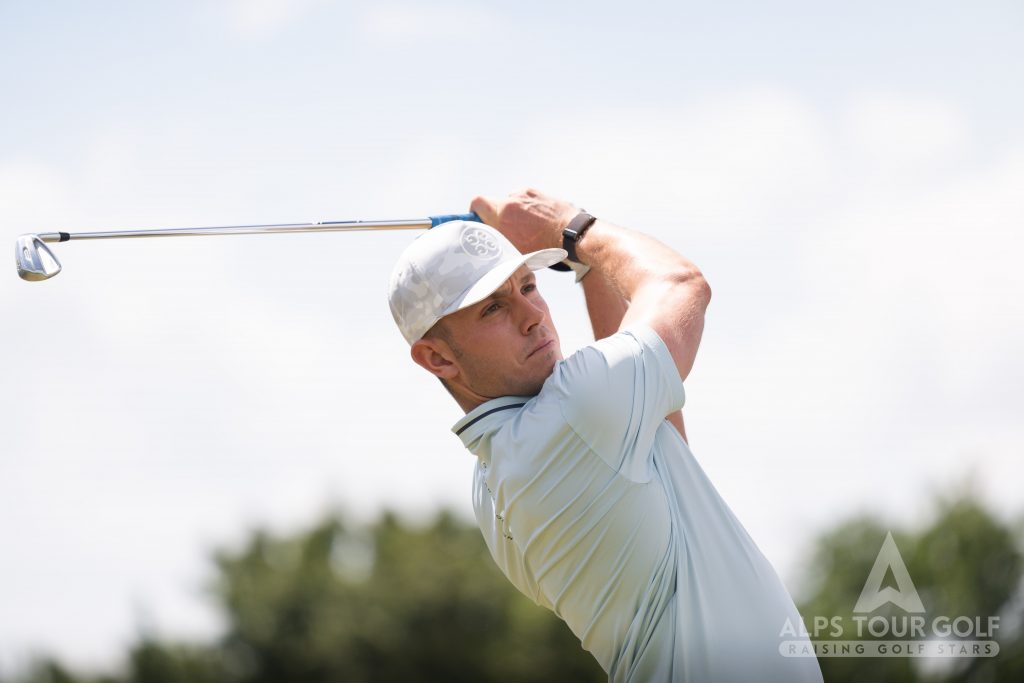 21st February 2023 | Alps Tour Golf
Jack Floydd leads after Round 1 at the 2023 Ein Bay Open! 
Round 1 Review
Sokhna Golf Club
Suez, Egypt
21st – 23rd February 2023 and 26th – 28th February
Alps Tour Media Contact: [email protected]
Leaderboard
| | | |
| --- | --- | --- |
|    Pos. |                 Name |      Score |
|       1 | Jack Floydd (ENG) | -7 (65) |
|       2 | Ronan Mullarney (IRL) | -6 (66) |
|       3 | Jorge Maicas (ESP) | -5(67) |
| | Flavio Michetti-am (ITA) | -5(67) |
| |  and 5 other players at | -5(67) |
Quick Links
Round 1 Leaderboard 
Round 2 Tee Time
---
Jack Floydd leads after Round 1 at the 2023 Ein Bay Open! 
Egypt, February 21st 2023 – 
After round 1 at the 
2023 Ein Bay Open
, we have a packed leaderboard. England's 
Jack Floydd
 leads with a 7 under-par 65, in 2
nd
 place, only 1 stroke back at 6 under-par, Ireland's 
Ronan Mullarney. 
In 3
rd
 place at 5 under-par, Spain's 
Jorge Maicas
, Italian amateur 
Flavio Michetti, 
Netherland's 
Davey Porsius
, Spain's 
Alvaro Hernandez Cabezuela
, Italy's 
Cristiano Terragni
 and 
Enrico Di Nitto
 and Swiss's 
Luca Galliano
. There is a 5-way tie for 10
th
 place at 4 under-par.
A gorgeous sunny day with blue skies and warm temperatures was the backdrop of today's first round of the 2023 Ein Bay Open. The first round was played at the beautiful Sokhna Golf Club in Suez, Egypt. Players had the opportunity to compete with perfect scoring conditions. Play began from both the 1st and 10th hole at 7:00 am local time for the morning wave and at 11:20 am local time for the afternoon wave. The forecast for the remainder of the week is expected to be very similar to today's round, with blue skies and temperatures around 21° Celsius and 15km/h winds.
Round 1 Player Quotes –
England's Jack Floydd who represents Haywards Heath Golf Club leads by 1 stroke at the conclusion of the 1st round at the 2023 Ein Bay Open. He shot a 7 under-par 65 round today with 3 birdies on the front nine holes and 1 bogey and 5 birdies on the back nine. Jack is 26 years old and turned pro in 2020. After his round, Jack commented: "I played very solid today. My game was great off the tee and gave myself a decent chance for birdie on the majority of the holes."  During the back nine, he made 4 birdies in a row from holes 14 until 17, when asked if anything different happened he added: "I had chances on the front nine but didn't start converting until the back nine. It definitely helped that 2 birdie putts were from about 1 foot. However, I did make a long one as well." Jack currently: "feels in control of my swing and my ball flight. I also had relatively good pace on the greens today which helped. I've been working hard with my coaches over the winter and I feel very confident with my game heading into the season."
Ireland's Ronan Mullarney, concluded his first round with a 6 under-par, 66 and is in 2nd place only 1 stroke back. He began his round on the 10th hole today and had a strong start making 5 birdies on his front nine and then made 3 birdies and 2 bogeys on his back nine. He begins his first full season on the Alps Tour wanting to gain stability. Ronan turned professional in 2019 and competed in the 2022 Open Championship. After his round, he was pleased with how "how I played today. The wind picked up on my back 9, the course front nine which made it a bit trickier but I practiced hard over the winter so I was ready. My wedge game was very sharp today which helped me put together the round."
One of the seven players tied for 3rd place at 5 under-par is Italian amateur Flavio Michetti who represents Marco Simone Golf Club. In today's round, he made 2 birdies and 5 birdies on the front nine and 2 birdies on the back. After he completed his first round, Flavio commented: "I played very solid today. I had a strong start with a birdie on the 1st hole and the 4th hole and that allowed me to be confident in my game for the remainder of the round. Today I putted very very well, I made 28 putts today hitting 17 greens. I believe that being able to putt well on these greens it gives you a big advantage." When asked about the course he went on to add: "The course is in very good conditions, the greens are very good and the ball rolls well."
Tied for 3rd place alongside Flavio Michetti at 5 under-par and 2 shots back of the lead, there is Spain's Jorge Maicas, Netherland's Davey Porsius, Spain's Alvaro Hernandez Cabezuela, Italy's Cristiano Terragni and Enrico Di Nitto and Swiss's Luca Galliano. 
The 120 players are competing for an overall prize fund of €40.000 and 45,000 Order of Merit points. The winner will earn €5,800 and 6,525 Order of Merit points.
Round 2-
The second round of the 2023 Ein Bay Open will begin again at 7:00 am local time from the 1st and 10th hole. After round 2, a cut will be made to the top 40 players and ties.
The first-round leader, 
Jack Floydd
 will begin round 2 at 12:10pm local time from the 10
th
 hole.
Tournament Promoter- 
Both the 2023 Ein Bay Open and the 2023 Red Sea Little Venice Open are grateful for the support of: Sokhna Golf Club, Ein Bay, Hassan Allam Properties, TPC- Touristic Promotion Company, Jaz Hotel Little Venice and Coca Cola Egypt.
Follow along on www.alpstourgolf.com or the official "Alps Tour Golf" app to keep up on all the latest news (available on App Store for iOS devices and Play Store for Android).
#risinggolfstars
#raisinggolfstars
27th July 2019 | Alps Tour Golf
Enrico Di Nitto Back on Top to Win the Nazionale Open
July 27th, 2019 – Rome, Italy – With a -10 (206) for the three days, the Rome native, Enrico Di Nitto, had an emotional first 2019 Alps Tour victory here in the Nazionale Open at the Golf Nazionale. In front of plenty of local support from friends and family, his win keeps him right on track for his goal of being in the top 5 at the end of the season.
Indeed, his first place today now puts him in third place on the Order of Merit with just one event to go before the Grand Final in October.
Di Nitto: "This is my second win on the Alps Tour but my first win for a very long time and I'm happy to win here in Rome too."
He admitted to having had some problems with his performance in the second rounds during the season However, he managed to put yesterday's disappointing second round, result behind him to card a -4 (68) with five birdies and just a single bogey. With 8 top ten finishes this season before today's win, he was pleased to finally get the desired result:
Di Nitto: "I've had some great rounds this year but never finished the way I liked. I have made a lot of good first rounds on the Alps Tour, but the second rounds have often been really bad. Yesterday I was a little bit frustrated with the ending of the second round, but my coach Maximus Scarpa helped me a lot this week so I'm very happy he was here."
In second place was the English player, Ben Amor at -8 (208) for the tournament. He started the round with an extremely strong front nine finishing with a -4 (32) including an eagle on the par 3 seventh.  Despite another birdie on the back nine, two bogeys saw him finish the round at -3 (69) for the day. But his runner-up position gives him his second top ten finish in this his rookie season on the Alps Tour.
Yesterday's leader, Uli Weinhandl from Austria, finished in third place at -7 (209). He saw his lead gradually eroded away by a difficult first round which included two bogeys and a double bogey on the par 4 fifth. Despite a strong rally coming into the clubhouse his +1 (73) for the day didn't allow him to get back on top of the leader board.
With a pause in the season in August, the Alps Tour resumes play in September for the final tournament before the Grand Final in October. The 2019 Cervino Open takes place from 5th to 7th September at the Cervino Golf Club in Valle d'Aosta region in the northwest of Italy.
Italian Pro Tour is the promoter of the Nazionale Open, with the support of Banca Generali Private (Title Sponsor); BMW (Main Sponsor); Kappa (Official Supplier), Leaseplan (Official Supplier), Dailies Total 1 (Official Supplier).
Final results: click here
Tournament website : click here
Stay tuned! www.wp-alpstour.ocs-sport.com and the app « Alps Tour Golf » (on App Store for iOS devices and Play Store for Android) will keep you updated on every news about Alps Tour.
Instagram @alpstourgolf
Facebook @Alpstourgolf Satellite
Twitter @AlpsTourGolf
25th February 2019 | Alps Tour Golf
Di Nitto signs a bogey-free 65 to lead by 2 after first round
Golf feels much easier when, at the end of the day, you only have 24 putts on your scorecard; that's what happened to Italian Enrico Di Nitto, 26, the leader after the first round of the Red Sea Little Venice Open, the second tournament of the 2019 Alps Tour season, taking place on beautiful Sokhna Golf Club in Egypt.
Di Nitto, 26, from Rome, carded 7 birdies and no bogeys on the A+B courses, a different combination than the course played for Ein Bay Open, which was on B+C : « This one is a bit more difficult I think », said Di Nitto, who was playing in the morning with warm temperatures and some wind, both rising up during the afternoon (peaks of 25 degrees and gusts at 25 km/h). « Like the other course, it is in very good conditions, and today we had fast greens and the wind made it even more interesting and challenging. I started (from hole 11) with very good driving and decent irons, and when the tee shots started to fail a little, I could react with good irons, and lots of one-putts, too – most of them from close, and one from 12 meters – which was a really nice boost! ».
On second place, with a 67 (-5), two strokes more than the leader, stands Irishman Jonathan Yates – who was tied second in the previous tournament. Six birdies in his card, and a single bogey – on hole 4, a par 3, 178 meters long which is actually rated as the second most difficult hole on the course today, with just 3 birdies, 44 bogeys and 6 double bogeys or worse.
On third place, three players are tied at 68, minus 4 : Englishman Ben Wheeler, 26 (seven birdies and two bogeys) ; Tomas Santos Silva from Portugal, 26 (five birdies and one bogey); and Lars Keunen, 22, from The Netherlands (six birdies and two bogeys).
For tomorrow, the weather forecast indicates a peak of 19 degrees, and a little less wind, at 20 km/h.
Instagram @alpstourgolf
Facebook @Alpstourgolf Satellite
Twitter @AlpsTourGolf
14th December 2018 | Alps Tour Golf
Familiar face Enrico Di Nitto sole leader of Q School
Enrico Di Nitto (ITA) is the sole leader of the Q School's Final Stage with a total of -9 after round 2 at La Cala Resort, Spain. 
Di Nitto made an eagle, 6 birdies and 2 bogeys on Asia course to finish the day at -6, two strokes clear of Spaniard Angel Hidalgo – who shot a 67 (-5) on the same course today – and Argentinian Maxi Godoy, who posted a 66 (-5) on America course with 6 birdies and one single bogey. 
Mathias Eggenberger (SUI) turned in the best card of the day, a 65 (-7) on Asia course, after making an eagle, 7 birdies and a bogey.  
Enrico Di Nitto is a familiar face on the Alps Tour as he played on the circuit during the 2016 season. At the end of that season, the 25-year-old Italian finished in 2nd place on the Order of Merit, the Alps Tour official season ranking. He played two seasons on the Challenge Tour with some mixed results. Having obtained a category 17 for next season on the Challenge Tour, Di Nitto will play on both Tours, to try to give a new boost to his career. 
70 players made the cut today set at +6 and will progress to the third and final round which will be played tomorrow on Asia course. Today's weather conditions were good.
After tomorrow's final round set to tee off at 09h15 local time, 35 players will obtain a category 6 which means for them a guaranteed spot in all the tournaments of the Alps Tour during the 2019 season.
7th November 2016 | Alps Tour Golf
Fabien Marty from A to Z, Di Nitto qualified as well
France's Fabien Marty took the lead in El Saler golf golf from day 1 and never left it. The 33 year old player, native from Bordeaux, kept nerves of steal to score 64, 72, 70 and 68 to win European Tour Q School stage 2.
Fabien Marty was among the 6 among who got exemption thanks to his Alps Tour raking end of August.
Italy's Enrico Di Nitto, 24 year old next month, finished 4th tie on Panoramica golf course to earn his ticket to play next week.
The Q school final offers several stakes.
For Fabien Marty : if he makes the cut after 4 rounds, he will get a full category to play Challenge Tour. If he finished among Top 25 and ties, he will play on European Tour next year.
About the same for Di Nitto except that he already gets a card to play on Challenge Tour thanks to his final Alps Tour ranking.
Franck Daux' hope leans on Di Nitto' shoulders. If the latter makes the cut, Daux will play on Challenge Tour in 2017.
6th November 2016 | Alps Tour Golf
Marty holds firm on top in El Saler
France's Fabien Marty is still leading Stage 2 at El Saler golf tie with two other players. There is one day to go to confirm who will play the final Stage of European Tour Q School.
Thanks to his Alps Tour ranking end of August, Marty avoided the Stage 1 of European Tour Q School. His golf is in very good shape and it's been three days he is holding firm on top of the leaderboard.
Among Alps Tour players, Enrico Di Nitto and Tom Shadbolt, both playing in Panoramica Golf course, are respectively 10th and 15th, so on the right side of the line.
Good day for Raphaël Marguery in Lumine, He shot -4 for a 34th place tie. He have to be in top 20 to have a chance.
Alps Tour winner, England's Matt Wallace did not manage to improve his score today. He is 66th.
16th October 2016 | Alps Tour Golf
Pitoni sealed third win back on home soil
Italy's Stefano Pitoni won his third victory this season thanks to final round 64, -15 total, in Abruzzo Open. After his maiden win in La Pinetina last June, then a second trophy in Saint Malo Open in July, the 26 year old player grabbed a third title back on home soil.
He gained three shots on his last two holes, birdie-eagle, to take the club house lead and eventually, none of the players behind could catch up with him.
Fellow countrymen Federico Maccario and Enrico Di Nitto are ties for second place one shot further. They both signed for 69.
France's Raphaël Marguery had solid round, 67, to finish at 4th place on his own a shot back.
Overnight leader, Tom Shadbolt, could not beat the par today and finished 5th tie with Robin Goger, Uli Weinhandl and Thomas Elissalde.
Time to have a look at the Alps Tour ranking. Despite 3 wins in 2016, Pitoni is at 6th place and needs to confirm next week. Victor Perez who missed the cut in Abruzzo Open slept from 2nd to third place. Enrico Di Nitto took his place. Tom Shadbolt is now at 4th position and Franck Daux 5th. Federico Maccario is 7th.
The Final next week is to be played on same course as the Abruzzo Open. The winner will earn 9750 €, the second biggest check of the season and many players could still be part of the graduates.
15th October 2016 | Alps Tour Golf
Shadbolt in the race for back to back win
England's Tom Shadbolt shot best score of the day to take a one shot lead going into last round of Abruzzo Open. He has an opportunity to win a second title back to back after his victory in Spain in Alps Costa del Sol last month.
The 28 year old player was the first round leader but he struggled to hole birdies during second round. Today, after third round eventually started after 30 minutes delay due to threat of lightening, he recovered his feeling on greens with his putter. He had an amazing series of 6 birdies in a raw from the 4th hole. He turned first nine with score of 29 as he had birdie as well on the first hole.
He only dropped one shot on the 13th and signed for 63, 8 under, tie for best score of the week.
Italian duo Enrico Di Nitto and Federico Maccario is only one shot back. The latter won this season in France but Di Nitto still in the hunt for a maiden title.
A pack of 4 players is 2 shots back of the lead and if one of them shot low tomorrow, the winner might be an outsider such as Daniel Young, Julien Forêt, Kevin Hesbois or Daniel Berna.
14th October 2016 | Alps Tour Golf
Maccario takes half way lead in Abruzzo Open
Federico Maccario shot brilliant 63, 8 under par, best score of the day to take half way lead with -11 in Abruzzo Open. The 22 year old player had flawless card with one eagle and 6 birdies. The overnight leader, France's Raphaël Marguery, signed for a 69 two-under-par card to be second on his own heading to the week end, two shots back of the lead.
Players managed to tame the great course of Miglianico and many figures in red today. The cut felt at one under par and Victor Perez, currently 2nd at the Alps Tour ranking won't play this week end and the risk is important for him to slide as all his challengers made the cut. Among them, Enrico Di Nitto shares third place with David Berna, both at -8 total.
Di Nitto is still fighting for a win this season. He finished second twice, in Tunisia and Italy, third attempt might be the one but his fellow countryman Maccario enjoys 4 round event as he won the Citadelle Trophy International last month. A win this week would give him a huge chance to play on Challenge Tour next year.
16th June 2016 | Alps Tour Golf
Play suspended in Italy, Pitoni leader
Italy's Stefano Pitoni is the happy leader at Pinetina Golf Club. He played this morning and signed for back to back 64 to lead at -12. The play was suspended at 15h05 due to heavy rain and storms. Fellow countryman, Enrico Di Nitto recorded a great 65 to settle at second position with -7 total.
Play will resume tomorrow at 9:00 and it will a long day as weather forecast is nicer and players will have to complete as many holes as possible.
Latest Alps Tour Golf News