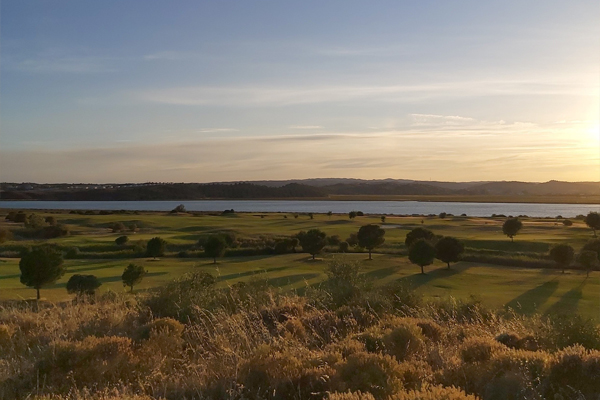 21st June 2022 | Alps Tour Golf
The Tour heads to Andalucía for the 12th event of the season.
Ayamonte, June 21st 2022- The tour heads to the south of Spain, near the Spanish- Portugal border for the 12th event of the season, the 2022 Alps de Andalucía. The event will be played at Isla Canela Golf Club, specifically on the Valle Guadiana Links course in Huelva, Ayamonte, Spain from June 23rd until June 25th. On Wednesday June 22nd, the traditional pro-am will occur. This year will be the 10th edition of the Alps de Andalucía, even though it is the first time it will be played at this golf course. Past winners of this event are now DP World Tour players, for example Lucas Vacarisas, winner in 2020.
The Field-
A strong field is expected this week for the 2022 Alps de Andalucía. All of the current Top 10 players in the Order of Merit rank are scheduled to compete, including the current leader and most recent back-to-back winner, French amateur Tom Vaillant. His most recent win at the 2022 Aravell Golf Open by Crèdit Andorrà has moved him into the lead of the Order of Merit rank with a 5,457.66 points advantage over Netherland's Koen Kouwenaar. Joining the top 10 Order of Merit players are all of this season past winners, except for Markus Brier, winner of the 30th Gösser Open.
There are 18 different nationalities represented among the estimated 140 players scheduled to play this week. The players are competing to earn a spot in the top 5 Order of Merit rank which at the end of the season, will give them access to the 2023 Challenge Tour. Furthermore, the players will contend for a prize fund of € 40.000 and 45,000 Order of Merit points. The tournament winner will earn €5,800 and 6,525 Order of Merit points.
The format of the tournament is a 54 holes stroke play and a cut will be made after 36 holes to the top 40 players and ties.
To view the most up to date field click here or go on the official Alps Tour Golf app.
The Course-
Valle Guadiana Links by Isla Canela is a 6540 meters par 72 course, inaugurated in 2007 and designed by José Canales. The course is located on the left bank of the Guadiana River, which serves as the border between Spain and Portugal. The golf course is integrated into a Nature Reserve and part of the Costa Esuri Urbanization, in the city of Ayamonte in the heart of the Spanish Algarve. There are some spectacular views especially from the tee shot on the 7th hole.
The course is characterized by its wide fairways and Bermuda greens. It has a typical American golf architecture with a distinguished links style. The front nine holes of the course run through the estate with a large presence of pine trees. However, on the back nine the landscape opens where there is almost no vegetation and the holes run parallel to the river giving it a links style characteristic to the course. The prevailing winds from the Guadiana River makes it very unpredictable for the players.
It is sure to be a compelling week where players will be subject to a new course, and its subsequent conditions.
Tournament Promoter-
This tournament is promoted and organized by JGolf.
The Alps de Andalucía can count on the support of the joint collaboration between two main sponsors, the Real Federación Española de Golf and the Real Federación Andaluza de Golf. The tournament also has the support of numerous co-sponsors: Valle Guadiana Links, Consejo Superior de Deportes, EDP Solar, Allianz, AON, Kyocera (servicios oficiales de impresión), Tag Heuer, BCD Sports, Mahou San Miguel, Solán de Cabras and JGolf.
Follow along on www.alpstourgolf.com or the official "Alps Tour Golf" app to keep up on all the latest news (available on App Store for iOS devices and Play Store for Android)
#risinggolfstars
#raisinggolfstars
Instagram- @alpstourgolf
Facebook- Alpstourgolf
Twitter- @alpstourgolf 
25th September 2020 | Alps Tour Golf
Vacarisas seals his first win on the Alps Tour
Tomares, Sevilla (Spain), 25th September 2020 – Lucas Vacarisas is the winner of the Alps de Andalucia at Club Zaudìn Golf in Sevilla with a total of 199 strokes (-14), one better than compatriots Jordi Garcia del Moral and Mario Galiano Aguilar who share the second spot at 200 (-13).
It is a dream come true for Vacarisas, 22, as he finally grabs the first title which had been so elusive in the last few weeks. The young Spaniard – one of the three Mena Tour players who got an invite to Alps Tour tournaments thanks to the agreement sealed by the two organizations last December – had a top-10 in Austria at Gosser Open last August, was 2nd in France at Open de la Mirabelle d'Or two weeks ago, and now – thanks to a solid final round in 64 – has climbed the Alps Tour Order of Merit up to the 2nd spot, behind the leader Garcia del Moral.
"I'm very happy, first of all for the job I've done and for today's round", said Vacarisas, "I knew I needed a good one in order to have a chance as anybody could win among the top ten. I've lost some focus between 10 and 12 with one bogey, but I reacted pretty soon. Of course I was a bit nervous waiting for the finish of Jordi and Mario, but I knew that the last three holes are very difficult on this course".
In fact Garcia del Moral had been leading for most of the day while starting T3rd, as he sealed three birdies and one eagle in the front 9, and going as low as -16 on the 16th tee; then, two disastrous double bogeys (and one birdie on 17) broke his chance of winning for the second time in less than one month.
"This first win gives me a lot of confidence", said Vacarisas, who wins a cheque for €5,800, "but for sure I will go on working more, this is just the start for me. There are two more tournaments in the Alps Tour season and I need to keep on scoring well in order to grab one of the three spots for the Challenge Tour".
The best round of the day was 63 (-8), signed both by Spanish amateur Joel Moscatel and by Austrian pro Alex Kopp, who finished his round in style holing a 6-iron on hole 9 for a spectacular hole-in-one, and climbed up to 4th spot shared with Portuguese Tomàs Bessa.
Alps de Andalucia has enjoyed the support of Real Federación Española de Golf, Real Federación Andaluza de Golf, Zaudín Golf Club, Consejo Superior de Deportes, EDP Solar, Kyocera, Tag Heuer, Bodegas Barbadillo, Agua En Caja Mejor sostenible, pura y natural, JGolf.
Final results: click here
Stay tuned! www.wp-alpstour.ocs-sport.com and the app « Alps Tour Golf » (on App Store for iOs devices and Play Store for Android) will keep you updated on every news about Alps Tour.
Instagram @alpstourgolf
Facebook @Alpstourgolf Satellite
Twitter @alpstourgolf
21st February 2017 | Alps Tour Golf
Rookies Van Meijel and Vacarisas on top in Sokhna
Rookies are leading in Red Sea Little Venice Open. Dutch Lars Van Meijel and Spain's Lucas Vacarisas (picture) are both -9 total after shooting respectively 66 and 69.
Van Meijel, member of the last victorious Palmer Cup, was in contention last week during the first event of the season. This experience can help him to improve his 4th recorded last week.
« It was really cold this morning but I started really well, I was 4 under through 6 holes. So I thought it would be a pretty low round. Afterward I did not hit that many good shots but that was good enough and the par 5 I birdied.
Tomorrow I am just gonna go play the same I have the last 5 rounds and we will see. It is fun here because there are a lot of players I played with as an amateur and there 3 Dutch guys so it doesn't really change now that I am professional »
Vacarisas, 18, holed 6 birdies during his round but had some trouble on a couple of holes. He admitted he could feel the pressure of being on top of the leaderboard.
« My day was good but I was a bit nervous at the beginning of the round. But I tried to stay calm and be patient and after 4 holes I started to play my game. I hope I will be able to play the same tomorrow and to hole the putts same as today. There is one round left and if I manage to play my game I have a chance to win. »
Last week winner, France's Julien Brun is tie for 18th place with -2 total.
20th February 2017 | Alps Tour Golf
Spain's Piris Mateu and Vacarisas co-leaders in Egypt
Spain's Gerard Piris and Lucas Vacarisas took a two shot advantage after opening round 66, -6 at Red Sea Little Venice Open. A French duet is on their toes, Robin Roussel and Thomas Perrot signed for 68.
Weeks hopefully are not the same in Egypt. The nice weather came back on the banks of the Red sea, finally and the field enjoyed great playing conditions in Sokhna Golf Club.
Last week was all about Frenchmen, this week started with a Spanish demonstration. Both Piris and Vacarisas shot flawless 66 in the afternoon after best score of the morning sessions was -3 for a pack of players.
Piris admitted that even if he played really nice, he got some lucky results.
« Of course, when you shoot 6 under, you are very happy. I played very well and in this kind of day, you got lucky as well. I did not have any momentum but I played well during all round. I put the ball in play, I hit it close to the pins and I holed some putts.
I think this composite A&B is a little more difficult than B&C played last week. The leader was -8 and the wind has changed. »
One of the youngest player on Alps Tour, Lucas Vacarisas, 18, is sharing the lead with his elder.
« At first, I did not play that well but my putting was ok. Then my game was more and more consistent and I manage to play my game with thinking about the results. Honestly, It makes no difference that we already played 9 holes last week. My game was good during back nine and front nine. »
The projected cut -1 after one round. Last week winner, Julien Brun, had a shy day with level par and Maxime Radureau holed the second albatross since the Alps Tour arrived in Egypt. After Leo Lespinasse last week, Radureau holed a 2 iron shot on the 8th to signed for 69.
Latest Alps Tour Golf News