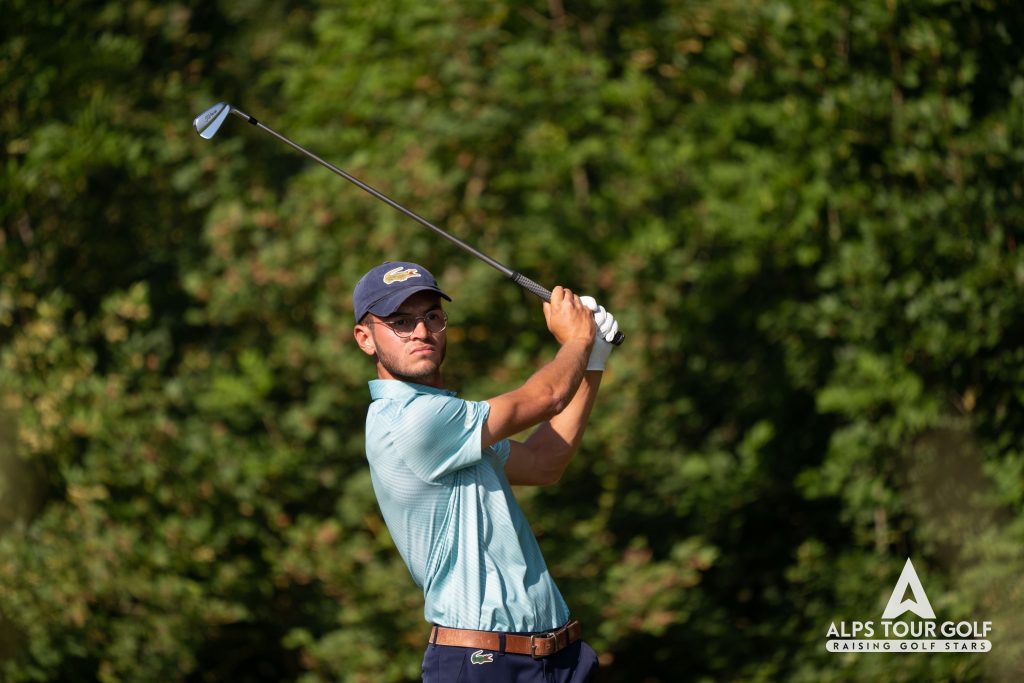 Theo Brizard, Round 2 Leader at 2023 Open de La Mirabelle d'Or.  Photo Credits: Alps Tour Golf / Federico Capretti 
3rd June 2023 | Alps Tour Golf
Theo Brizard leads by 1 at the 20th Open de La Mirabelle d'Or. 
Round 2 Review
Golf de La Grange Aux Ormes
Metz, France
2
nd
– 4
th
 June 2023
Alps Tour Media Contact: [email protected]
Leaderboard
| | | |
| --- | --- | --- |
|    Pos. |                 Name |      Score |
|       1 | Theo Brizard (FRA) | -6 |
|       2 | Jack Floydd (ENG) | -5 |
|       3 | Lars Keunen (NED) | -4 |
|       4 | Kiet Van Der Weele (NED) | -3 |
|       5 | 4 players tied at | -2 |
Quick Links

Round 2 Leaderboard 
Final Round Tee Times 
---
Theo Brizard leads by 1 at the 20th Open de La Mirabelle d'Or. 
Metz, June 3rd 2023- 
After two rounds at the 
20th Open de La Mirabelle d'Or
, we have a very tight leaderboard. France's 
Theo Brizard
 leads by 1 over England's 
Jack Floydd
 who has a two-day total of 5 under-par. In 3
rd
 place only 1 stroke back one of the first-round leaders Netherland's 
Lars Keunen
. Two-time winner Netherland's 
Kiet Van der Weele
 is in 4
th
 place with a two-day total of 3 under-par. There is a 5-way tie for 5
th
 place at 2 under-par that includes: France's 
Nicolas Aparicio
, Ireland's 
Ronan Mullarney
, Swiss 
Luca Galliano
 and French amateur 
Theo Boulet
.
Another beautiful day with mostly sunny skies and warm temperatures welcomed the players at Golf Domaine de la Grange aux Ormes for the 2nd round of the 2023 Open International de La Mirabelle d'Or. Play began at 7:30 am from both the 1stand 10th hole. This is the 20th edition of the tournament and has been part of the Alps Tour schedule since 2005. For tomorrow's final round, a sunny day is expected with temperatures around 26°C.
Round 2 Player Quotes
Twenty-two year old,
 Theo Brizard
 from France, who was tied for 8
th
 place after the 1
st
 round, now finds himself in the lead by 1 stroke. He shot a second round of 5 under-par,65 with 8 birdies, 1 bogey and 1 double bogey. 
Brizard 
turned professional in 2021 yet has never won an Alps Tour event. His best finish was a 2
nd
 place in 2021 at the season opener in 
Acaya 
as an amateur. 
Brizard
 began his round with 3 birdies in a row and 5 birdies overall in his first 6 holes. After his round he was very satisfied and happily commented: 
"Today was a tough fight! I played really solid tee to green, managed to get myself in a lot of birdie positions which was positive. I played really well the easy holes, was focused on the hard ones, and to start my round with 3 birdies helped a lot! I hit the 2 par 5s in 2 and holed a nice 4 meters putt on 11. It was a great start!"
  When asked about his approach heading into the final round tomorrow in the lead, 
Brizard 
added: 
"I'll go the same way, try to play well and enjoy the easy holes, being focused on the hard ones, and have a good attitude until the end! I have some tough competitors behind me, but I'm confident! It'll be a nice fight, and I look forward to the challenge."
England's Jack Floydd, winner of the season opener 2023 Ein Bay Open, is only 1 stroke off the lead after the 2nd round of the 2023 Open International de La Mirabelle d'Or. He is 26 years old and turned professional in 2020. He is currently playing his third season on the Alps Tour. Floydd was tied for 8th place at 1 under-par after the 1st round of the tournament and now is in 2nd place with a two-day total of 5 under-par. He made 7 birdies and 3 bogeys during round 2, for a 4 under-par,66. After his round, he commented on how "the course is very tricky compared to previous years. The fairways are rock hard and the rough is very penal so it's super important to avoid it. I made 7 birdies today keeping the ball in play for the most part and gave myself some good chances on the greens which I managed to capitalize on." Floydd went on to add that the strongly believes the "rough is very penal, it paramount to avoid it. Obviously, it's not always possible, but certainly the strategy has changed from the previous years where there is a lot more irons of the tees this year to make sure you keep the ball in play. The downside on some holes is leaving yourself longer yardages into the greens but I believe that is definitely preferable compared to being in the long stuff." Looking ahead to the final round tomorrow, where he could capture his 2nd title of the year, "it would mean a great deal to me to win my second event of the year, I'm delighted to have won the season opener but to get a second one would help me in the rankings and put me in a good position for the remainder of the season. It wouldn't however change any of my plans, I plan to play all of the events this season and hopefully be able to graduate to the Challenge Tour."
Lars Keunen from Netherland who was one of the co-leaders at 3 under-par at the conclusion of the 1st round finds himself in 3rd place only 2 strokes from the leader heading into the final round. He made 3 birdies and 2 bogeys today for a two-day total of 4 under-par. He currently sits 10th in the Order of Merit rank. After his round, Keunen commented how "today was a very solid round. I hit a lot of greens and luckily didn't get in too much trouble. For tomorrow I will stick to my game plan of getting the ball in play off the tees and stay patient on the greens for putts to fall." 
Netherland's Kiet Van der Weele who has already captured two wins this season is in 4th place with a two-day total of 3 under-par. There is a 5-way tied for 5th place at 2 under-par that includes: France's Nicolas Aparicio, Ireland's Ronan Mullarney, Swiss Luca Galliano and French amateur Theo Boulet.
The highlight of the day belongs to France's Franck Daux who made a hole-in-one on the par 3, 17th hole with a 50° wedge.Final Round

A total of 53 players made the cut which was set at +4 (144).
The final round of the 2023 Open International de La Mirabelle d'Or will begin at 9:05 am am local time from the 1st and 10thhole. The final group will tee off at 10:40 am local time from the 1st hole.
The winner of the 2023 Open International de La Mirabelle d'Or, will earn the winning check of €5,800 and 6,525 Order of Merit points.
Tournament Promoter
The tournament is organized and promoted directly by the golf club, Golf Domaine de la Grange Aux Ormes.
The Institutional Sponsors that support this tournament are: Région Grand Est, Département de la Moselle, Ville de Marly, Inspire Metz and Fédération Française de Golf.
The Private Partners at this event are: Crédit Agricole, Quadral, Mercedes Kroely, Demathieu & Bard and Opéra Théâtre.
The Official Suppliers of the tournament are: Eurogolf Luxembourg, Lemoy, Heineken, Château Sainte-Marguerite, Cristian Senez, Agence Grand Angle, Leon Noël, Evian, Pernod Ricard, France Boisson, Metro, Fayard and Cafés Richard.
Follow along on 
www.alpstourgolf.com
 or the official "Alps Tour Golf" app to keep up on all the latest news (available on App Store for iOS devices and Play Store for Android).
#risinggolfstars
#raisinggolfstars
Latest Alps Tour Golf News