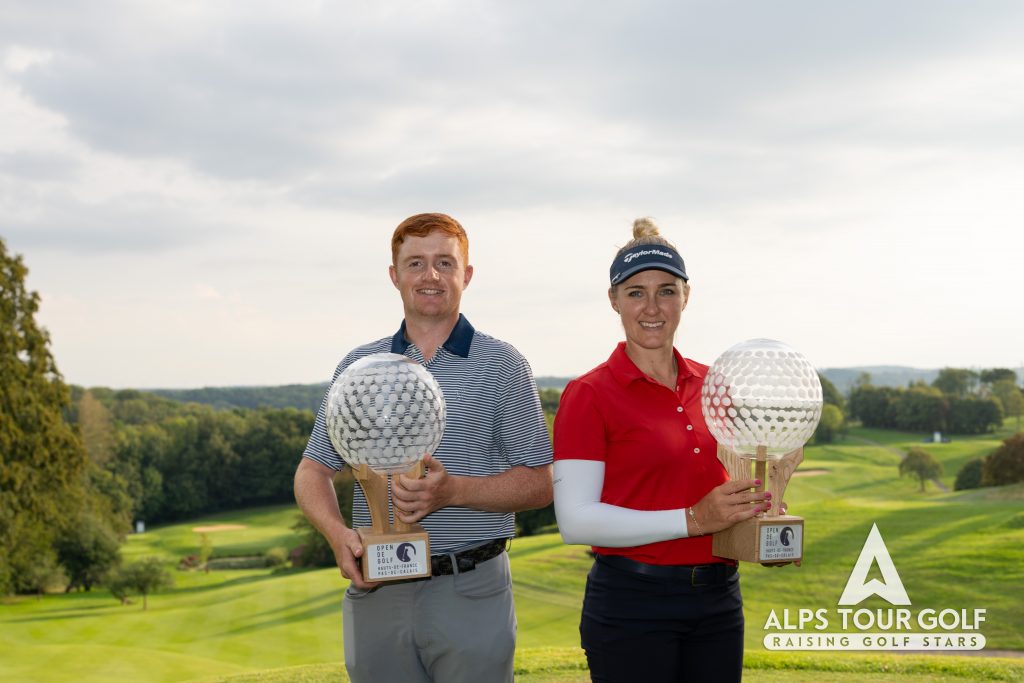 Winners of the 2023 Hauts de France-Pas de Calais Golf Open, Ireland's Ronan Mullarney and South Africa's Lejan Lewthwaite. Photo Credit: Federico Capretti/ Alps Tour Golf 
16th September 2023 | Alps Tour Golf
Three bogey-free rounds allow Ronan Mullarney to capture his 2nd win of the season! 
Final Round Review
AA Saint- Omer Golf Club
Saint-Omer, France
14
th
-16
th
 September 2023
Alps Tour Media Contact: [email protected]
Leaderboard
| | | |
| --- | --- | --- |
|    Pos. |                 Name |      Score |
|       1 | Ronan Mullarney (IRL) | -16 |
|       2 | Enrico Di Nitto (ITA) | -7 |
| | Manfredi Manica (ITA) | -7 |
|       4 | Davey Porsius (NED) | -6 |
|       5 | Jack Floydd (ENG) | -5 |
Quick Links
---
Three bogey-free rounds allow Ronan Mullarney to capture his 2nd win of the season! 
Saint-Omer, September 16th 2023 – Ireland's Ronan Mullarney captures his 2nd title of the season, the 2023 Hauts de France – Pas de Calais Golf Open with a three-day score of 16 under-par and secures his 2024 Challenge Tour card. He won with an incredible 9-shot margin and was able to remain bogey-free for the entire tournament. Tied for 2nd place at 7 under-par, an Italian duo: Enrico Di Nitto and Manfredi Manica. In 4th place was, Netherland's Davey Porsius and in 5th place, England's Jack Floydd.
The final round of the 2023 Hauts de France- Pas de Calais Golf Open co-sanctioned event with the Ladies European Tour Access Series (LETAS) began at 9:00 am local time from the 1st and 10th hole with alternating tee times between the LETASand Alps Tour Players. It was another beautiful day with a pleasant temperature which allowed players to have another day of optimal scoring conditions even though it was windier than the previous two rounds.
The past two editions of the Hauts de France – Pas de Calais Golf Open were a great success therefore, the tournament promoter has renewed the tournament with the same format for next season. The format for the 2024 edition will once more include players from both the Alps Tour and LET Access Series competing together for two separate prize funds and trophies. The tournament will take place from September 12th-14th 2024.
Final Round Player Quotes

Ronan Mullarney, 28 years old from Ireland, captures his second win of the season at the 2023 Hauts de France- Pas de Calais Golf Open after three rounds without a single bogey and a 9-shot margin! He shot a final round of 5 under-par, 66 with 5 birdies. He turned professional in 2019 and won his 1st full-field professional event at the 31st Gösser Open earlier this year. This is his 1st full playing season on the Alps Tour and after today's win, he became the new Order of Merit leader heading into the 2023 Alps Tour Grand Final. After his 3rd bogey-free round, which sealed his win, Mullarney commented, "I'm delighted. It was good, it might not have looked stressful but trust me, it was extremely stressful. Today was by far the best I've played. The first 2 rounds, my short game saved me, but today I was very comfortable and I played well."  He looked very comfortable on the golf course but Mullarney thought differently, "I might have looked very in control but there are so many stories of people throwing away leads that it's never hugely comfortable." After his fabulous week, he secured his Challenge Tour card for the 2024 season, which was a big priority for him, "Yeah, securing my card for the Challenge Tour was a big goal of mine. It's my 3rd year as a pro and my 1st year on the Alps Tour so definitely things this year have gone a lot smoother than the 1st few years, so I supposed it's part of the learning process." Mullarney heads into the 2023 Alps Tour Grand Final, 1st in the Order of Merit rank, and knowing he has his card secured, however, "I'm really competitive, I'm definitely will be heading to Asolo Golf Club trying to grab another trophy. I'll be playing a pro-am in Spain next week and then will prepare for the Final."

Thirty-year-old, Italy's Enrico Di Nitto who represents Olgiata Golf Club, shot an incredible 6 under-par, 65 final round for a three-day total of 7 under-par to conclude the tournament in a tie for 2nd place. He made 6 birdies and 1 bogey on the front nine and 1 birdie on the back to conclude his round. Prior to this tournament, he was 16th in the Alps Tour Order of Merit rank. After his final round, Di Nitto commented on how: "Yesterday I was playing well and then I hit two really bad shots out of nowhere, and after the round, I took time to reflect on what happened. Today I began the round really determined, and the first 3 birdies definitely helped put a good round together. My irons shots were perfect today, which makes me really happy." Di Nittobecame a multiple winner on the Alps Tour before he was able to move up to the Challenge Tour in 2016 thanks to the results he had achieved on the Alps Tour. His priority is, "obviously to get back my playing status on the Challenge Tour. Hopefully, I will be able to achieve it this season. I had some issues mid-season, I missed a few cuts, and my attitude wasn't great. I was going back and forth between deciding if I was going to play the Alps Tour or the Challenge Tour until the very last. I decided it was best to focus on the Alps Tour and have some good results which would allow me to move back up." 

Manfredi Manica from Italy, who won his 1st professional title at the 2023 Aravell Golf Open by Creand concluded the tournament tied in 2nd place with Di Nitto at -7 under-par. He is 27 years old, turned professional at the end of 2021, and currently represents Golf Nazionale. He shot a final round of 2 over-par, 73 with 5 bogeys and 3 birdies.
The Alps Tour Order of Merit rank heading into the 2023 Alps Tour Grand Final has Ireland's Ronan Mullarney leading and Netherland's Kiet Van der Weele and France's Oihan Guillamoundeguy to close out the top three spots. In 4th place, England's Jack Floydd and in 5th place Netherland's Lars Keunen.

LETAS
In the LET Access Series event, Slovenia's Katja Pogacar and Lejan Lewthwaite from South Africa took part in a three-hole sudden-death playoff on the 18th hole. After 3 holes, Lejan Lewthwaite conquered the trophy.
Final Round

Ronan Mullarney winner of the 2023 Hauts de France- Pas de Calais Golf Open co-sanctioned event, earned 6,525 Order of Merit points and the winning check of €6,400.
The top 50 professional players and ranked amateurs in the Top 50 in the official Order of Merit rank will be able to compete at the 2023 Alps Tour Grand Final which will be played at Asolo Golf Club in Cavaso del Tomba, Italy from October 18th– 20th.  The tournament prize fund is set at €50,000, and 5 Challenge Tour cards will be given out to the top 5 players in the order of merit at the conclusion of the event.
Tournament Promoter
The tournament this week is promoted and organized directly by the host golf club, Aa Saint-Omer Golf Club.
The 2023 Hauts de France-Pas de Calais Golf Open can count on the support of the following official partners: Région Hauts-de-France, Pas-de-Calais Mon Département, CAPSO Communauté D'Agglomération du Pays de Saint-Omer, Autosphere, BFM Grand Littoral, Frigolet, Najeti Hôtels & Golfs Collection, Sdez, Sysdeco, Golf+ and Vittel. 
Follow along on www.alpstourgolf.com or the official "Alps Tour Golf" app to keep up on all the latest news (available on App Store for iOS devices and Play Store for Android).
#risinggolfstars
#raisinggolfstars
#2023AlpsTourSeason
Latest Alps Tour Golf News