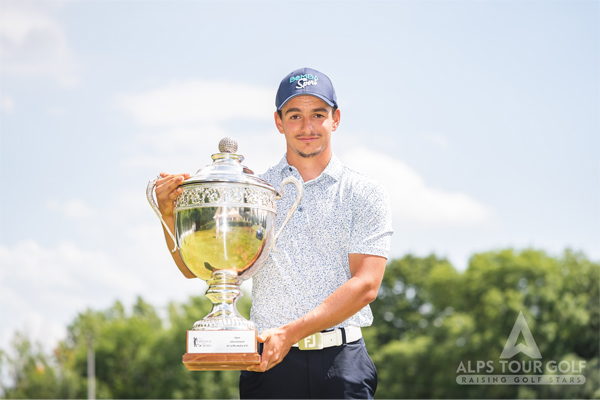 Tom Vaillant, winner of the 2022 Open International de la Mirabelle D'Or. Photo Credit: Federico Capretti/ Alps Tour Golf
12th June 2022 | Alps Tour Golf
Tom Vaillant wins the 2022 Open de la Mirabelle D'Or.
Metz, June 12th, 2022 – Tom Vaillant wins the 2022 Open International de la Mirabelle D'Or with a birdie on the 4th hole of sudden-death playoff. France's Tom Vaillant and Italy's Manfredi Manica both concluded their final round at Domaine de la Grange aux Ormes, taking part in the two-way sudden-death playoff thanks to their three-day score of 14 under-par. One shot back tied for 3rd place at 13 under-par France's Franck Daux and Romain Guillon.
The final round of the 2022 Open de la Mirabelle D'Or began at 7:27 am from hole 1 and 10. The final group teed off at 9:00 am from the 1st hole. A beautiful day allows spectators to anticipate optimal scoring conditions from the players at Domaine de la Grange aux Ormes. The course has hosted this event since its inaugural year in 2003. However, it officially became part of the Alps Tour schedule in 2005.
Koen Kouwenaar, remains the current Alps Tour Order of Merit leader. He has a 406.74 points advantage over Tom Vaillant who has moved into second place.
Winner Quotes-
French amateur, Tom Vaillant celebrates another home success for France winning on the 4th hole of sudden-death playoff with a 2m 50cm birdie putt. He was 8th in the Order of Merit before the start of this week, has now moved to 2ndin the rank. Tom shot a bogey-free final round 63 with 5 birdies and 1 eagle for a total at 14 under-par. Even though, Tom is still an amateur, he is an experienced Alps Tour player being his second season playing on the tour. When he completed the playoff, he was very pleased, "It was a really good day, played very nicely so it's always great to have a great day like today. It means a lot to win here in France in this historical tournament. Even after the win today, my goals won't change, I want to do my best everyday in every round."
Italy's Manfredi Manica, who was leading after round 1, had a final round, 6 under-par 64 that included 2 hole-out eagles and 2 birdies for a three-day total of 14 under-par. He had a strong start to his final round, holing out the eagle from 70 meters, on his 1st hole. Nevertheless, his strong finish on the 18th hole allowed him to compete in the playoff at 14 under-par, holing out for eagle from 153 meters. Manfredi was extremely happy, "on the 18th hole, I knew that I had to make 2 to be in the playoff, therefore I tried to go for the pin to hole it and it worked. My goal for the season is to do the best I can and try to be in the top 5 of the ranking. Another couple of weeks like this week and it might happen. This was a very positive week and I'm very happy."
Franck Daux of France, shot a 7 under-par round 63 today with 9 birdies and 2 bogeys for an overall 13 under-par ending the tournament in a tie for 3rd place. After his round, Franck commented, "It went very well today. I started very strong, had some bad breaks mid round but then had a strong finish which I'm pleased at. I want to try and maintain a good quality of golf for this big stretch of tournament that is coming up."
France's Romain Guillon shot a final round 6 under-par 64 for a three-day total of 13 under-par. He had a very strong start to his back nine, with an eagle at the par 5 10th hole and another eagle at the par 4 11th hole.
Final Round-
Tom Vaillant winner of the 2022 Open de la Mirabelle D'Or, earned 6,525 Order of Merit points. Manfredi Manica earned the €5,800 check as Vaillant is an amateur player. There was a two-way tied for third place at 13 under-par that included, Franck Daux and Romain Guillon. Just one shot back from there, in a tied for 5th place at 12 under-par: amateur Julien Sale and James Sugrue.
For the Final Round leaderboard click here or on the official Alps Tour Golf app.
The 11th event of the Alps Tour season will be played next week near the Northeastern border of Spain. The event is scheduled from June 16th until June 18th at Aravell Golf & Country Club in Aravell, Spain for the inaugural full field event, the Aravell Golf Open by Crèdit Andorrà.
Tournament Promoter-
This event is organized and promoted directly by the golf club, Golf Domaine de la Grange Aux Ormes. The Institutional Sponsors that support this tournament are: Région Grand Est, Département de la Moselle, Ville de Marly, Inspire Metz and Fédération Française de Golf. The Private Partners at this event are: Crédit Agricole, Quadral, Mercedes Kroely, Demathieu & Bard, JC Decaux, Opéra Théâtre, Mayer and Banque Populaire. The Official Suppliers of the tournament are: Eurogolf Luxembourg, Lemoy, Heineken, Château Sainte- Marguerite, Cristian Senez, Agence Grand Angle and Café Richard. In addition, their media partners are the following two media outlets: La semaine and Républicain Lorrain.
Follow along on www.alpstourgolf.com or the official "Alps Tour Golf" app to keep up on all the latest news (available on App Store for iOS devices and Play Store for Android)
#risinggolfstars
#raisinggolfstars
Latest Alps Tour Golf News