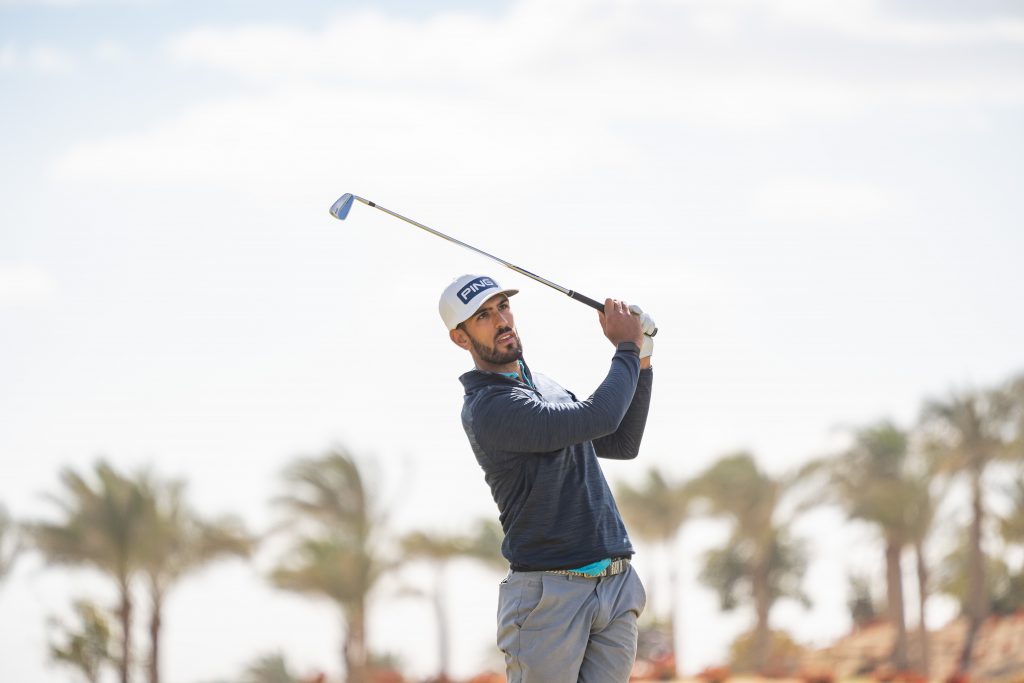 Tomas Bessa Guimaraes scored a daily 65 (-7) with 9 birdies. Credit: Federico Capretti
5th March 2022 | Alps Tour Golf
Tomas Bessa Guimaraes takes the lead of 2022 New Giza Open after R2
Egypt, March 5, 2022 – There is a new leader after R2 at 2022 New Giza Open.
Tomas Bessa Guimaraes, from Portugal, took the lead of the tournament held in New Giza Golf Club thanks to an excellent daily score of 65 (-7) for a total score of -13.
Bessa, 25 years old, started early this morning and went through a tough front nine where he scored 3 birdies and 1 bogey. After 10th, he finally found his rhythm and his pace on the course and finished the back nine with 5 birdies in a row from 14th to 18th.
"During my first nine holes I managed to get away with some pars even if I didn't play as I would have liked. Then, on the back nine, my game suddenly changed and I managed to play a more solid round with 5 birdies in a row. Today we needed much more confidence and much more focus because the wind was very strong and for this I'm very proud of my day. I hope a can continue to play like this not just tomorrow but also during the next weeks".
Two players are tied at the second place with a total of -12: Spaniard Joel Moscatel and French amateur Julien Sale.
Moscatel, 23, who was leading the tournament after R1, today went through some up and downs due to the inclement weather conditions but he managed to end R2 with a solid -3. After the first nine holes he was -1 with 2 birdies and 1 bogey. Then, on the back nine, he enrolled 2 birdies, 1 double bogey and 1 eagle.
"Today was a bit tougher playing into the wind but I've hit the ball the way I wanted. I Also made two great up and downs on 10th and 11th. Then, on 13th I didn't understand the wind direction properly and, with a bad swing, I lost 2 strokes. I really loved playing with Tomas these two days, let's hope for tomorrow".
Julien Sale, 24, gained one position from yesterday and now he is just one stroke behind the leader. "I've been hitting my irons very close to the flags all day long today. That helped me a lot with the score and gave a lot of chances to hole some birdies. The course is really fair, if you hit the ball in the right way, it gives you the opportunity to play a nice round of golf".
A lot of players are just few strokes behind: Irishman Gary Hurley is on 4th place and finished his 2nd round with a daily -7 for a total of -11 strokes; Frenchman Franck Daux, tied with Hurley at -11, ended up like his competitor with a daily -7; Edgar Catherine, 23, is on 6th place with -10 and is trying to keep up with the leaders; Nicolas Muller (amateur), Benjamin Kedochim, Jack Floydd are tied on 7th place at -9.
The only player of the national field who made the cut (at -3), is Issa Abou El Ela, 27 years old. Tomorrow the Egyptian golfer, who is on 38th position, will start his 3rd round at 8:10 on 10th.
Because of the cut, only 47 golfers, 6 amateur and 41 pros, will have the opportunity to gain as many points as they can for the ranking. 13 are French, 7 are Italians, 7 are Spanish, 5 comes from Netherlands, 4 are English, 3 are from Ireland, 2 are Austrians, 1 is Portoguese, 1 comes from South Africa, 1 from Egypt, 1 from Switzerland, 1 from Chile and 1 from Estonia.
Results R2: click here or check on the Alps Tour Golf app.
Stay tuned! www.alpstourgolf.com and the app « Alps Tour Golf » (on App Store for iOS devices and Play Store for Android) will keep you updated on every news about Alps Tour.
#risinggolfstars
#raisinggolfastars
Latest Alps Tour Golf News