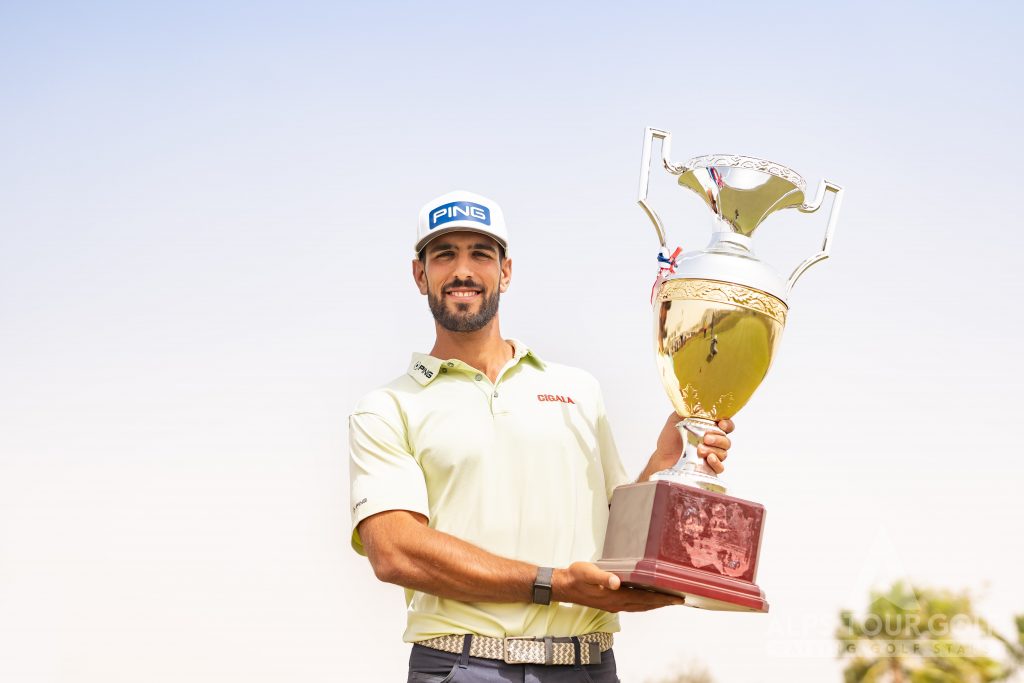 Tomas Bessa Guimaraes scored a total of 131 strokes over two days and won the New Giza Open after the third round was cancelled due to strong winds. Photo credit: Federico Capretti
6th March 2022 | Alps Tour Golf
Tomas Bessa wins weather-shortened 2022 New Giza Open
Egypt, March 6, 2022 – Due to the extreme weather conditions, the 3rd round of the 2022 New Giza Open has been cancelled.
After the final round started, the wind got stronger, more than expected. The ball couldn't stay at rest on the greens and the game became unfair. Therefore, the Committee decided to cancel the final round and the results after the second round stood for the whole tournament.
Therefore, the winner of 2022 New Giza Open is Portuguese Tomas Bessa, who scored a total of 131 strokes (-13) in 2 days (66-65).
Bessa, 25 years old, is a first-time winner on the Tour since he started as a professional player back in 2019. He played consistently during the whole tournament and came out after a great second round thanks to 9 birdies and just 2 bogeys. "It's awesome to see all the hard work paying off. I've been training myself a lot to play here on the Alps Tour and I'm very proud about my game and about the feelings I had on the course. It is very hard to win on the Alps Tour because there is plenty of great players and I'm really happy with this first title".
Two players are tied on the second place, just one stroke back: Spaniard Joel Moscatel and French amateur Julien Sale.
Moscatel, who was leading after R1, played a bogey-free round during the first day but on R2 he lost 3 shots due to a bogey and a double bogey. "Of course I wanted to play and try to catch my first victory but it was almost impossible out there. I didn't start very well on my first 5 holes today and it's a pity that we managed to play only 2 days but I'm happy with my game during the first 2 rounds. I think the committee made the right decision to suspend the tournament".
Sale, 24, during R2 managed to gain one position up on the leaderboard. He had been playing lots of good iron shots all week long and he had lot of chances to go under par. Unfortunately, he didn't have the opportunity to chase the first position due to the inclement weather conditions. "It's very frustrating we didn't had the chance to play today but the wind was literally too strong to play. I wanted so bad to try to win but despite all, I'm pretty happy also with my second place which is great".
Two players are tied on the 4th place: Irishman Gary Hurley, who finished his tournament in 133 strokes (68-65) and Frenchman Franck Daux (68-65).
Nice results also for French amateur Nicolas Muller, just 20 years old, who finished his tournament T7th with compatriot Benjamin Kedochim and Englishman Jack Floydd, with a total score of 135 strokes (66-69).
Here at New Giza Golf Club, among the top 10 there are 6 different nationalities: Portuguese, Spanish, French, Irish, English and Italian. The only player of the national field, Issa Abou El Ela, 27 years old, ended his tournament on 38th position with 141 strokes (70-71).
Now the Alps Tour will return to Europe (Italy) in the next few weeks to host the Winter Series Terre dei Consoli at Terre dei Consoli Golf Club close to Viterbo. The tournament will start on March 16th and will end on March 18th and will have a prize fund of 35.000 euro.
Final Results: click here or check on the Alps Tour Golf app.
Stay tuned! www.alpstourgolf.com and the app « Alps Tour Golf » (on App Store for iOS devices and Play Store for Android) will keep you updated on every news about Alps Tour.
#risinggolfstars
#raisinggolfastars
Latest Alps Tour Golf News