Xavier Poncelet came in at -8 (64) to lead after Round 1
Photo Credit; Filippo Vianelli
15th July 2021 | Alps Tour Golf
Xavier Poncelet Leads in Rome
July 15th, 2021 – Rome, Italy. With a -8 (64) Xavier Poncelet entered the clubhouse at the top of the leader board after his morning round and at end of play, he had not been dethroned. The Frenchman carded a total of 9 birdies and just one bogey in the Roma Alps Letas Open  here at the Golf Club Parco dei Medici.
« It was a really great round. The front nine . I played really well all the day. On the front nine there was less wind at the beginning so it was easier to manage the distance so I got a lot of opportunities. My putting was good. Then on the back nine the wind picked up but I only missed two greens today. I managed my game well and when I missed I made a chip putt. The greens were soft and slow so I could be more aggressive ».
It was his first time playing the course and he was full of praise for the greenkeepers' work preparing the course which he described as a « great design ».
Two shots behind on -6 (66) are three players. The Cross of Saint Andrew flag is being proudly brandished by two Scottish players. The lowest score among the LETAS players went to Gabrielle Macdonald who started with a double bogey but did not let it faze her :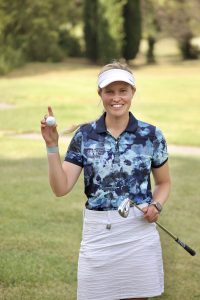 « I was annoyed with myself as I hit the fairway but pulled my eight iron into the bunker, thinned it out and missed my putt, so short game errors. But, I'd seen people in the morning who had a bad start and knew that there was time to come back, so I just tried to forget about it. I made a couple of good pars and then a hole-in-one on the 13th and after that I just couldn't stop smiling. My first ever hole-in-one so quite a special moment for me ».
Macdonald finished her round with six birdies and not a bogey in sight. She is shoulder to shoulder with her compatriot Ryan Lumsden, winner of last week's Alps de la Castillas, his second victory this season, after the MIRA Golf Experience Acaya Open in March. Lumsden has made no secret of his quest for a third title and with eight birdies and two bogeys he looks on form. Right alongside them is Sigot Lopez from Spain, whose eagle on the par five 17th lifted him up a slot after 6 birdies and two bogeys.
Eight players are right behind on –5 (67) including the highest placed amateur today, Paul Margolis from France. They are closely followed by a group of eleven players just one stroke behind on -4 (68) including the next four LETAS players. The Australian player, Kristalle Blum had briefly held the lead at the end of her morning round. She is joined by the two top lady amateurs, Anouk Casty from Switzerland and the Italian, Alessia Nobilio.
Play resumes tomorrow at 7:30 am from tees one and ten with the cut coming at the end of the thirty-six holes and 45 players and ties qualifying for the final on Saturday.
Results Round 1: click here or check on the Alps Tour Golf app.
Stay tuned! www.wp-alpstour.ocs-sport.com and the app « Alps Tour Golf » (on App Store for iOS devices and Play Store for Android) will keep you updated on every news about Alps Tour.
Instagram @alpstourgolf
Facebook @Alpstourgolf Satellite
Twitter @AlpsTourGolf
Latest Alps Tour Golf News